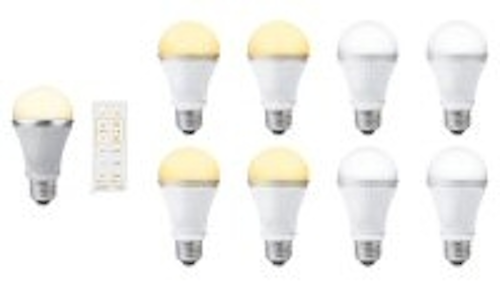 Tyntek to acquire Ubilux
Tyntek Corp, a Taiwan-based LED chip maker, has obtained approval from its board to acquire Ubilux Optoelectronics Corp. from Powerchip Semiconductor Corp., according to an article on the Taipei Times website.
Ubilux is the LED chip manufacturing arm of Powerchip Semiconductor Corp, Taiwan's second-largest computer memory chipmaker.
The acquisition will be conducted through a share swap, and one Tyntek share will be exchanged for 1.375 Ubilux shares. Tyntek will issue 88.07 million new common shares for Ubliux shareholders, making the deal worth about NT$2.81 billion (US$86.8 million). After the acquisition, Powerchip will become the biggest shareholder at Tyntek.
The article says that the acquisition will make Tyntek the third largest LED chip maker in Taiwan, after Epistar Corp and Optotech Corp. The company has aggressive expansion plans and will increase the number of MOCVD tools used to make LED chips, from six units at present to 30 units by the end of next year.
Hon Hai to invest $1 billion in China
Hon Hai Precision Industry Co., the world's largest contract electronics manufacturer, will invest $1 billion into China's Chengdu City to develop and manufacture so-called "green" products, according to a Bloomberg article.
Spokesman Edmund Ding said that the investment is "part of our environmental-protection technology concept." Hon Hai will manufacture LED backlights and LCD modules at the site, said Ding, without giving a timeline for the investment. Hon Hai, based in Taipei, has clients that include Apple Inc. and Hewlett-Packard Co.
LED light bulbs fly off shelves as price war starts
LED lights are "selling like hot cakes" in Japan since prices dropped by half this year, according to an article on the Japan Times website.
The surge in demand for the new generation of light bulbs has quickly emptied store shelves, prompting more manufacturers to jump into the market. Big names such as Sharp, Panasonic, NEC and Toshiba are all manufacturing LED lamps.
The article says that recent advances in longevity and brightness for LED lamps have turned their fortunes around completely. Today's LED bulbs cost as little as ¥4,000 (about $43) but boast a longevity of 40,000 hours, and consume nearly 90 percent less electricity than incandescent bulbs.
Rising public awareness of environmental issues is also boosting LED sales. Countries embarking on "green" initiatives are letting incandescent bulbs fall by the wayside as they move to save energy, says the article.