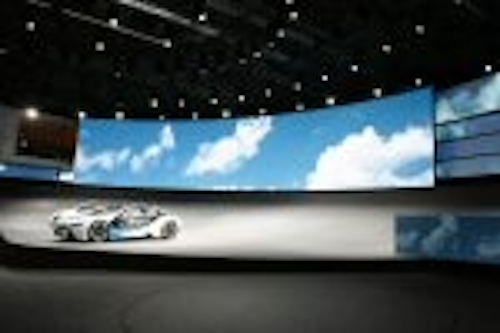 The Frankfurt Motor Show (also known as the IAA) took place this year on September 17-27, with exhibitors from 30 countries showing their newest and most innovative cars to an international audience.
Many brands chose LED displays from Barco to highlight their cars on display, as described in the Barco overview of the show. The Barco LED displays were represented via some of Barco's worldwide rental partners.
Audi R8 Spyder 5.2 FSI quattro
A new version of the Audi R8 was introduced, an open-top two-seater featuring LED headlamps as standard, that will be launched in Germany in the first quarter of 2010 with a base price of EUR 156,400 (about $228,000).
Audi describes the full-LED headlights as "technical works of art. Their reflectors resemble open mussel shells; the daytime running lights (DRLs) appear to be a homogeneous strip, but actually comprise 24 individual LEDs that form a curve at the lower edge of the headlight.
LEDs are used for the low beams, the high beams, the DRLs and the turn signals. With a color temperature of 6,000K, the LED light is very similar to daylight, making it easier on the eyes when driving at night. Additional strengths include excellent light distribution, long service life and extremely low energy consumption."
Volkswagen L1 concept
LED headlamps supplied by Osram were one of the energy-efficient features of the Volkswagen L1 concept car, a diesel-electric hybrid vehicle constructed from aluminum and carbon fibre weighing just 380 kg and capable of 189 mpg miles per gallon – see Volkswagen's one-litre car shines with Osram LED systems.
Each of the headlights, which are only 5 cm in height, uses three Joule JFL2 LED modules from Osram. Two provide the ECE-compliant main light (low or dipped beam) and one the high beam.
Osram says that Joule JFL2 LED modules will be introduced in production in early 2010 and can then be included in new vehicle models easily and across multiple platforms.