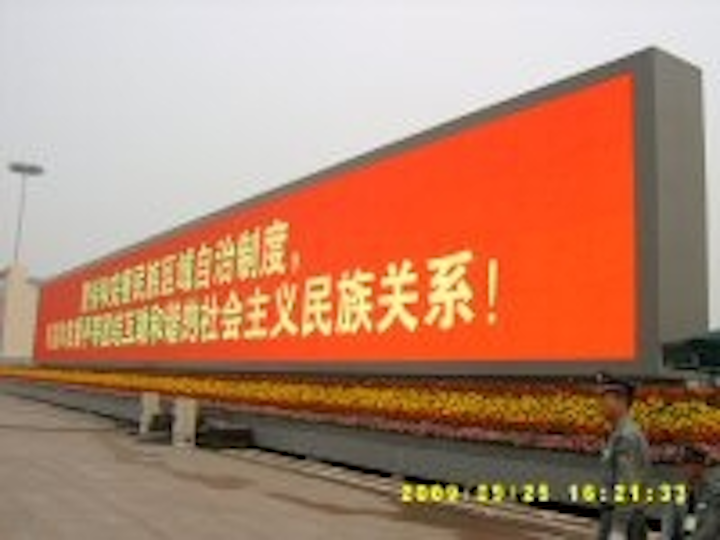 Celebrations for the People's Republic of China's 60th National Day included a number of LED displays in Tiananmen Square to express congratulations for the National Birthday.
Beijing Leyard Co. provided giant LED displays, while GULX Tech Co. presented the dramatic "Light Cube" with both companies making use of constant-current LED drivers from Macroblock (see press release).
Leyard's several giant LED displays are installed in the Tiananmen Square, such as two LED displays at the east side and west side of Tiananmen Square with total area of 736m
2
to smoothly broadcast all the celebration activities with high-definition images. The total length of the People's Heroes Monument giant banner was 50 meters, rolling with encouraging slogans and splendid pictures to cheer the 60th birthday of the PRC.
Bejing Leyard Co. won the government contracts to supply several giant LED display projects. The company's chairman Leyard, Li Jun, remarked, "China's 60th anniversary is a significant national event to demonstrate China government's outstanding achievements over the past 60 years. World-class technology and quality are what the government is asking for. Leyard is honored to be recognized for its high-quality LED displays to represent the national quality at the glorious 60th anniversary.
"To assure smooth and delicate images displayed on the screens, we have strict requirements on LED driver quality. I was really thrilled when Leyard's LED displays were live broadcasting
the dazzling and delicate images to audiences at the celebration."
In the cheering civilian parade, Beijing's parade float, Hunan's parade float, and the Ministry of Industry's parade float were also installed with Leyard's outdoor LED displays to display the outstanding achievements of the government over the past 60 years.
GLUX presents the "Light Cube"
Another stunning look of the ceremony was "Light Cube", an LED display with 4,028 LED light trees composed of almost 2 millions LEDs, which was created by GLUX Tech Co. Ltd. This Light Cube presented a 9,000m
2
multi-dimension video if viewed from a distance.
"Any single error of LED is not allowed in the performance, which required professionalism and high quality. Therefore, this display should be matched up with qualified LED drivers," said Bai Ming, general manager of GLUX. "I am glad that the Light Cube has successfully combined technology and human creativity and performed this uniform exhibition with brilliant results."