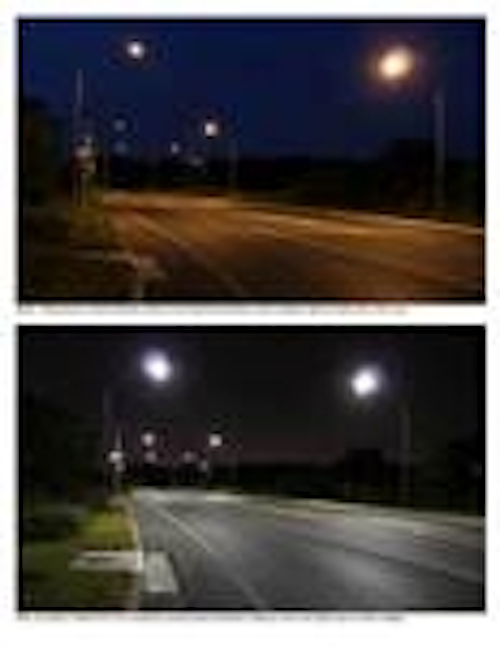 Toshiba International Corporation (TIC) has announced that its TGT LED Luminaires will replace over 20,000 high-pressure sodium (HPS) street lamps in San Antonio, Texas. CPS Energy selected Toshiba's roadway lighting after extensive investigation and experimentation with multiple LED luminaire options. The luminaire was selected for its product performance including the communications-enabled feature that allows connection to the Smart Grid.
The Toshiba TGT LED Luminaire uses 70% less energy than the HPS street lamps and has a rated life of 100,000 hours L85. The photocells have a rated life of 15 years, which means the TGT luminaire lasts up to 5X longer with a lower lumen depreciation than metal halide and 2X as long as HPS products.
San Antonio's existing 250W HPS luminaires consume 310 system watts and are being replaced by Toshiba's 100W 42-chip TGT LED luminaires. The luminaire features a very low life cycle cost based on its durability and low energy use.
"We were incredibly pleased with the quality of light from the Toshiba product. The change-outs implemented to date have resulted in a marked improvement on light distribution and color rendering," said Richard Lujan, manager for Standards and Specification at CPS Energy.
In addition to the energy and maintenance savings, Toshiba TGT LED luminaires provide high color rendering, uniformity and small target visibility, all of which enhance public safety.
"We are committed to the value this product brings to the marketplace – not only as an incredibly energy-efficient, low-maintenance product, but as a superior light source that enhances visibility and contributes to a community's improved quality of life," said Peter DellaPezze, vice president of marketing and product development, TIC LED Lighting Systems Division. "We also value the relationship we have with CPS Energy as we work together to develop lighting solutions that take advantage of all the capabilities LED technology can offer progressive communities such as San Antonio."