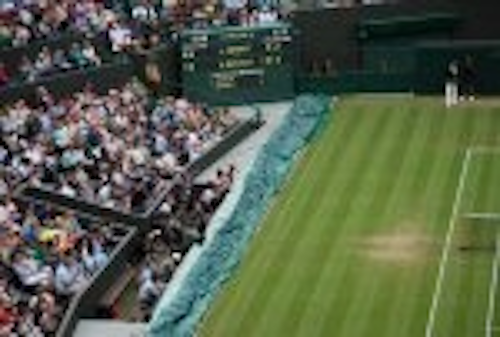 Barco keeps the score at Wimbledon
LED display maker Barco says that its OLite 612 LED displays have been used by Creative Technology to replace the dot matrix scoreboards on Centre Court and No.1 Court at this year's All England Lawn Tennis Championships at Wimbledon.
From 23 June until 6 July, Barco's LED screens will not only keep tennis fans on both courts abreast of on court scores but also entertain them with Hawk-Eye replays and other additional match information.
Last year saw the Wimbledon introduction of Hawk-Eye, the electronic line-calling system, and Barco's OLite 612 LED screens were installed on No.1 Court to allow spectators to see the replays and judgment calls of the new system. This year, the traditional scoreboards on both courts replaced by full color LED displays. The displays will not only replicate and expand upon the existing and familiar Wimbledon Scoreboard format, they will also display a variety of statistics, player profiles and as well as showing the all important Hawk-Eye replays.
The Championships will feature a total of 10 displays using Barco's OLite 612 LED panels, which have a 12mm pixel pitch, 6,000 nit brightness and 15 bit processing. The use of SMD technology enables wide viewing angles and high uniformity at very short viewing distances.
In addition to the 4 on court scoreboards, 4 IBM ball speed indicators have also been upgraded using the same full-color OLite 612 LED panels. The traditional IBM "Match Information Displays" outside Centre Court and in the newly redesigned Tea Lawn Area overlooking the new Centre Court balconies will also use the Barco OLite panels.
Dave Crump, Business Development Director at Creative Technology, said "Among Barco's OLite 612 main advantages were the superb graphic image quality, virtual silent operation, and the unique modularity of the tiles, which enables us to build custom screens to exactly match the tight physical constraints of the venue."
Mitsubishi screen knocks cricket fans for six
Nottinghamshire County Cricket Club's new Diamond Vision screen made its International debut at Trent Bridge last month for the third npower Test Match between England and New Zealand.
Architect Huw Evans of Maber Associates incorporated the 83 m
2
ODQ10 Mitsubishi LED screen as an integral part of the new administrative building that adjoins the new stand at Nottingham.
The 10mm pitch Diamond Vision screen is driven at its native resolution of 864 x 960 to ensure optimum performance for both video and text. The majority of matches are non-televised and at these events the entire display operates as a traditional full-screen scoreboard. For televised events the portrait format enables a 56 m2 4:3 video picture to be displayed along with a 27 m2 abbreviated scoreboard.
Screen content is driven by a presentation system specially developed by screen installer Technographic Displays. Trent Bridge is the first cricket ground in the UK to install a Diamond Vision screen, although the system is already used at several cricket clubs in New Zealand and Australia.
Tom Paterson, Match Operations Manager at Nottinghamshire County Cricket Club with responsibility for overseeing the development of the ground, commented, "The display quality is fantastic and the TechEvent software is proving to be just as powerful, flexible and reliable as we had hoped. In fact, we have yet to explore its full potential and look forward to doing so. The screen attracted universal praise at the Test Match, with many pundits describing it as the 'best in cricket'."
Euro 08 soccer
Shenzhen Sansun Hi-Tech Company Ltd
has supplied P20 outdoor hanging LED display screens to
Moonlight Design SRL
, the biggest outdoor advertising company in Romania.
The screens were used in Bucharest to allow Romanian fans to watch their team in the recent Euro 08 tournament.