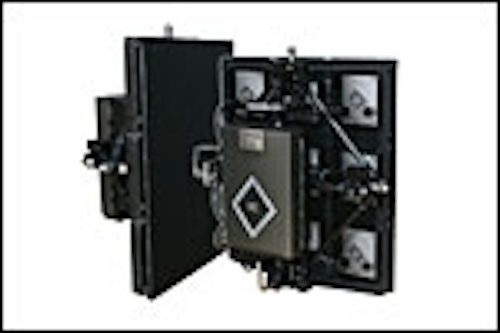 Barco's black LED display
At last month's InfoComm, an audiovisual buyers and sellers show, Barco's NX-4 Black LED display was awarded Best LED Product in the rental & staging systems category, which recognizes excellence in products introduced in 2007, as determined by a Rental & Staging Systems Magazine readers' poll.
With its black LED, the Barco 4mm NX-4 LED display delivers deep black levels. With a brightness output of 2,000 Nit and its innovative light trap shaders, the NX-4 achieves a contrast ratio of 4,000:1.
Built on a lightweight Mag-frame instead of the traditional box, and employing the same modular concept as the OLite, the tiles can be used in standard displays or split apart to form designs of any shape or form. The NX-4 is part of the NX family of indoor displays which are available in both 4 and 6mm pixel pitches.
Element Labs' Kelvin TILE
Element Labs' Kelvin TILE – a broad spectrum variable color LED light designed for the motion picture and television industry - is the recipient of two awards at the National Association of Broadcasters' NAB 2008 show: the Vidy Award and the STAR Award (Superior Technology Award Recipient).
The Vidy Awards recognize outstanding achievement in the advancement of the art and science of video technology. The STAR Award is designed to celebrate and showcase the preeminent technological innovations available to the media industry.
The Kelvin TILE's proprietary six color mix (red/green/blue and cyan/orange/white) offers a good color response, making it useful for illuminating skin tone and other color-critical lighting applications.
The Kelvin TILE can select any color temperature between 2,200K and 6,500K. Peak power consumption is 75 W. The one foot-square TILE can be used on its own as a soft light, or can be ganged together with other units to create a larger light source controlled from a single control point using any standard DMX lighting controller.