Daktronics breaks records for mobile, freeway displays
Daktronics has been involved in the largest mobile and the largest freeway-mounted LED displays in North America.
Jul 18th, 2008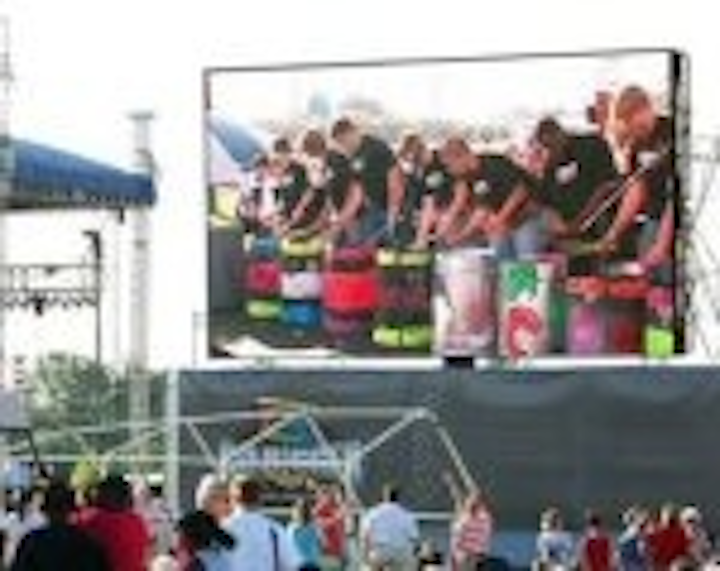 GoVision takes mobile video to the extreme with Daktronics
Daktronics and GoVision, a leading provider of large-scale LED video walls and mobile units, have teamed up to design, engineer, and fire up what is currently the largest mobile High Definition (HD) video display in North America. The truck-mounted 19 x 33 foot LED super-screen had its maiden screening at the Fair St. Louis Fourth of July celebration in St. Louis, MO., dazzling spectators with live video feeds of festival concerts and activities in HD video.
Craftsmen Industries of St. Charles, MO., helped bring the vision to life working closely with Daktronics and GoVision to design a specially-equipped 18-wheel trailer to house the massive display and its accompanying operations equipment, which GoVision collectively named, GoBigger.
"GoBigger sets a new standard in the mobile video industry," said Chris Curtis, CEO of GoVision. "By rolling out the first mobile true HD LED screen, GoVision is making this popular technology available to all rental markets for the first time. We're combining sheer size with high resolution and superior pixel count to produce the highest-quality experience available in the outdoor LED marketplace."
A Daktronics HD-16 display highlights the GoBigger unit, boasting a total screen area of approximately 619 square feet and is entering the record books as the largest mobile HD display currently in operation. Engineered with the latest in HD LED technology, the display features higher contrast and wider viewing angles than any other display of its type, making it ideal for large outdoor events under bright conditions.
"This screen is truly a game-changing piece of equipment," said Jay deBlonk, Daktronics Mobile and Modular Product Manager. "The HD-16 LED technology and high definition processing offer the most advanced daylight-visible resolution on the market today, while the sheer size of the video display is simply overwhelming."
Engineered with Daktronics' sub-pixel processing capabilities, the GoBigger display features the latest in industry technology, boasting one of the highest perceived line counts and pixel densities in the industry—a quality that has already attracted considerable interest from GoVision's growing list of high-profile clients.
GoVision has made the unit readily available for rental and has already booked several major events in the coming months including Seafair 2008 (Seattle, WA - August 1-3) and San Jose State University's football games beginning in September (San Jose, CA).
Daktronics supplies largest freeway-mounted LED advertising display
Daktronics has announced the installation of the largest freeway-mounted digital advertising display in the United States for Barry Real Estate Group at Allen Plaza in Atlanta. Measuring approximately 35 feet by 100 feet, the Daktronics 20 mm LED display offers more than 3500 square feet of advertising space.
"This LED screen uses the latest Daktronics LED display technology," said Jesse Johnson, commercial project manager for Daktronics. "With its high-contrast design, deep color palette and vivid picture quality, it will impress onlookers and advertisers alike with video quality images."
The full-color LED display is located in the heart of downtown Atlanta at Barry Real Estate's monumental Allen Plaza mixed-use development. The nine-block development blends hotel, dining, residential, retail and office space to create an ultra-modern urban environment.
"This massive digital LED display is destined to become an Atlanta landmark," said Harvey Rudy, senior director, development with Barry Real Estate Companies. Rudy added, "It's truly a unique medium. It's a marketing opportunity unlike any other in Atlanta, and we were delighted to work with Daktronics to make it a reality."
Barry Real Estate will also use the LED advertising display for community service. The company has reserved ten percent of the display's time for public service messages and has worked with Daktronics to connect it to the AMBER™ Alert network.