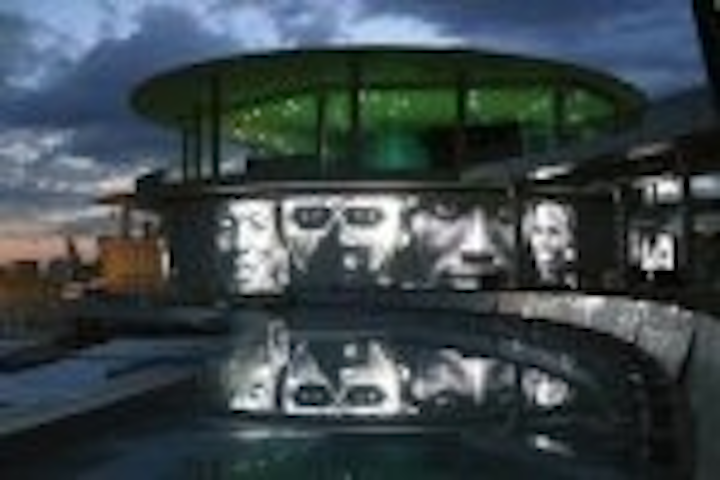 Ledon builds LED video façade for Expo 2008
Ledon Lighting
, the LED brand of the Zumtobel Group, has realised a pioneering LED installation for Expo 2008 in Zaragoza, Spain. The 1500-square-metre LED video façade contains over 220,000 LEDs.
The "Wall of Africa" for the African pavilion was developed according to the conceptual design of Atelier Brückner as part of a contract worth EUR 350,000 for the Swiss exhibition stand designers and builders Nüssli.
Water is the central theme of Expo 2008, which will run from 14 June to 14 September 2008. Around 100 different nations will be exhibiting solutions for the responsible use of this precious resource.
The LED façade is intended to visualise the theme of the exposition and bring it to life, says Ledon. The ability to control each pixel individually makes it possible to show a wide variety of light effects and videos with seamless transitions. In addition, arrays of semi-transparent plastic squares flexibly arranged on the façade flutter in the wind reminiscent of moving water.
While technical information is communicated via the façade during the day, the video wall projects climatic events at the night such as thunder clouds and impressions of Africa's landscapes, with its people, flora and fauna.
New Skyscreen project for Opto Tech
Taiwan-based LED display maker Opto Tech Corporation has announced a second major "skyscreen" contract, following the success of its installation at The Place in Beijing – see LED skyscreen creates unique ceiling for The Place. The new contract is for a skyscreeen in Suzhou, China.
Opto Tech says that in response to the demand from the Chinese market due to the Summer Olympics of 2008, it has taken significant steps to respond to the increasing market needs. "Opto Tech's capacity to meet large demands from China has increased since expanding its facility in Ninbo, China, and will also continue to strive to create and develop superior OBM products in China," said Huang Yung-Chiang, CEO of Opto Tech.
In other news, this week at Info Comm, Opto Tech is demonstrating a new high-definition LED display with a high contrast ratio enabled by a 3-in-1 SMD black LED. Each module measures 323 x 242 mm and contains 64 x 48 pixels with 5 mm pitch. Opto Tech has changed the design to reduce the the depth of the display to 6.6 cm, compared with around 12-15 cm for competing products.
LTP installs media wall at the Blue Fin Building
Lighting Technology Projects (LTP) has supplied and installed a low resolution video media wall, designed and specified by Speirs & Major Associates (SaMA) for the atrium of IPC Media's new London HQ, the Blue Fin Building in Southwark. The 40 x 3 m media wall is made up of 9500 nodes of Color Kinetics RGB Flex SL.
SaMA came up with the concept of a low resolution LED media wall to act as the main illuminated feature within the space, spanning the entire length of the atrium. This was complemented by various other lighting details including general down-lighting, feature lighting to planting and task lighting to desks.
IPC Media, a leading UK consumer publisher, liked the feature because it was imaginative and new, and reflected the creativity of the company and its employees. The 'live' media wall also provides scope for them to produce their own abstract but constantly changing content in keeping with seasons and times of day.
The 190 50-node strings of Flex SL are spaced at 120 mm, creating 380, 25-node drops, with custom spacings to return between the 25th & 26th node. This gives the total of 9500 nodes and 28500 channels of control. A strip of Barrisol fabric is offset approximately 150mm in front of the LED nodes which are fitted to a backing sheet behind via U-channel extrusion, which holds them absolutely central. Content storage and delivery, playback and content scheduling is all achieved via a Pharos LPCx controller.