Display LED wins PLASA Innovation Award for digiFLEX
The highly flexible LED display module can be curved around pre-formed metal surfaces.
Sep 16th, 2008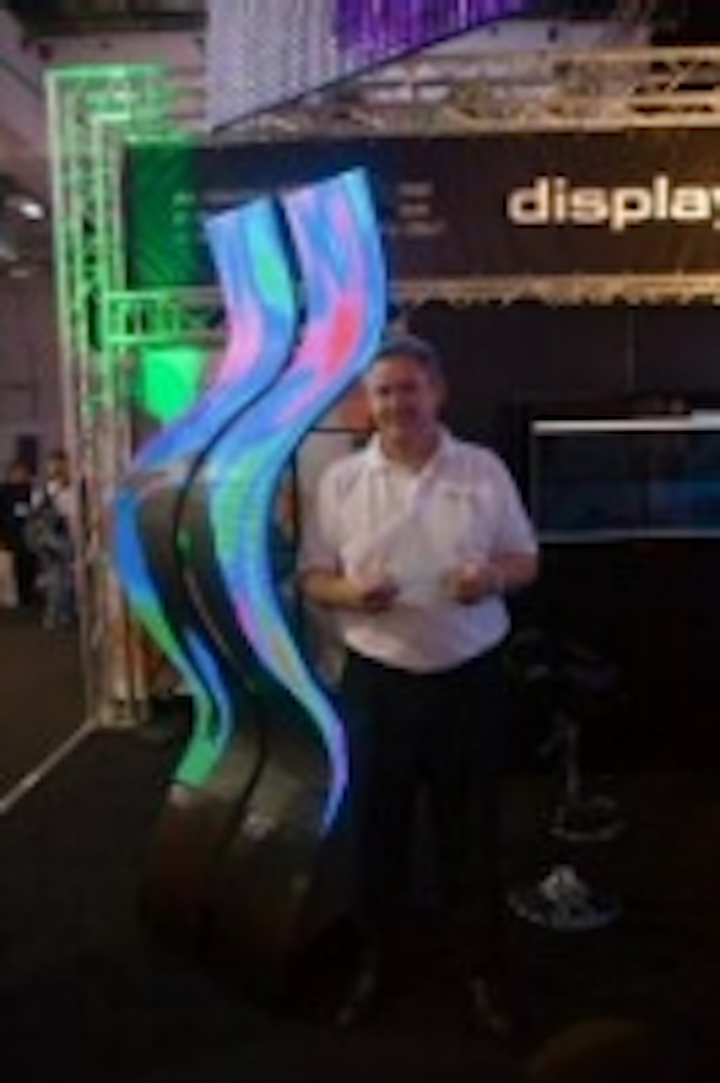 Several LED-related products were among the winners of the 2008 PLASA Awards for Innovation. The awards are part of the annual PLASA Show in London, a tradeshow for the entertainment industry showcasing lighting, audio and video products.
Over 65 products were put forward this year, and seven Silver Awards were chosen by a panel of independent judges drawn from across the industry. The recipients included:
Display LED Screens for digiFLEX:

The judges were impressed by this first flexible LED display solution. The clever rubberized design lends itself to new applications and adds a new dimension to display technologies. More details below.
JB-lighting Lichtanlagentechnik for VaryLED A7 Zoom:
This new luminaire found favor with the judges as the first moving LED fixture with a zoom function entered into the Awards, heralding a new era that has added depth to LED functionality.
Matthew Griffiths, MD of PLASA, who hosted the ceremony, commented: "The PLASA Awards are the industry's touchstone for creativity and innovation - the qualities on which our industry was founded and continues to thrive - and we are delighted to give real focus to the impressive range of new technologies coming to the market." View details of all the winners here.
digiFLEX, the first-ever fully flexible LED video display
One of the Silver Award winners was UK-based LED specialist displayLED. Its digiFLEX product is described as the first LED screen that combines high-resolution, full colour video capability with a flexible architecture that lends itself to even the most demanding of applications.
"It's fantastic to have the efforts of the displayLED creative and technical team recognised in this way," comments the company's managing director, Graham Burgess. "digiFLEX is a product that really does take LED into new territories. This is the first time we have exhibited at PLASA and the amount of interest, not only in digiFLEX, but in all our products, was incredible. We have enquiries from across the rental and staging sector including TV shows, theatre productions, rock concerts and all manner of public venues."
Modular in its design, digiFLEX uses LEDs mounted onto a flexible PCB. It has a 10mm pixel pitch and 2000 nit of brightness.
digiFLEX tiles measure 320mm (w) x 160mm (h) and flex smoothly horizontally and vertically. They weigh less than 6kg per square metre – less than 10% that of a traditional LED display. digiFLEX tiles can be used as a skin for pre-formed curved metal surfaces, its magnetic mounted making it quick and easy to install.
The system will accept all inputs including HD and uses our standard processing systems. The feed from the control system is DVI but it will accept anything a digiPRO, digiPRO HD or digiPILOT will accept.