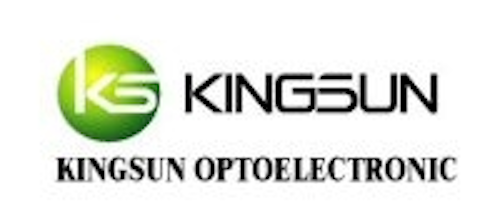 Kingsun Optoelectronic Co., Ltd. becomes a mega-facility which houses more than 2000 employees and over 351,000 sq. m building area, and is recognized as a leading group with integrated product design, development, manufacturing and trading systematic enterprise in the LED industry.
The company is honored to be a Member of the China Information Dept. semiconductor lighting technology standard working team; the exclusive partner of Tsinghua University in semiconductor illumination; Guangdong high technology enterprise; and chairman company of Guangdong LED Industry Alliance.
Kingsun has expanded its business field into current multiple categories ranging from Christmas field to optical field. Its products cover high power LEDs, LED street light, solar-wind powered LED street light, tunnel light, gymnasium lighting, flood light, wall wash light, LED linear tube light, spot light, floor recessed light, wall corner recessed light, waterproof light, courtyard light and indoor lighting, and Christmas decorative light.
Being awarded as the "China Outstanding Private Technological Enterprise," Kingsun launched "Manufacture, Study, Research" alliance with Tsinghua University and set up Dongguan Kingsun LED Illumination Technology Research Institute.
Also the company was entitled as "Guangdong LED Lumination Technology and Application Center," then a complete LED industry chain forms including testing laboratory, LED packaging factory, street light assembly factory and newly invested LED industry base with 400,000 sq. m, which will become one of the largest and most advanced product lines in Asia.
Our devoted R&D team has always been playing an essential role by its superior innovative system. R&D center concentrates 400 experienced technological research professionals and engineering specialists, among whom there are 17 doctors, 48 masters, and over 70% are bachelors, dedicated in high-power LED, non-imaging quadric optics system, heat dissipation design system, circuit drive system, intelligently controlled wireless communication system, etc.
All parameters concerning energy saving, illumination, illumination uniformity, safety, waterproof, dustproof etc. figures have entered the standard of National Road Illumination. Kingsun LED high-power lighting products hold more than 100 invention patents domestically and internationally, from which we constructed massively a very strong and solid foundation to enable Kingsun constantly and successfully upgraded our business model from function lighting, energy-saving lighting to intelligence lighting solutions.
Kingsun Group has defined its key business strategy focused on LED illumination products and the research, produce and sales integration, thanks to the decade of development and our prompt and effective sales team in North American subsidiary, HK subsidiary, and Dongguan head office.
Our LED application projects spread all crossing the countries and cities in China, from which we highly maintain the leading position in LED application industry.