LEDs entertain the crowds at PLASA show
Manufacturers continue to find new ways to use LEDs for lighting and display products that are aimed at the entertainment sector. PLASA 2008 showcased some of the latest innovations, as TIM WHITAKER reports.
Nov 5th, 2008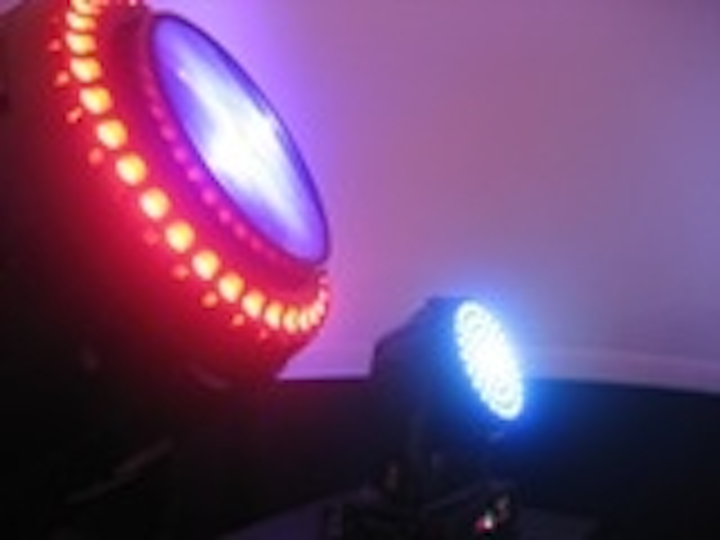 Barco's StudioPix and ShowPix
Barco
unveiled the new StudioPix pixelation luminaire (www.ledsmagazine. com/press/16835), developed by High End Systems as a smaller version of the ShowPix. The 13.5-inch diameter head of the StudioPix (right) has a circular array of sixty-one 3 W RGB LEDs, with an output of up to 11,500 RGB lumens. At left is a Showgun fixture, a projector surrounded by a ring of LEDs that can either match or complement the center beam.
Display LED won a PLASA Award for Innovation for digiFLEX, a flexible, rubberized display (www.ledsmagazine.com/news/5/9/19). digiFLEX tiles measure 320 mm (w) x 160 mm (h) and flex smoothly horizontally and vertically. They weigh less than 6 kg per sq. m, or less than 10% the weight of a traditional LED display. With a 10 mm pixel pitch, digiFLEX produces 2000 nit of brightness.
Another winner was the VaryLED A7 Zoom from JB-lighting Lichtanlagentechnik. This new luminaire found favor with the judges as a moving LED fixture with a zoom function, adding new depth to LED functionality. The VaryLED A7 Zoom contains 108 LEDs and is said to perform in the brightness range of a washlight with a 700 W discharge lamp.
+++++++
This article was published in the November/December 2008 issue of LEDs Magazine.
To read the full version of this article, please visit our Magazine page, where you can download FREE electronic PDF versions of all issues of LEDs Magazine.
You can also request a print copy of LEDs Magazine (available by paid subscription) and sign up for our free weekly email newsletter.