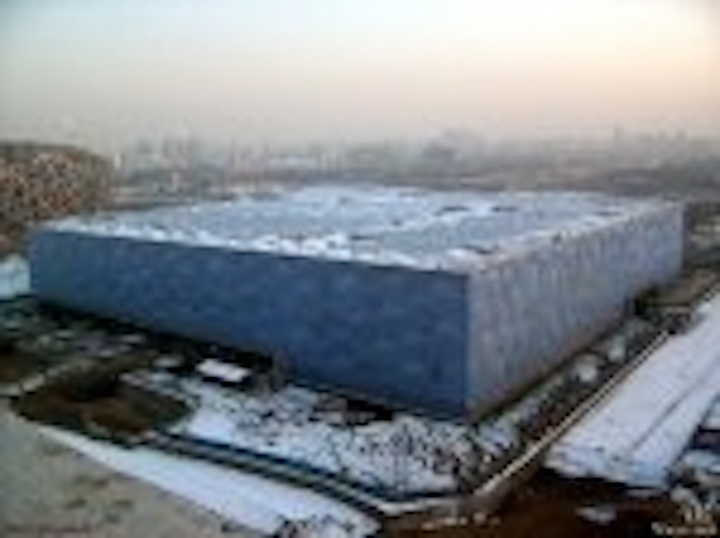 As the venues for the Beijing Olympics Games are nearing completion in the build-up to the event, which opens on August 8, 2008, LED technology is occupying some prominent positions.
Karson Ho, Business Manager of Shenzhen Sansun Hi-Tech Co., Ltd., told LEDs Magazine that his company has supplied 4 LED screens for the two highest-profile venues, the "Birds Nest Stadium" - also known as the Beijing National Stadium - and the "Water Cube" aka the National Aquatics Centre.
Ho says, "We supplied two screens for the Beijing National Stadium, which will be used for the Opening and Closing Ceremonies, and is also the main track and field stadium. It can hold 91,000 spectators.
"We used our P24 LED displays, and the size of both screens is 16.42 x 9.24 m, or 152 square meters [around 1636 sq. feet]."
"Inside the National Aquatics Centre, known as the Water Cube, we provided a further two screens, also using P24," says Ho. "The size of the screens are 6.14 x 4.61 m, or 28.3 square meters." This stadium will be used for all swimming and diving competitions and can seat 17,000.
In the photos of the interior of the Water Cube, the Sansun screen is on the right, while the screen showing names and time on the left side is from Omega.
An news video on YouTube shows the interior of the Water Cube – see http://www.youtube.com/watch?v=_m8FpNbNewQ&feature=related. Last year, Cree announced that its LEDs would be used to illuminate the outer skin of the Water Cube – see Cree XLamp LEDs to make a splash at Beijing Olympics.
And just this week, Macroblock announced that its driver ICs have been used in LED displays made by Leyard. 5 LED panels each measuring around 100 square meters have been installed at the Olympic Cultural Squares in Beijing – see Leyard and Macroblock MBI5030 contribute to 2008 Olympics displays project.
*** If your company is supplying LED fixtures to an Olympic Games venue, please tell us by emailing the LEDs MagazineEditor.