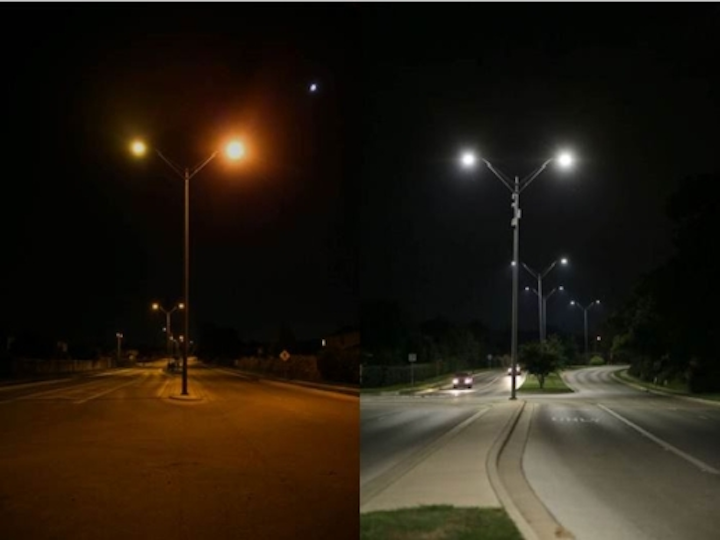 Planled, Gigatera, and Opterra have worked with the city of Round Rock, TX, installing an intelligent SSL street and area lighting test project including the use of 360° video cameras on select poles and specialized red emergency beacon lights on the roadway lighting.
The city of Round Rock, TX, located near Austin, has announced an LED street and area lighting trial that includes networked luminaires, video cameras for security in two locations, and red LED lighting on the roadway poles for emergency signaling. Planled, US-based partner of Gigatera, led the project that also included energy services company (ESCO) Opterra as a participant. The LED street light pilot will allow the city and its citizens to experience outdoor solid-state lighting (SSL) while also providing a test bed for additional emergency and security services enabled by a networked street light infrastructure.
Interested in more articles & announcements on LED street light & networked lighting applications?

Planled is a company that operates as a cross between an LED lighting manufacturer, lighting distributor, and a lighting design consultancy firm. For example, Planled worked with Gigatera to enable luminaire developments that specifically meet application requirements such as a project at the Seattle Mariners Major League Baseball (MLB) stadium, which included lighting the playing field and a human-centric lighting (HCL) installation in the player locker room. Gigatera is the SSL-focused business of Korea Microwave's KMW Ltd — a company targeting wireless communications.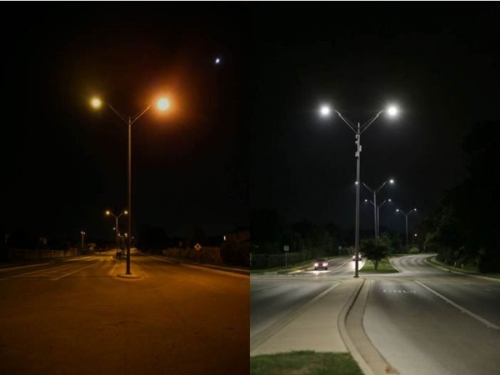 Round Rock smart LED street light pilot includes video and emergency beacons
Left: Before the existing HPS lights were replaced in Round Rock, TX. Right: After replacement with LED street light system from Planled and Gigatera.

Planled pursued the Round Rock project and has installed 100 luminaires along Double Creek Drive and Forest Creek Drive at no cost to the city. The LED street light system along the roadways does not include cameras but does include luminaires with a highway alert system that Gigatera has referred to as an Emergency Whistle System, or sometimes just Whistle. The Whistle isn't audible but is based on red beacon lights that can be wirelessly controlled in emergency situations.
For example, Planled has posted a video produced in conjunction with the Round Rock Fire Department to demonstrate the emergency services. Fire trucks on an emergency call can activate the systems from within the cab of the truck and have the street light poles flash the red lights in advance of the trucks' route. The signaling alerts drivers in cars to the oncoming emergency vehicle and effectively shortens the travel time of the fire truck.
Watch a short video demonstrating Planled's and Gigatera's Whistle system in action on Vimeo.

John Hwang, founder of Planled, said that the system is intended for usage in situations including:
Emergency vehicle approaching
Tornado warning
Lightning storm warning
Construction
Accidents
Fugitive in the area
The system can use different flashing patterns, or potentially even different colors down the road, to convey specific dangers to citizens. The lighting control is based on the Gigatera Ecology Service System (GESS) that includes support for sensors, controllable luminaires, and wired and wireless networks.
The LED lighting, meanwhile, will deliver significant savings to the citizens in terms of energy usage while improving the light quality. The existing 250W high-pressure sodium (HPS) lights were replaced by 150W LED street lights. The retrofit raised the CCT from 1800K to 4000K and CRI from 18 to 81. Furthermore, flicker has been almost entirely eliminated.
The project also includes the aforementioned lighting poles equipped with video cameras located in a couple of so-called Safety Exchange Zones near the Police Department. In those areas, 150W LED lights replaced 1000W lamps. The zones were established in part so citizens have a safe place to exchange goods and money for online purchases.
And the Gigatera SPES-SETA luminaires used in the safe areas were designed just for such security applications. The fixtures include an LED luminaire mounted in front of a video camera in a form factor mountable on standard poles and armatures. The camera is in a downward-facing hemispherical dome and the integral enclosure can also include an occupancy sensor. The cameras communicate over high-speed Wi-Fi networks.
"It's an honor to work with a city that can quickly understand and embrace technological advances that benefit its residents," said Planled's Hwang. "Round Rock is truly a leader in adopting the most advanced and protective products available. This city is blazing the trail for many other communities to adopt the next generation of LED street lighting and security systems."
We've covered many examples of other services that networked street lights may enable. For example, San Diego, CA and GE Lighting are working on parking services. But Round Rock is certainly among the first cities to have a real system deployed in a trial with security and emergency services.
"These smart devices have the potential to save money and improve safety, and we are anxious to see what kind of a difference they can make," said Brooks Bennett, assistant city manager of Round Rock. "We're glad to provide Planled with a venue to demonstrate its advanced LED technology."