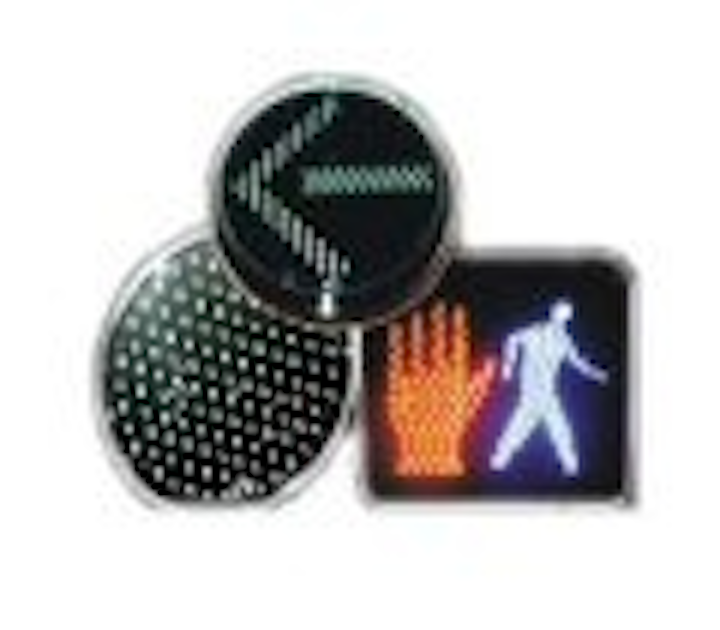 Daktronics wins contract with University of Georgia
Daktronics, Inc. has won a contract worth about $5.7 million to supply LED screens and other equipment to the football, basketball, baseball, softball, soccer, volleyball, and tennis facilities at the University of Georgia, Athens.
Sanford Stadium, home of Bulldog football, is to get a ProStar® video display with one of the largest screens in collegiate football, measuring 25 feet high by 46 feet wide, with three additional full-color displays, scoring sections and identification panel making up the rest of the main football scoreboard, which will measure approximately 52 feet high by 76 feet wide overall.
Leotek announces new Canadian distributor
Leotek Electronics Corporation, a manufacturer of LED traffic signals, has announced an agreement with Electromega Ltd of Candiac, Canada, for the distribution of LED traffic signals and other LED lighting products throughout Canada. "This agreement is a win for Leotek, for Electromega and for our customers," said John Adinolfi, Director of New Business Development for Leotek. "Electromega is the leader in providing high quality traffic products and services within Canada and bring over 30 years of excellence in customer satisfaction".
Barco supplies LED display to Shanghai tennis stadium
Barco has been selected to supply LED display walls for the Tennis Masters Cup 2005-2007 at the new, architecturally unique Qi Zhong (pronounced Chee-Jong) Tennis Center in Shanghai, which will become the largest tennis facility in Asia
Barco will supply multiple SLite 14 outdoor LED displays in a rental configuration, which will allow the customer to re-locate its LED displays fast and efficiently to other venues within Shanghai. With its ultra-high light output, the SLite 14 displays offer unequalled brightness and contrast levels, making them ideal for use in very bright outdoor locations - even in direct sunlight.
Carmanah promoted on stock exchange
Carmanah Technologies Corporation (TSX Venture: CMH), a manufacturer of LED-based lighting and illumination products, has achieved Tier 1 status on the TSX Venture Exchange. This reclassification recognizes the management experience and current financial strength of the Company.
"We are pleased that Carmanah's strong financial performance and structured growth have been recognized by the TSX Venture Exchange," states Art Aylesworth, Carmanah's CEO. "This is another step in the maturing of the Company and confirms the overall strength of Carmanah's business strategy."