Daktronics to build giant LED video display at Dolphins Stadium
Daktronics is to build an LED video display which will hold the title of the world's largest high-definition screen – for a short time.
Oct 14th, 2005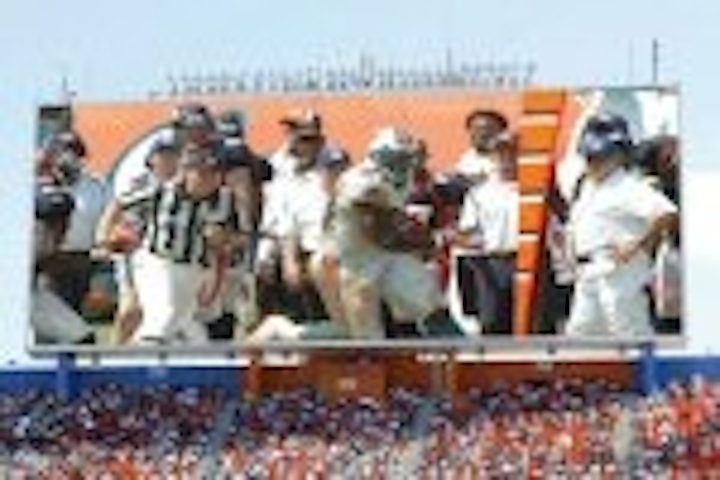 Daktronics Inc. of Brookings, S.D., has been awarded a contract to design and build the world's largest high definition (HD) LED display for Dolphins Stadium in Miami.
Daktronics will provide two large ProStar® video displays, each with true, physical pixel resolution exceeding the 720p HD television standard of 720 x 1,280 pixel resolution.
Behind the east end zone, a Daktronics ProStar® display will be installed on the existing scoreboard structure. This display will measure approximately 50 feet high by 137 feet (6850 sq. feet or 636 sq. m) with a true resolution of 736 pixels high by 2,112 pixels wide.
Full-screen images shown on this display will be comprised of more than 1.5 million pixels, made from more than 4.6 million red, green and blue LEDs.
Both ProStar® screens will incorporate an even wider aspect ratio than the 9:16 wide screen ratio of HD television, and will give fans a wider, more panoramic view of the action. With their superb resolution and super wide format, the displays will also have the ability to show multiple images simultaneously. The project is scheduled to be completed in time for the 2006 baseball season.
Behind the west end zone, a second large ProStar® display will be installed. This high definition display will measure approximately 50 feet high by 99 feet wide, and will be mounted to the existing support structure.
Breaking records
Upon completion, the larger Dolphins display will become the world's largest high definition video display, surpassing one installed earlier this year by Mitsubishi Electric Diamond Vision at Turner Field in Atlanta (see Giant high-definition LED display for Turner Field.
The Turner Field display measures 71 feet tall by 79 feet wide (5609 sq. feet or 521 sq. m) and contains 5.2 million LEDs. It was recognized as the largest HD screen by Guinness World Records.
However, Daktronics' position won't last long, because an even larger screen is due to be unveiled next year at the Tokyo racecourse, measuring 11 m high by 60 m wide (660 sq. m).
The screen will be capable of being split 3 ways and will incorporate a score board showing the race finishing orders.
More giant screens
Other LED screens that don't conform to the high-definition standard are even larger:
* The NASDAQ screen in Times Square, New York, is 120 feet high by 90 feet wide, covering a total area of 10,800 square feet (1003 sq. m) and curves around the corner of the NASDAQ building.
* A huge outdoor LED display is being built in Beijing to publiicse the 2008 Olympic Games. The display will be about 200 m long and 30 m high (6000 sq. m) – see Giant LED display to be built in Beijing.
* The Viva Vision display, part of the Fremont Street Experience in downtown Las Vegas, is suspended 90 feet above the ground and runs for 4 blocks. It measures 1400 feet long by 125 feet wide (175,000 sq, ft or 16,257 sq, m) and contains 12.5 million LEDs. See Super Signs #1 - the Fremont Street Experience, Las Vegas.