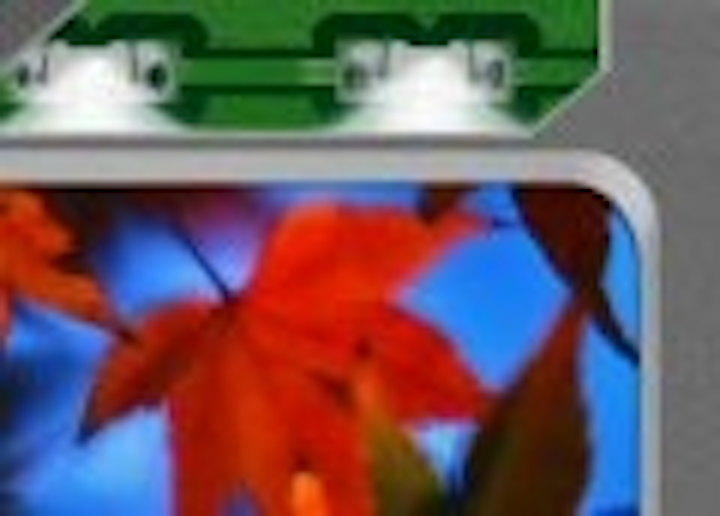 Osram Opto Semiconductors showed how power can be saved in laptops with a demo system featuring LED backlighting at the Flat Panel Display (FPD) International 2005 event last week in Yokohama, Japan.
With a power draw of just 5.5 W, the 15-inch demo display achieves a luminance of 220 cd/m2, even outperforming conventional units with cold cathode fluorescent lamps (CCFLs) that need 8 to 10 W to produce an average luminance of 200 cd/m2.
The demo laptop is equipped with 69 white µSideLEDs. These side-emitting devices are used in the outer frame of the display, injecting their light into a light-guide that distributes the light uniformly over the entire display.
Small mobile computers such as laptops and notebooks are popular and powerful but they have one major drawback – they consume too much power. An "Enhanced Battery Life" working group has been set up to identify potential energy savings and prolong battery lifetimes, and Osram Opto Semiconductors has been involved in this project by providing appropriate light sources.
Intel has estimated that 33 percent of the power needed by a laptop computer is consumed by the LCD display, with the backlight taking up the majority of this.
As well as replacing CCFLs with LEDs, additional potential savings can be made by linking the display backlighting to the amount of ambient daylight available. The brightness of the display can be adjusted by an ambient light sensor or by users themselves.
In darker rooms, for example, power consumption would be reduced and visual comfort improved as a lower luminance in dark rooms is easier on the eye and does not lead as quickly to fatigue. A luminance of 60 cd/m2, for example, can be achieved with LED backlighting from an input power of only 1.2 W.
Taiwanese LCD makers positive about LED backlighting
Also at FPD International 2005, panel makers Chi Mei Optoelectronics (CMO) and AU Optronics (AUO) both expressed optimism about LEDs as a lighting source for panel backlighting, according to an article on DigiTimes.
LED backlighting has the potential to attain the same success as CCFLs in large-size panels. This will happen when the new display technology delivers better efficiency and production costs come down after wide adoption, according to AUO, which is shipping LED backlight modules in small volumes at present.
This year is CMO's third year to present LED backlight modules to the public, according to Kuo Chen-Lung, assistant vice president of the company's LCD-TV division. Kuo noted that CMO's heat-dissipation system has evolved from a water cooler, to a fan, to nothing. He added that the company's new display technology apparently has managed to solve the overheating issue.
In addition, CMO has succeeded in developing a LED backlight module of 3cm in depth, the same thickness as a CCFL backlight module.
However, Kuo expects that CCFL backlight modules will still dominate the large-size panel segment in the next 3-4 years, buoyed by its price advantage. Currently, the price of a 32-inch LED backlight module is about US$100 more expensive than a CCFL one.
The improvement of LEDs used in panel backlights is definite, said AUO vice president Po-yen Lu, expressing a positive outlook that the new technology will soon be adopted widely.