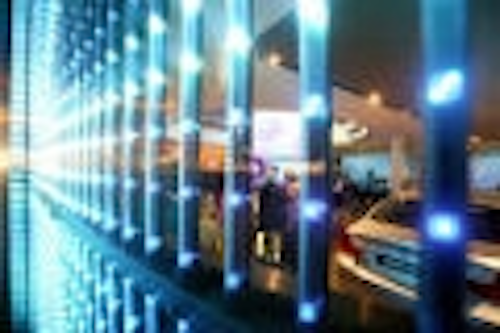 BMW goes window shopping with G-LEC
When BMW launched the new 3-series at its flagship showrooms on Kurfürstendamm, Berlin's most exclusive shopping area, the German car manufacturer wanted a store display that would stop passers-by in their tracks.
Like all car showrooms, the windows are large and imposing, and BMW didn't want to block the showroom from the view of window shoppers, yet the display needed to be bright enough to create drama at night. The chosen solution was the new PhantomFrame system from G-LEC, with its transparency and high intensity LED pixels.
Lightweight and quick and easy to assemble, each 1m x 1m unit of PhantomFrame supports 16 clear polycarbonate tubes, each housing 16 high intensity LED pixels spaced 60mm apart. The space between the tubes is just air, ensuring the window shoppers in Kurfürstendamm could not only see the PhantomFrames but also, more importantly, the full range of the new BMW 3 series in the showroom behind.
Day and night, those bright, high intensity LEDs ensured that no-one could miss the BMW showrooms - yet they could also still see through to the cars behind.
Lars Wolf, managing director of G-LEC, said: "The G-LEC display was on 24 hrs a day for five weeks, but because our system offers total transparency, the vehicles were also always on display."
Full-motion video LED displays promote Pontiac in Times Square
The WOW Factor Inc and BillBoard Video Inc have been awarded a contract by Pontiac to produce content for, as well as to design and manufacture, two custom LED video displays in Times Square.
The WOW Factor creates digital content for large-scale outdoor electronic displays while BillBoard Video is an LED display manufacturer.
A visual presentation, known as the "Pontiac Garage," features a state-of-the-art video animated production that simulates the manufacturing of Pontiac's latest car.
The two eVidia LED displays from BillBoard Video are single-sided, with a 12.7mm pitch. The lower display measures 19 feet high by 38 feet wide and the upper display spans 14 feet high by 38 feet wide. The massive displays face south on 47th Avenue between Broadway and 7th Avenue in Times Square, and will be visible by the 1.7 million people passing through Times Square each day.