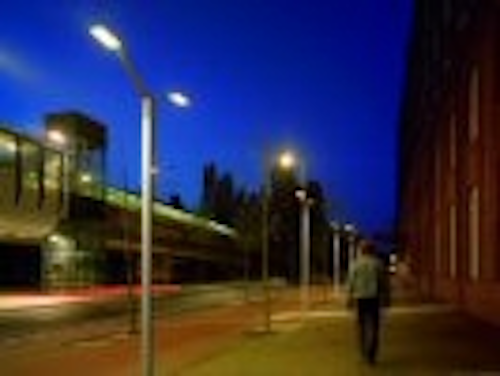 In common with a number of other lighting applications, LEDs are now starting to challenge conventional lamp technologies in the street lighting arena. A number of test installations are dotted around the globe, to evaluate both the performance of the fixtures and the reaction of lighting professionals and the general public.
LEDs offer several compelling advantages, for example the prospect of reduced energy consumption, fewer expensive maintenance call-outs and enhanced light quality. However, inevitably, there are hurdles to overcome, not least the higher initial cost of LED luminaires and the general inertia of potential customers.
According to Gunnar Moos, marketing manager for general lighting at Osram Opto Semiconductors, using LEDs for streetlights offers several benefits, for example longer and more predictable service intervals, leading to strongly reduced maintenance costs. When high-intensity discharge (HID) lamps break they have to be replaced very quickly in public areas, and often the local authority will have a maintenance schedule where all lamps are replaced even if they're still functional. A related advantage is enhanced safety for the road user, resulting from the high reliability and long lifetime of the LEDs.
+++++++
To read the rest of this article, please register for a free subscription to LEDs Magazine Review.
Why?
Existing subscribers:Click here to enter your reader number and download the new issue.