Transport for London revamps the bright lights of the UK capital (MAGAZINE)
Aiming to save energy and lighting costs on the main streets of the UK's capital, Transport for London (TfL) is in the throes of an ambitious project to upgrade more than 56,000 lights and to install a central management system for the roadways' lighting network, reports Caroline Hayes.
Jun 3rd, 2015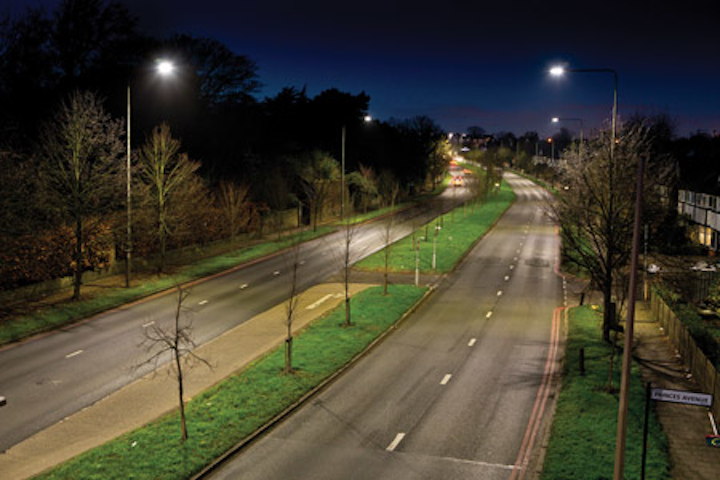 Aiming to save energy and lighting costs on the main streets of the UK's capital, Transport for London (TfL) is in the throes of an ambitious project to upgrade more than 56,000 lights and to install a central management system for the roadways' lighting network, reports CAROLINE HAYES.
The UK-based Transport for London (TfL) governmental body is in the midst of a major, municipal, outdoor solid-state lighting (SSL) project focused on the streets of the UK capital city. The TfL Streetlighting Energy Efficiency Programme is an £11 million ($16.4 million) project overseen by TfL - the body responsible for the transport system and services across greater London.
The scope of the project includes an upgrade of the lighting on London's main roads. For TfL this entails coordinating work across 14,800 km (over 9,000 miles) of roads, controlled by 34 highway authorities, multiple London boroughs, and five contractors used for installation and engineering works.
Scope
Since February 2014, the program has seen some street lights replaced with LEDs (Fig. 1), along with integration of a CMS (central management system) and lighting network, and repositioning of some street light posts. Roads in different areas, with varying traffic flows and urban environments, mean that the lighting design varies. For example, particularly wide streets require a consistent light output.
Replacing 250W high-pressure sodium (HPS - often referred to as SON in the UK) lights with 150W SSL fixtures has halved energy consumption when you consider the HPS ballast. Moreover, Dave Johnson, highways manager for TfL, said the ability to profile lighting - for example, with the ability to dim lighting - results in having the right lights at the right time and in the right place.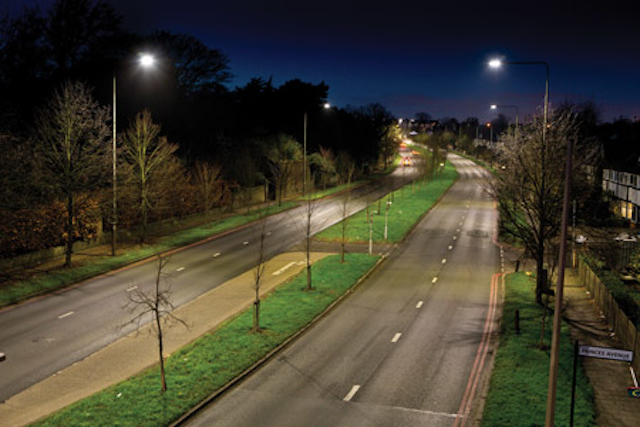 Transport for London revamps the bright lights of the UK capital with LED street lighting
FIG. 1. London's A406, North Circular Road, is illuminated with P850 luminaires from CU Phosco.
The complex pattern of London's roads - politically and geographically - means coordinating four contracting teams (Ringway Jacobs, in Northeast London; Conway/AECOM in Northwest London; CVU [Colas, Volker Highways, URS] in central London; and EM Highways in South London).
"The focus for the replacement lighting is 150W and above luminaires," said Johnson. There are also 400W luminaires on some of London's roads, and these, explained Johnson, are not viable to be replaced with LEDs - yet. Instead, TfL is moving the lamp-post columns for these lights closer together and using smaller, lower-power LEDs in a catenary lighting structure, where a wire is suspended between two posts, with a lighting unit supported by the wiring.
Related article: Denmark heads for the bright lights, smart city
All of the replacement and any of the major works, such as post moving, had to be carried out with minimal disruption; so, for example, carriageways are closed at night when traffic is lighter. The work was also coordinated to fit in with other projects, such as weed clearing, road markings, or gulley emptying, explains Johnson. Although this minimized disruption, it means that the work was carried out in patches of areas across the city, as and when other work in progress allowed.
LED replacements
To date, around 24,000 high-power LED street lamps have been installed, mostly on major roadways, with an estimated energy savings worth £1.8 million ($2.68 million) per annum. Minor roads will be upgraded in the next phase of the program, but at the moment the focus on the capital's major roads is realizing "huge savings," said Johnson.
The Climate Change Act 2008 sets targets for the reduction of greenhouse gas emission in stages for the first half of this century. The initial target is to reduce emissions by 34% by 2020 and then by 80% by 2050. This street lighting program will reduce energy consumption by more than 40% by next year, said TfL, cutting CO2 emissions by 9,700 tons per year.
These levels of emission reductions are achieved by replacing 250W HPS units with LEDs of around 150W, although lumen output is dependent on the design, pointed out Johnson. "We replaced [a lamp] producing about 25,000 lm, with [one] producing about 17,000 lm," he said, "and are getting good results."
In selecting the products, Johnson's criteria were a luminous intensity of class G4 or better, with correlated color temperature (CCT) of 4000K or what he calls natural white. G4 is a classification defined in the European EN 13201-2 standard that defines intensity at viewing angles and that is meant to ensure acceptable disability glare. Luminaire selection also had to meet a set of criteria, including a generic Elexon (a utility regulatory body) Charge Code for energy savings.

FIG. 2. The P850, 31.7-klumen maximum-output luminaire from CU Phosco Lighting, has been used to replace lighting on major dual-carriageway roads.
What was initially intended to be a CMS to switch on and off light fixtures that were based on legacy sources evolved into an LED and CMS project, as LED quality improved and prices fell, making LED street lighting viable. The result is roadway lighting that can be dimmed via the CMS, to meet traffic flow volumes, and to take into account the characteristics of a road junction, e.g., residential or industrial surroundings.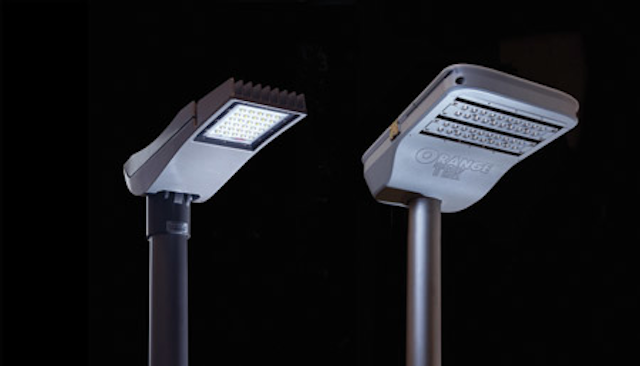 FIG. 3. The AriaLED (right), shown alongside OrangeTek's earlier TerraLED lantern, has been used in the TfL Streetlighting Energy Efficiency Programme, replacing luminaires on the top of light posts across the capital.
A traffic control center monitors the traffic rates and adjusts lighting in the event of an incident, such as a traffic accident, to provide the light and color rendition required by emergency services attending the scene. The CMS also provides a fault alert to save lengthy manual street searches to find and replace faulty lights.
Design flexibility
All luminaires used are certified to British Standard BS 5489-1:2013, which gives increased flexibility, said Johnson, to design for lighting at peak times. Mounting options for the luminaires are also adaptable to allow for side entry or post-top mounting. The luminaires could be adjusted in increments of five degrees between ±10 degrees to create a lighting distribution design for particular spaces.
For main roads, CU Phosco Lighting has supplied P850 luminaires (Fig. 2) and the P851 smaller lantern for use on minor roads. Lumen output is 10,600-31,700 lm for the P850 and 3,300-13,100 lm for the P851. Each of the four contractors had a design consultant to collaborate with CU Phosco to create a lantern that could operate with specific photocells, meet CMS requirements, and work with particular driver types ahead of production.
For this project, David Lodge, technical director of CU Phosco Lighting, explained, TfL wanted a G6 classification for glare. This was achieved with the use of flat glass in the lantern design. For another lantern design, the glass was tilted at a five-degree angle to achieve a rating of G4.
Lodge estimated the facility to use around 5% lower constant light output for standard lanterns, achieved by using the CMS to avoid over-lighting a road.
The luminaires are contained in recyclable aluminum housings. CU Phosco has supplied the majority of kits - 4,500 to date - for the Streetlighting Energy Efficiency Programme, together with Orange Tek supplying the AriaLED luminaire range (Fig. 3).
Both ranges of luminaires are sealed and have top or side entry and tilting mechanisms for directional lighting. The AriaLED has AriaStream airflow as the thermal management mechanism to cool LEDs in the luminaire housing. The modular light engine can accommodate a range of LED configurations for different light profiles.
CMS operation
The cost of the CMS is being justified by both automated maintenance and the additional savings related to dimming. As Fig. 4 depicts, there are huge peaks in traffic utilization on major roadways with little traffic throughout the night.
Luminaires leave the factory for the Streetlighting Energy Efficiency Programme equipped with the CMS module, which is bundled and pre-wired into the light. Cable is pulled through the lighting column at the installation point.
The CMS, supplied by Harvard Engineering, operates on a branch node structure, with a collector hub connected to the central computer at TfL. One node communicates with up to 250 street lights in a 1-km (0.6-mile) radius.
At the moment, there are no plans for cloud-operated, smart-city lighting. "There is not an automatic link," conceded Johnson. "We are looking to do that, but currently the technology is not there."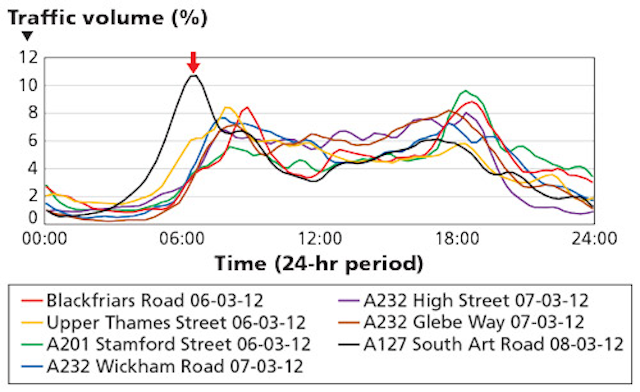 FIG. 4. The graph illustrates the business case for a CMS in London's lighting system, where road use varies at different times of the day (Courtesy of Dave Johnson, TfL).
In addition to the significant energy savings achieved already by the scheme, which is due to be completed in 2016, Johnson pointed out that there are practical maintenance advantages. The lighting kit arrives as a sealed unit, and needs testing only once every 10 years rather than every six years as before, reducing disruption as well as maintenance costs. "There is a balance to strike," he said, "in terms of safety to the public and staff...These luminaires guarantee 50,000 hours of operation - more if dimming at less than full power."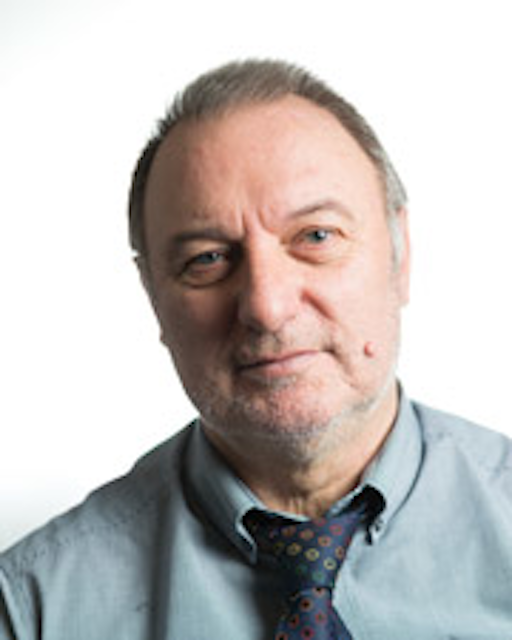 FIG. 5. Dave Johnson, highways manager, TfL, coordinates the street lighting project.
Conditions that suppliers have to meet include the Elexon Charge Code for unmetered energy-supply consumption. Johnson calculated that using a generic 250W HPS LED luminaire costs £139.06 (approximately $206.00) per year to operate (consuming 301W at £0.11/kWh), compared to the CU Phosco P850, which consumes 143W and costs £66.06 (approximately $98.00) per year, to realize an annual saving of £73.00, or approximately $108.00, per year.
---
CAROLINE HAYESis a contributing editor with LEDs Magazine.