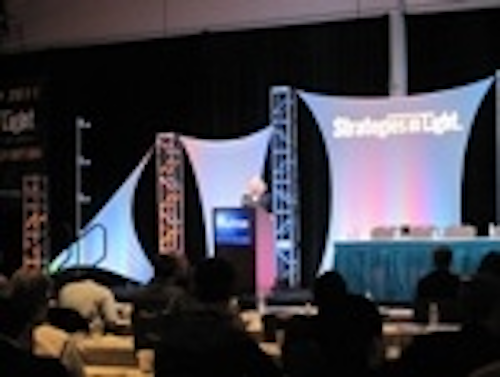 With the theme of "Navigating the Dynamic LED and Lighting Markets," Strategies in Light 2012 will be held at the Santa Clara, California Convention Center on February 7-9, 2012. The conference will continue its 12-year tradition of offering a wide range of high-level presentations of key interest to the LED and SSL communities by industry leaders.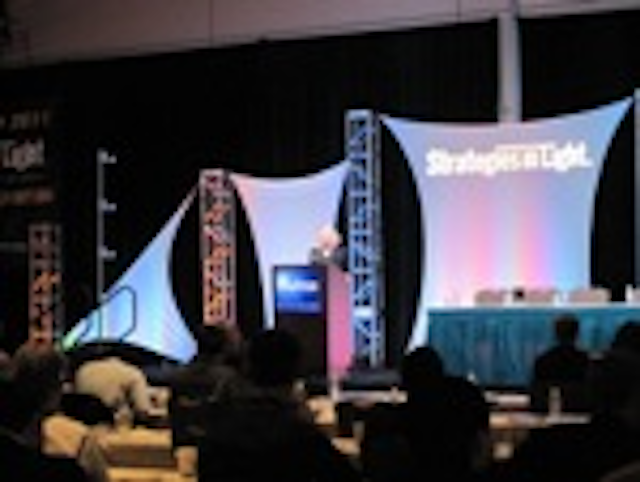 SIL 2012 will be kicked off by Ella Shum, Director of the LED Practice at Strategies Unlimited. Shum will review the most recent market trends for HB-LEDs, including an updated review of the market for 2011 and a forecast through 2016. Sales results for the year-to-date indicate that 2011 will be considered to be one of the most challenging years in the history of the HB-LED industry. After an astounding 108% market growth in 2010, driven largely by the adoption of LED backlights in LCD TVs and computer monitors, market growth has declined dramatically in 2011. Demand for LCD TVs has slowed, and the oversupply of LEDs caused by widespread capacity scale-up has put strong downward pressure on prices. Shum will review the key driving forces that have influenced the market in 2011 and will factor into the market over the next five years.
Keynote speakers
Several distinguished LED industry leaders have been invited to give keynote presentations in the conference plenary session. The first of these will be Ling Wu, General Secretary of the China Solid-State Lighting Association (CSA). Wu and the CSA have been instrumental in shaping the national policy of the Chinese government toward solid-state lighting. The Chinese national government and a number of regional governments have played major roles in the development of the SSL industry, both through various subsidies as well as large-scale LED lighting projects. The outlook for the industry will be strongly affected by the policies included in the SSL component of China's 12th Five-Year Plan. Wu will review the Chinese national plan for SSL and will provide a status report on the entire China LED/SSL industry and supply chain.
Largely due to the rapid penetration of LED backlights into the LCD TV market, Korean LED suppliers have seen a remarkable increase in worldwide market share. In 2010, the combined market share of Korean suppliers was 26%, compared to just 13% in 2009. Representing the Korean LED industry, the second keynote speaker will be Chung Hoon Lee, CEO of Seoul Semiconductor. Seoul is the largest independent LED manufacturer in Korea, and tied for 4th place in worldwide market share in 2010. Lee has guided the spectacular growth of the company since becoming CEO in 1992. He will provide perspective on the outlook for the worldwide HB-LED market based on his 19 years of experience in this dynamic and ever-changing industry.
The third keynote speaker will be Eric Kim, President and CEO of Soraa, Inc. Soraa was founded in 2008 by Shuji Nakamura, Steve DenBaars and James Speck, all professors and members of the Solid-State Lighting and Energy Center at the University of California at Santa Barbara, and all recognized as key innovators in the field of gallium nitride-based LEDs and SSL. Nakamura is widely regarded as the "father of the blue LED." Soraa, primarily funded to date by Khosla Ventures and New Enterprise Associates, recently embarked on a Series B round of funding with the goal of raising an additional $90.26 million. Kim, who became CEO of Soraa in July 2010 and previously held senior executive positions at Intel and Samsung Electronics, will provide Soraa's first public insight into the technology and market direction of the company.
Market dynamics and trends
In addition to the keynote speakers mentioned, Strategies in Light's HB-LED Market Track (one of three parallel conference tracks) will feature a many other speakers who will provide insight into the dynamics of today's LED and SSL markets and technologies. Tim Whitaker, Editor-in-Chief of LEDs Magazine, will provide observations on the status of the European LED lighting industry. Ned Tozen, President and Founder of SSL start-up d.light, will discuss how LED lighting can improve the lives of world's poor who live at the "base of the pyramid."
HB-LED applications
Historically, in-depth presentations on some of the leading applications for HB-LEDs have been major elements of Strategies in Light, and the 2012 conference will be no different. Paul Semenza, Senior Vice President at DisplaySearch, will address the subject of how LEDs have impacted displays, and vice versa. Klemens Brunner, Vice President, Automotive LEDs, at Philips Lumileds Lighting, will discuss how LEDs will play a role in the advanced automotive headlamp systems of the 21st century. Song Shang, Executive Director, International Department of the Chinese LED Display Association, will present a roadmap for LED signage, including intelligent signs.
Panel sessions
SIL 2012 will include two panel sessions on technologies that will have major impacts on the future adoption of solid-state lighting. The first session, simply entitled "Phosphors" will include presentations on:
Quantum dots – Seth Coe-Sullivan, CTO, QD Vision

Remote phosphors – Rene Wegh, Project Manager, Philips Lighting

Nitride and oxynitride-based phosphors – Yongchai Tian, CTO, Lightscape Materials
The three presentations will be followed by a panel discussion, open to questions from the audience.
The second panel session, "Drivers and Controls," will include presentations on the following topics:
LED driver technology and markets – Tom Hausken, Director, Optoelectronic Components, Strategies Unlimited

Dimming and flicker in SSL – Michael Poplawski, Senior Lighting Engineer, Pacific Northwest National Laboratories

Use of the driver for closed loop temperature control – Anthony Catalano, CTO & Founder, TerraLUX

Efficient dimming for LED lighting – Peter Di Maso, Marketing Manager for Lighting Power Products, Texas Instruments
A panel discussion with Q&A from the audience will follow these presentations.
LED manufacturers' perspective
The perspectives of the major LED component manufacturers have been an integral part of the Strategies in Light program. With the current turbulent situation in the LED market, it is especially important to understand these company's views on the dynamics of the industry. Mike Watson, Senior Director of Marketing and Product Applications at Cree, will discuss the key characteristics of LED components that will lead to success in the SSL market. Ulrich Steegmueller, Senior Director of R&D at Osram Opto Semiconductors, will analyze what it takes for LED companies to successfully navigate through turbulent times. Daniel Doxsee, Vice President of Nichia North America, will review the latest trends in LED lighting from an LED manufacturer's perspective.
Other topics
Other notable speakers at SIL 2012 will include: Jed Dorsheimer, Managing Director, Equity Research, Lighting and Solar, at Canaccord Genuity, and longtime LED industry analyst, who will address the economics of LED manufacturing; Morgan Pattison, President of SSLS, Inc., who will provide an overview of research directions for solid-state lighting; and Andras Poppe, Product Marketing Manager, MicReD Division of Mentor Graphics, who will discuss measurement techniques that can provide real thermal metrics of LED devices.