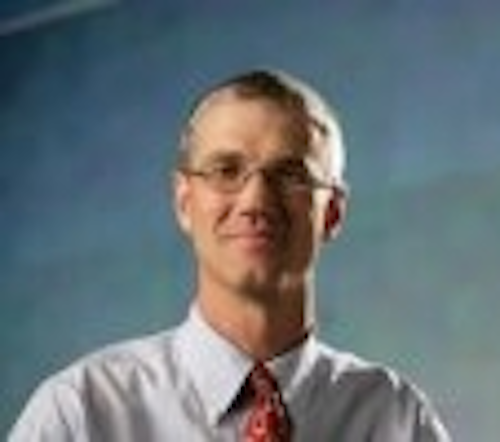 Cree's Chuck Swoboda delivered the keynote address at Arrow's recent LED Lighting Design Seminar and focused the talk on LEDs in general-lighting applications. Part 1 of our article on the keynote described Cree's general-lighting focus. In the letter part of Swoboda's talk he focused on obstacles to success for solid-state-lighting (SSL) from a marketing and positioning perspective while chronicling how LED technology has progressed to the point that the technology will no longer gate success in general lighting.
Indeed Cree is confident that LEDs are no longer an obstacle to cost-effective SSL. The industry does need to continue to drive the cost out of the system design. But Swoboda suggested that branding and marketing are as significant roadblocks to success as is the technology.
Swoboda pointed out a common mistake people in the SSL segment are making. He said "They either want it to be really expensive as a super-premium product or they want to make it as cheap as what it's replacing. It's neither. It's a value sell."
To make his point, Swoboda discussed the widely-publicized partnership between Cree and Home Deport in selling the CR6 down light. Cree approached the move as an awareness campaign and Swoboda said, "Our only objective was to get them to put the demo in the store."
Cree hoped to test what would move the SSL market. And while he didn't share details on product sales, Swoboda asserted that the product has done very well at a price ($50) that was broadly considered too high. He suggested that once people can see and touch SSL technology, they understand the value.
"I think there is much more demand for LED lighting in the near term than anyone has thought about," Swoboda said. "If the customer is comparing [LED lighting] to CFL it's an even easier sell." Earlier he had noted that the CFL had taught consumers that energy-efficient lighting was equivalent to a compromise in quality but that LEDs will change that perception.
Efficiency and applications
The Q&A session following the presentation was dominated by a discussion of LED efficiency, applications where LEDs are winning, and the challenges for luminaire makers.
Swoboda affirmed that Cree is shipping the XLamp XM-L family of LEDs that he believes offers an industry-best 160 lm/W. He added that the company is doing better in the lab with prototypes operating in excess of 200 lm/W. Asked when Cree would ship such products, Swoboda would not commit but noted that the company has a track record of delivering production components 18 months to three years after lab demonstrations.
The inevitable next questions centered on what would deliver the gains in brightness. One questioner suggested that bigger die would be the answer. While acknowledging that Cree has some LEDs based on larger die including current versions of the XM-L, Swoboda suggested that "die size is a short term solution." In a separate presentation, Cree applications engineer Yuming Chen detailed the fact that larger die size creates the need for much larger secondary optics to prevent the light losses associated with the etendue effect.
Instead, Swoboda believes that there will be advancements in chip design, phosphor technology and packing that deliver better efficiency. He stressed that by chip design he does not mean the actual epitaxy process. He believes that the industry is nearing peak efficiency in semiconductor devices. But he believes that there are other elements of chip design that can improve light extraction. Swoboda predicted that Cree will deliver LEDs with efficiency in the 220 to 230 lm/W range while noting that the company will be nearing the theoretical limit of converting energy into light at that point.
The stress on efficiency is as much about thermal issues as it is brightness per se. As discussed in our prior article on the keynote, brighter LEDs simplify system design. Swoboda said, "When that thermal load comes down, everything gets easier."
Swoboda was also asked about a number of applications and when a "tipping point" might be reached. He believes that street lights tipped when LEDs hit 100 lm/W. The same level has allowed "a segment" of the retrofit bulb market to tip. But he noted that "converting a category of lighting is a really long process."
Swoboda was quick to highlight a potential market for SSL that has not been viewed favorably of late. He boldly predicted that LEDs would succeed sooner than expected in linear-fluorescent retrofit applications.
Fast design cycles
An audience member, clearly representing a luminaire maker, expressed frustration at the fact that the LED market is moving so quickly with new products and packages coming to market constantly. The questioner noted that before the luminaire maker can get a product to market and into volume manufacturing that the LED maker invariably had a new brighter product – perhaps in a new package – that was replacing the old one.
Swoboda sympathized with the plight of the luminaire maker while opining that companies should go ahead and complete each design rather than stopping and changing light sources in the middle of a project. He used an LED street light manufacturer as an example of why. He noted that the company is on its fifth generation of its street light design, and that much more than the LED components were changed in each generation. He said, "They had to change [LED] platforms but they changed everything else each time too. Their product today is three to four times brighter, twice as efficient, and one fifth the cost as in gen one."
Swoboda made a bold statement that applies both to luminaire makers and to the LED component makers. To succeed he said, "You've got to want to obsolete your own products."
Swoboda said, "I don't think there's any doubt that the world is going to LED-based lighting technology." And he succinctly summed up the reasoning behind Cree's general-lighting focus saying, "If you get there early it works out a lot better than if you get there late."