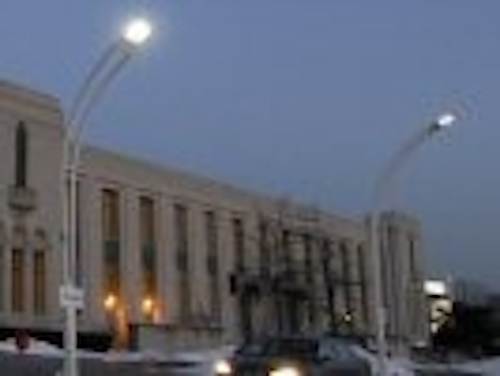 An installation of 16 LED streetlights, the largest in Canada, has been unveiled in Exhibition Place in Toronto, Ontario. The pilot project is intended to show how LED lighting can dramatically reduce city lighting costs. "LED street lighting is one of the options we are enthusiastically examining in order to bring Toronto another step closer to becoming the greenest city in North America," said the city's mayor David Miller. "This one step will reduce costs, increase safety and improve our environment."
The LED luminaires were manufactured by Leotek Electronics, and were supplied by electromega, a Canadian distributor. The initial investment needed to cover the cost (approximately $1200 per luminaire) and installation of the new LED streetlights is expected to be recouped from electricity savings as well as reduced replacement and maintenance requirements.
A total of 12 LED streetlights have been installed at Exhibition Place on unique, bow-style street light poles surrounding the perimeter of the Automotive Building. An additional 4 LED streetlights are positioned in the parking lot south of the Direct Energy Centre.
+++++++
This article was published in the April 2007 issue of LEDs Magazine.
To read the full version of this article, please visit our Magazine page, where you can download FREE electronic PDF versions of all issues of LEDs Magazine.
You can also request a print copy of LEDs Magazine (available by paid subscription).