Lighting meets displays at PLASA show
Continuing a theme that has emerged over the last few years, products on show at the annual PLASA show demonstrated the convergence of lighting effects and video.
Oct 16th, 2007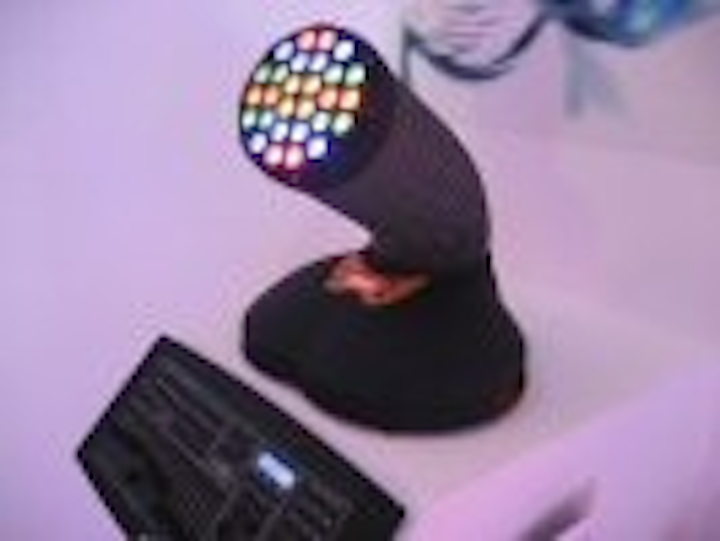 Technologies for lighting and video have evolved separately, but in recent years the distinction has almost vanished, thanks in part to the maturation of full-color LED technology, digital imaging and the feed video to large arrays of LED fixtures. Trade shows such as PLASA, serving the professional audio-visual community, illustrate this with a wide variety of LED-based products.
At one extreme are traditional video screens from the likes of Barco and Lighthouse, who are now introducing sophisticated 4-mm pitch indoor displays. At the other are LED lighting fixtures that combine RGB LEDs with amber and white for sophisticated color-changing light effects. Somewhere in the middle are fixtures with arrays of LEDs in a variety of configurations that are capable of reproducing low-resolution video imagery or decorative lighting effects – or both.
Several companies offer semi-transparent LED screens in which the LEDs are arranged on lightweight rigid grids (e.g. Barco's MiTrix – see fig. 1 – or Stealth from Element Labs), webbing (A.C. Lighting's ColorWeb) or inside polycarbonate tubes (e.g. GLEC's Phantom). Many of these displays were seen at the recent Frankfurt Motor Show, as we will describe in our next issue.
Element Labs showed its new Helix G75 and H75 displays: the latter is a robust, modular system with 75 mm pitch and 6 LEDs per pixel (fig. 2). G-LEC unveiled its Phantom 30 lightweight LED display system, with each 945 x 960 mm frame holding 32 x 32 pixels (3 LEDs per pixel) at a pitch of 30 mm. The Phantom 30 weighs 8kg and can be used interchangeably with the 60-mm pitch Phantom 60 (see fig. 3).
+++++++
This article was published in the September/October 2007 issue of LEDs Magazine.
To read the full version of this article, please visit our Magazine page, where you can download FREE electronic PDF versions of all issues of LEDs Magazine.
You can also request a print copy of LEDs Magazine (available by paid subscription) and sign up for our free weekly email newsletter.