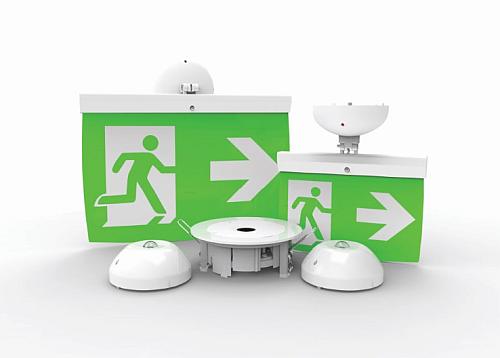 Hochiki Europe, the leading manufacturer of fire and emergency lighting solutions, will be introducing FIREscape, the UK's first ever low voltage, intelligent LED emergency lighting system, on Stand B51 at LuxLive 2015.

Interested in more articles & announcements on LED emergency lighting & signage?

The event, held at London's Excel from 18 - 19 November, will see Hochiki Europe showcase its addition to Europe's low-carbon product economy. The Hochiki Europe FIREscape LED emergency lighting system has been developed to generate less than five percent of the CO2 emissions produced by traditional lighting. By switching 100 230V fluorescent exit luminaires with FIREscape LED exit lights, a building will see its CO2 emissions decrease by 2,100 KG every year.

The FIREscape LED emergency lighting helps customers support European eco-targets and is able to make financial savings of up to 95 percent in energy costs, reducing running costs over its lifetime.

Hochiki Europe's team of experts will be available throughout the event, giving visitors live demonstrations of a working FIREscape system. Paul Adams, Hochiki Europe's marketing manager commented: "LuxLive is always a fantastic opportunity to showcase the technology behind our eco-friendly FIREscape solution.

"FIREscape is a highly effective emergency lighting system which helps users save money, reduce energy use and reduce their carbon footprint to meet European targets.

As Hochiki Europe has invested in the creation of its own Building Information Modelling (BIM) components, FIREscape's product information is downloadable on the NBS National BIM Library. For more information visit: http://www.nationalbimlibrary.com/hochiki_europe_uk_ltd

FIREscape has been used in a number of projects throughout the UK and Europe. Will Jones, managing director, Tann Synchronome, commented on the recent FIREscape installation at the Kenneth More Theatre in Ilford: "I've never failed to be impressed with the quality, flexibility, reliability, ease of use and design excellence of Hochiki Europe products. If there's a better LED based emergency lighting system on the market, I haven't seen it."

Hochiki Europe will be showcasing FIREscape on Stand B52 at LuxLive, at London's Excel, 18 to 19 November.

For almost 100 years Hochiki has led the way in the design and manufacture of innovative life safety solutions. Its leading edge commercial and industrial fire detection and emergency lighting products have acquired global acceptance as the benchmark for high-integrity and long-term reliability.
With a global sales turnover exceeding £400m Hochiki Europe is a wholly independent, multinational, publicly listed company with over 1,500 employees working across five manufacturing plants, 32 sales offices and 18 subsidiaries.
Its ongoing commitment to manufacturing innovation ensures customer satisfaction and its production facilities in Japan, the USA and Europe offer international continuity in quality, service and supply.
Contact:

Paul Adams, Deputy Marketing Manager - Hochiki Europe (UK) Ltd
+44-(0)-1634-266568
E-mail:

Web site:

www.hochikieurope.com/firescape/

Locate more display & sign vendors in the LEDs Magazine Suppliers Directory

Submit new products, case studies/projects, and other press releases at http://www.ledsmagazine.com/content/leds/en/addcontent.html.