Allen County War Memorial Coliseum selects Daktronics LED video display and scoring system
Nov 9th, 2015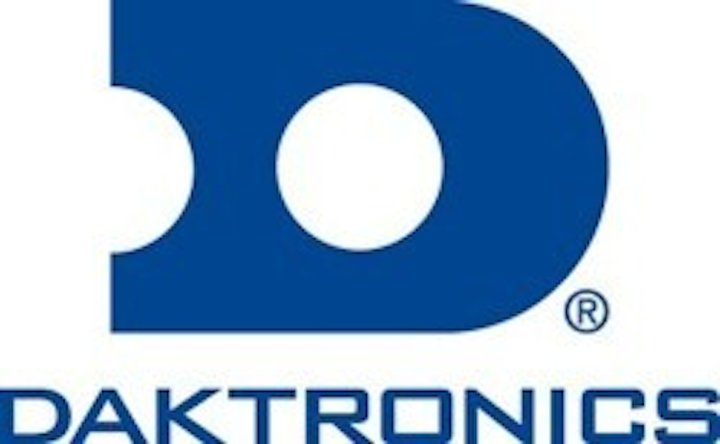 BROOKINGS, S.D. – Daktronics (NASDAQ-DAKT) of Brookings, South Dakota, has partnered with the Allen County War Memorial Coliseum of Fort Wayne, Indiana, to manufacture and install new LED video displays into their existing centerhung structure. The project was completed late this summer in time for the fall sports seasons.
"In looking for a reliable provider for our video and scoring system, we turned to the tried and true products from Daktronics and their continued stability in the industry for this installation," said Executive Vice President and General Manager of Allen County War Memorial Coliseum Randy Brown. "The Daktronics team worked with us to retrofit our existing centerhung structure with new displays as well as providing everything from installation to training that made the entire process as seamless as we could have hoped."
The centerhung LED video display configuration consists of four video displays each measuring more than 7 feet high by 11.5 feet wide. The displays feature 15 millimeter line spacing and wide angle visibility ensuring the displays look great from any seat in the house. Variable content zoning allows the LED video displays to show a single large image or to show multiple windows filled with any combination of live video, instant replays, scoring information, up-to-the-minute statistics, animations and sponsor highlights.
"We were very excited to continue our relationship with the Coliseum through providing this scoring system overhaul," said Ryan Stratton, Daktronics sales representative. "The teams playing at the Coliseum will have the opportunity to score their games using the same systems used in NBA and NHL. We look forward to the future with the Coliseum by providing our Show Control system to operate their new displays. Show Control was a great choice for the Coliseum through its ability to be expanded to any new display products they may decide to install going forward."
Daktronics industry-leading Show Control System provides a combination of display control software, world-class video processing, data integration and playback hardware that forms a user-friendly production solution. For more information on Show Control, visit
www.daktronics.com/show
.
Daktronics LED video and messaging display technology offers a long lifetime with consistent, industry-leading performance and low power consumption, providing value and excitement for years to come.
About Allen County War Memorial Coliseum
Allen County War Memorial Coliseum is 13,000-seat facility in Fort Wayne, Indiana, that opened in 1952. Serving as home to the ECHL's Fort Wayne Komets and the NBA D League's Fort Wayne Mad Ants, the arena hosts a wide variety of sporting and other events from roller derbies to concerts to any number of expositions and trade shows.
About Daktronics
Daktronics helps its customers to impact their audiences throughout the world with large-format LED video displays, message displays, scoreboards, digital billboards and control systems in sport, business and transportation applications. Founded in 1968 as a USA-based manufacturing company, Daktronics has grown into the world leader in audio-visual systems and implementation with offices around the globe.
SAFE HARBOR STATEMENT
Cautionary Notice: In addition to statements of historical fact, this news release contains forward-looking statements within the meaning of the Private Securities Litigation Reform Act of 1995 and is intended to enjoy the protection of that Act. These forward-looking statements reflect the Company's expectations or beliefs concerning future events. The Company cautions that these and similar statements involve risk and uncertainties which could cause actual results to differ materially from our expectations, including, but not limited to, changes in economic and market conditions, management of growth, timing and magnitude of future contracts, fluctuations in margins, the introduction of new products and technology, the impact of adverse weather conditions and other risks noted in the Company's SEC filings, including its Annual Report on Form 10-K for its 2015 fiscal year. Forward-looking statements are made in the context of information available as of the date stated. The Company undertakes no obligation to update or revise such statements to reflect new circumstances or unanticipated events as they occur.
Contact:
Justin Ochsner, Public Relations/Marketing - Daktronics
+1-605-692-0200