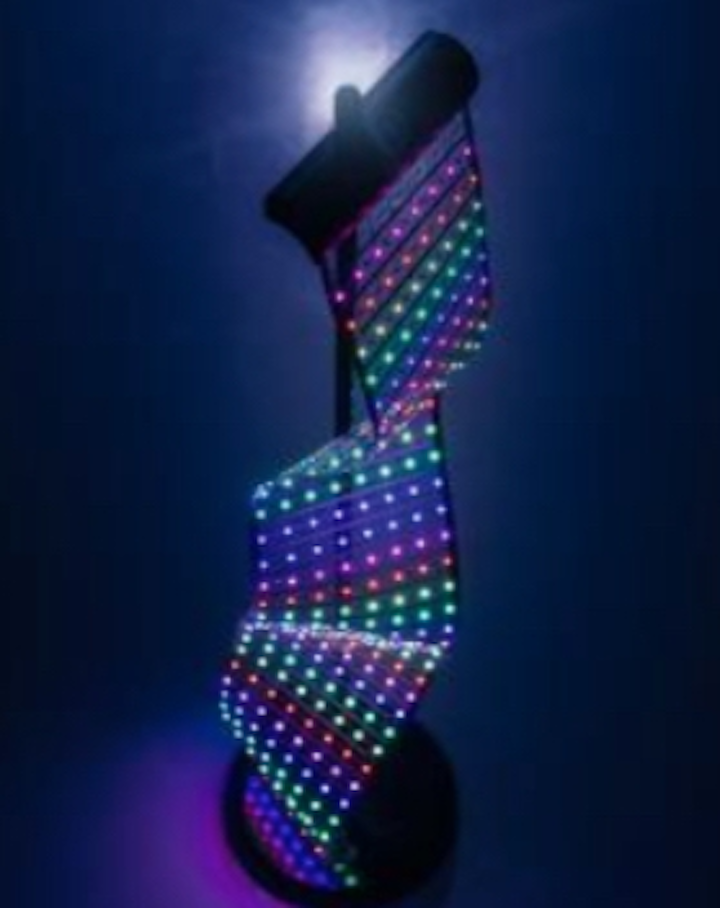 In an EU-funded partnership with Signify and others, the Finnish engineering company is also turning the walls into interactive displays in an IoT scheme. It won't stop at just elevators, either.
It sounds like another proclamation that OLEDs will be the future of lighting, design, and architecture, and it even throws in the Internet of Things (IoT) to boot: Finnish engineering company Kone is outfitting an elevator with walls made from a thin, flexible, illuminating material that provides the car's artificial light while also functioning as an information display board and a giant interactive touch screen.
Interested in articles & announcements on specialty SSL and displays?
But this so-called "interactive media surface panel" does not make use of OLEDs — the organic light-emitting diode technology in which every bit of an entire surface lights up in response to an electrical current, and which proponents say will literally become part of the fabric of building interiors, exteriors, furniture, fashions, and all sorts.
Rather, it deploys good old LEDs, embedding the single-point light source within a flexible material.
The Kone project, which is funded by the European Union's Horizon 2020 research and innovation initiative, is a reminder that the longer it takes for the forever-gestating OLED world to crack its challenges such as manufacturing costs and energy efficiency, the more it risks losing out to other technologies, such as LEDs.
While the first functional demonstration will be in an elevator, Kone and its EU research partners envision broad applications. Their LED rhetoric comes straight out of the OLED playbook, with the bonus of IoT functionality.
Related: Sosolimited delivers interactive LED-lit sculpture in lobby of Boston skyscraper
"The Kone Corporation foresees these large area media surfaces being an integral part of future urban space and living," said an EU spokesperson. "Therefore, developing intelligent wall materials, rather than displays, enables digital solutions to be part of the spatial experience by forming dynamic interior designs."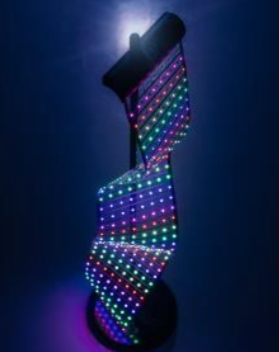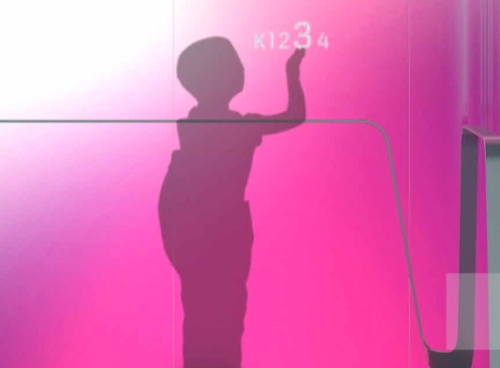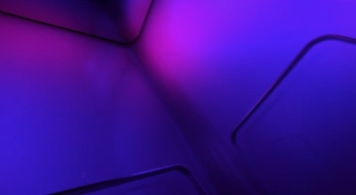 Kone will use the LED-embedded material at the top to line the walls of an elevator car such as in the pictured concepts. (Photo credits: InScope.)
The project is part of the EU's Horizon-backed InScope consortium, which besides Kone includes Signify (formerly Philips Lighting) among other industrial companies, plus research institutes from five countries.
InScope's mission is to advance printed electronics in smart buildings, automotive, medical packaging, and other areas — such as shoe insoles that detect and deliver information on gait tendencies, for athletic training and medical purposes. The consortium has developed a flexible printed-circuit board (PCB) technology called H-TOLAE, which stands for hybrid thin organic large-area electronics (the "organic" in this case is not an organic LED).
InScope demonstrated the material at the PRINSE 2018 manufacturing conference in Oulu, Finland and at the Lopec 2018 manufacturing exhibition in Munich, both earlier this year, having created the material using 200×2400-mm roll-to-roll manufacturing of "flexible and transparent display engines." The engines include individual controllable RGB LEDs that can display video content and that can deliver different lighting scenarios. Information is updated via a Chrome browser app and a Bluetooth connection. The consortium is also developing haptic (touch) technology that will allow users to interact with the screen, using electroactive polymers that InScope said will provide the crucial tactile click that many users complain is lacking from touch screens.
Related: Multilayer LED design blankets Peru bank façade
Kone plans to demonstrate an elevator car using 18m2 of the interactive media surface. It is not clear what the time schedule is.
"We were looking for large-scale production using printed electronics solutions, and the InScope project has given us the opportunity to study, share visions and needs based on these technologies," said Jukka Korpihete, senior lighting design specialist at Kone.
The elevator will also be outfitted with sensors that can detect elevator occupancy and can tailor information depending on types of occupants, such as child, adult, or disabled person, for example.
Meanwhile, OLED developers will continue to try to make their own advances. As LEDs Magazine recently reported, new application ideas have included using it for newsprint, and for medical and fitness wristbands.
Related: More photons, less paper: Using new digital tools to fuse lighting into architectural surfaces
Although OLED has made some inroads as a display technology on smartphones, and in some automotive areas, its big breakthrough as a general lighting source has yet to come, as developers struggle to bring down manufacturing costs and improve energy efficiency, which lags LEDs.
That is not to say that InScope and its H-TOLAE will win the day. InScope said it is working to overcome "primary technical hurdles" that include "printing resolution, registration, and uniformity; molding and thermoforming of functionalities; high-mix pick-and-place solutions for silicon (and printed) components on printed devices; and bringing new printed functions to maturity."
In addition to Kone and Signify, the industrial members of InScope are electronics and engineering company Bosch, and pharmaceutical giant GlaxoSmithKline. The five research institutes are Holland's Holst Center, Finland's VTT, Belgium's IMEC, France's CEA, and the UK's CPI.
MARK HALPERis a contributing editor for LEDs Magazine, and an energy, technology, and business journalist (markhalper@aol.com).