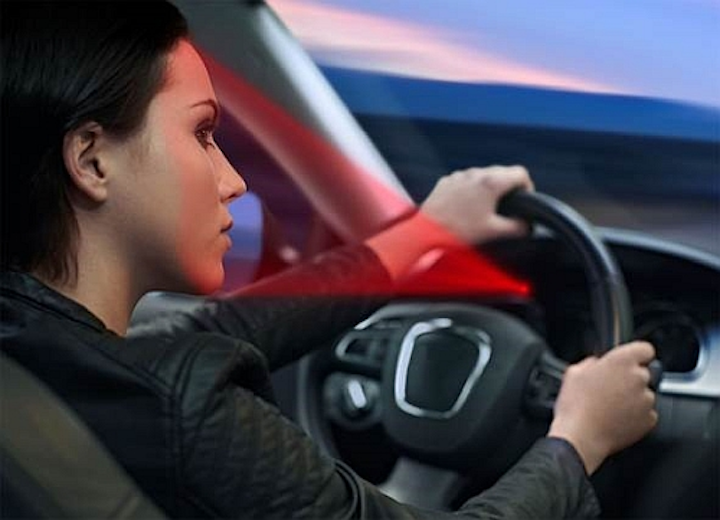 Safety and convenience applications for autos are enabled by infrared LEDs in differing spectral bands, and a selection of different beam patterns broadens the range of usage scenarios.
Osram Opto Semiconductors has added to its infrared (IR) packaged LED portfolio, or what the company calls IREDs, with six new models in the Oslon Black family. The automotive-targeted solid-state lighting (SSL) offering includes models with different spectra and beam patterns to serve a broad range of uses in both interior-cabin and exterior applications. The cabin applications are dominated by convenience features while the exterior applications are typically safety related.
Interested in articles & announcements on LED-based automotive lighting?
IR LEDs are evolving to serve an incredibly diverse set of applications. For example, Osram launched a 940-nm family earlier this year that, when paired with a camera, can enable facial recognition as a biometric tool to unlock access to a PC or smartphone. And last year the company touted IR LEDs for use in virtual reality headsets.
The new Oslon Black LEDs similarly target specific applications through a carefully-engineered spectrum and accurate beam control enabled by the integrated lens or primary optic. Indeed, the company expects the LEDs to serve in many of the envisioned automotive lighting applications without the need for a secondary optic. That fact enables low-profile installation of the components in tight spaces.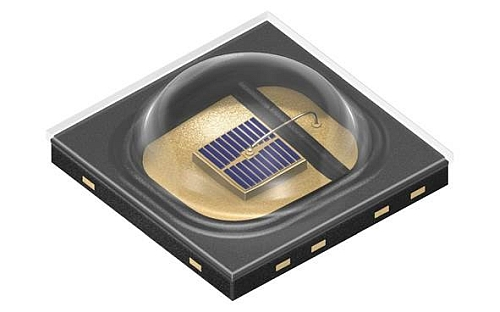 The Oslon Black IR LEDs are engineered to enable advanced interior and exterior automotive features.
The exterior-targeted models include the SFH 4715AS A01, SFH 4716AS A01, and SFH 4717AS A01 LEDs with beam patterns of 45°, 75°, and 25°, respectively. All three LEDs produce output at 850 nm. At that point in the radiometric band, humans would perceive a red glow from those LEDs. Typical applications would include detection of pedestrians, lane departure detections, and even night vision. All would enable a safer environment for the occupants of the car, for pedestrians, and for occupants of other vehicles.
The IR LEDs that target in-cabin applications emit at 940 nm, and at that point in the spectrum would not be visible to humans — and would not be distracting in any way to the driver. Envisioned features include gesture controls for convenience and monitoring of interior cabin activity. The LEDs could also monitor the driver for signs of exhaustion or other potentially dangerous conditions. The SFH 4725AS A01, SFH 4726 A01, and SFH 4727AS A01 LEDs also have beam patterns of 45°, 75°, and 25°, respectively.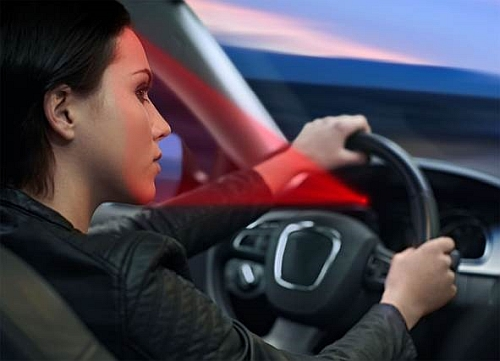 Osram Opto adds IR LEDs for interior and exterior automotive lighting applications
IR LEDs designed for interior automotive applications can detect driver awareness.
The high-power LEDs in both the interior and exterior sectors deliver as much as 2W of radiometric power when driven continuously. Osram said the LEDs can be driven at 5A in pulsed mode.
"Osram's Oslon Black IREDs — with their high intensity and pulsing capability — provide the building blocks to improve road safety for drivers and pedestrians," said Rajeev Thakur, regional marketing manager at Osram. "Designed with compact dimensions and for applications inside and outside the vehicle, the IREDs give engineers design freedom, as well as the ability to take a holistic approach to driving environment sensing."
The automotive lighting sector remains extremely important to Osram, both for IR LEDs and more broadly for LEDs in the visual range for interior and exterior applications. As we mentioned in our coverage of Strategies Unlimited market presentations made earlier this year at Strategies in Light, success in the automotive market is a key factor for Osram's high-ranking position in the packaged LED space. You can peruse that story in our April issue and the HTML version will be on our website shortly. Strategies Unlimited projects tremendous growth in both interior and exterior applications in the auto sector.
Some of Osram's latest visible LEDs for automotive lighting applications include the Smartrix modules announced last fall for adaptive drive beam headlamps. The company has also worked with partners on a hybrid circuit/package that integrates 1024 LEDs with driver electronics for even more dense adaptive-beam capabilities.