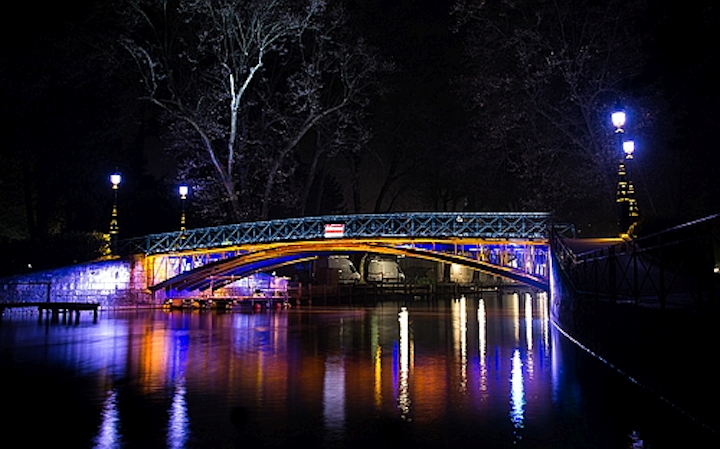 Controlled SSL system bathes the Pont des Amours bridges in dramatic light while lovers that visit the bridge will find the effects subtle with bridge surface lighting hidden in railings.
LEC Lyon has announced an outdoor LED-based lighting project completed in Annecy, France near the border of Switzerland. The famed Pont des Amours or Lovers' Bridge now feature a solid-state lighting (SSL) system that's fully equipped with a DMX control system. The lighting reflects dramatically on the bridge architecture and the Thiou River flowing underneath yet pedestrians on the bridge experience subdued lighting — carefully controlled for light spill and glare.
The Lovers' Bridge is so known because of a local legend that states that lovers who kiss in the center of the bridge will be together forever. It's located where the river enters Lake Annecy and links the Champs de Mars greenbelt with Annecy's city gardens, or Jardins de l'Europe, just adjacent to the city center.
The project was commissioned by the city and Jean-Pierre Gantheil of Omnilum was the creative force behind the lighting design. At first glance, the design looks much like many other bridge lighting projects that we have covered that use dynamic RGB color luminaires. For example, a much larger bridge in Louisville, KY was lit by Philips Color Kinetics with such products to yield many color combinations.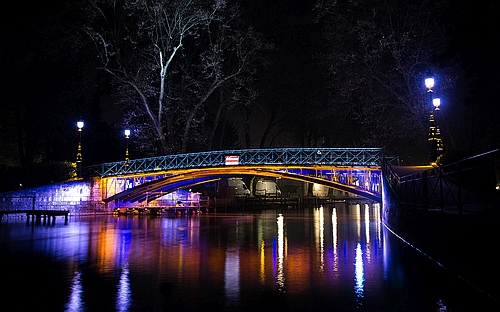 LEC Lyon lights Annecy's Lovers' Bridge with networked LED lighting system
A networked LED lighting system by LEC Lyon bathes the Pont des Amours (Lovers' Bridge) in RGB light.
Gantheil, however, achieved a dramatic look without turning to the expense of a full RGB system. On the underside of the bridge, the design mixes twelve LEC 5633 Arches linear projectors in an amber color with six such projectors in a blue color. In addition, four 4040 Luminy 4 spotlights provide directional lighting on the sidewalls that extend along the banks of the river. The impact is a look of subtle color lighting from the river or lake sides of the bridge.
The lighting design, however, delivers more subtlety as mentioned above for visitors to the bridge. Mounted under the handrail on each side of the bridge are 5620 Brunel linear luminaires in a 4000K white CCT. The design enables bridge visitors to safely cross, and the dynamic lighting from below does not disturb pedestrians on the bridge or cause any visual discomfort.
LEC has long been involved with some glare-free deployments of LED lighting. For instance, the company supplied roadway lighting to be installed at curb level in a Nîmes, France project. And the company lit an automotive bridge using luminaires mounted in the handrail.
The DMX systems will still allow the city to change the look of the bridge. For example, the lights can be dimmed or extinguished based on time of day or for special events.