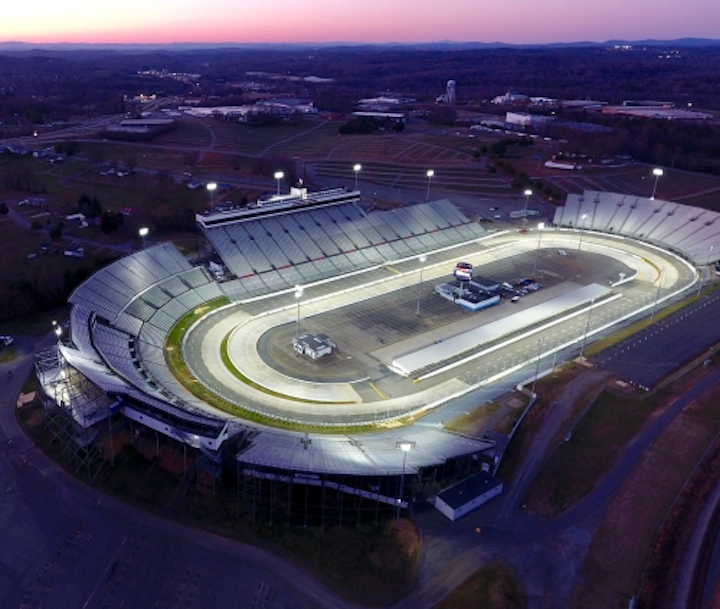 Eaton's Ephesus division has supplied an LED-based sports lighting system to the Martinsville racetrack prior to the NASCAR automobile racing visit that features the organization's top late-model stock car racers.
Eaton has announced an outdoor solid-state lighting (SSL) installation at Martinsville Speedway located in Ridgeway, VA just south of the city of Martinsville. On Saturday, Sept. 23, the LED lighting will bathe the track for viewers to watch the top NASCAR (National Association for Stock Car Auto Racing) series drivers duel in the ValleyStar Credit Union 300 race — the first night race in the 70-year history of the iconic raceway.
Interested in articles & announcements on sports lighting?
Seeing LED-based lighting installed for professional sports venues has become a fairly common occurrence of late, although just a few years ago it was quite novel. For example, we covered the first NFL (National Football League) Super Bowl played under LED lighting just two and a half years ago. And MLB (Major League Baseball) teams made a big move into LED lighting for the 2016 season. Top European soccer teams have also been in on the SSL trend.
Still, Martinsville becomes the first major automobile speedway or motorsports facility to be lit with LEDs. International Speedway Corporation (ISC) owns the track and instigated the project called "Light Up Martinsville." Distributor Graybar also participated in the installation of the Ephesus Stadium 750 luminaires.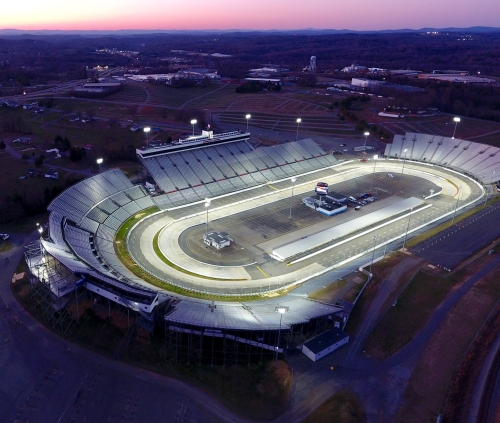 Martinsville Speedway gets LED lighting for fall NASCAR race
Eaton's Ephesus LED lighting for sports venues will illuminate the first nighttime NASCAR race at Martinsville Speedway.
As is increasingly the case in sports venues, the choice of LED-based lighting was more about light quality than energy efficiency — although a track that previously had no lighting for night racing will surely appreciate energy-efficient lighting. But ISC said the lighting was selected to optimize the viewing experience for fans in the stands and those watching at home in HDTV. "Debuting our new LED lighting system at the ValleyStar Credit Union 300 is something that our entire staff and racing fans are excited for," said Clay Campbell, president, Martinsville Speedway.
Martinsville is one of the most popular venues on the NASCAR circuit for fans and drivers. The circuit is small relative to most NASCAR venues at just over 0.5 miles for the oval track. But fans in the stadium-like venue can see all the action. The track has been on the NASCAR circuit since the inception of that racing organization. The race this September is part of the Monster Energy NASCAR Cup Series.
The fans and drivers are in for an all-new nighttime experience at Martinsville. "We were honored when historic Martinsville Speedway selected our Ephesus LED lighting solution to light up Martinsville," said Mike Lorenz, president of Eaton's Ephesus Lighting business. "It's especially rewarding to bring night racing to this remarkable venue. There is nothing like racing under the lights and with our industry-leading digital lighting system, drivers experience optimum conditions while fans will experience this venue in a whole new light."