Spectral control is being studied by the US Department of Agriculture to impact flowering times and other plant-growth characteristics in a project focused on corn or maize.
LumiGrow has announced that the US Department of Agriculture (USDA) is using the company's LED luminaires in a horticultural lighting research project that is focused on corn or maize and other crops such as soybeans. The USDA Agricultural Research Service (USDA-ARS) is testing spectral control strategies enabled by solid-state lighting (SSL) to speed plant flowering and to impact other plant-growth characteristics.
Interested in articles & announcements on horticultural lighting?
Research on improving hybrid corn yield has previously been accomplished in greenhouses using high-pressure sodium (HPS) lighting. But LED-based lighting offers numerous advantages including the aforementioned potential of customizing the spectral power distribution (SPD) of the light. The heat generated by HPS lights was known to cause pollen to mature too soon in plants such as corn that are tall and therefore closer to the light source. LED fixtures, meanwhile, can be located near the canopy of the plants without a heat problem.
Still, it's the spectral control that's perhaps the most exciting aspect of SSL for horticulture. As we covered in a prior feature article, LEDs can both optimize the photosynthesis process and impact plant flowering and shape. And as we wrote recently, scientists are still working to understand and optimize light recipes that apparently are best applied if customized for each type of plant.
The USDA has already enjoyed some success in its work with LEDs. "Preliminary results from tests run at the USDA are already showing that under blue light treatments, plants are flowering 3 days earlier," said Jake Holley, LumiGrow plant scientist. "Under red light treatments they've seen thicker stalks and more vegetative growth. It's exciting to hear about successful implementation of spectral control strategies in such a profound research setting."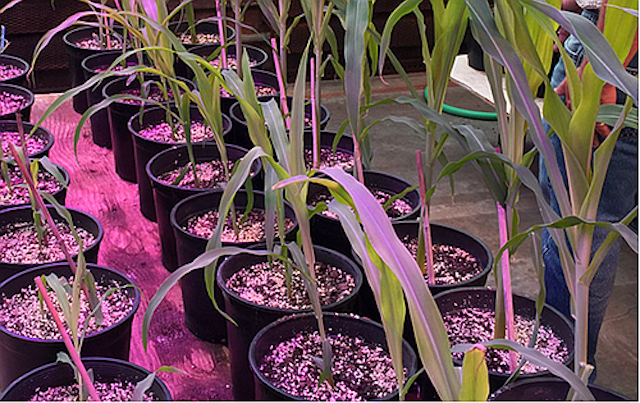 USDA utilizes LumiGrow LED luminaires for horticultural lighting research on corn
A USDA research project using LumiGrow horticultural lighting has demonstrated specific spectra effecting a positive plant-growth response.
Holley said the LumiGrow fixtures allow the researchers to stage light treatments across a plant growth cycle. The USDA is using LumiGrow Pro 650 fixtures. And the research will ultimately be shared with commercial growers looking to boost crop production.
For more information on horticultural lighting, visit our microsite focused on the burgeoning application for SSL. Moreover, we recently hosted a webcast on horticultural lighting and designing luminaires for the application. Also plan to attend one of our upcoming Horticultural Lighting Conferences.