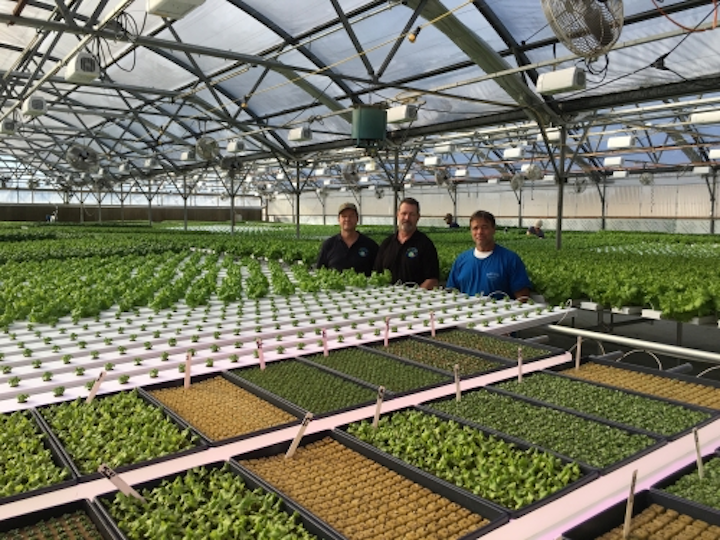 A one-for-one SSL retrofit of a Vermont greenhouse facility has resulted in an extra lettuce harvest per year and allowed the business to boost sales 25% in its existing footprint.
Swedish horticultural LED luminaire specialist Heliospectra has supplied a greenhouse grower of lettuce, herbs, and other greens located in Vermont, with the greenhouse operation realizing a 25% increase in business attributable to the solid-state lighting (SSL). Horticultural supplier and consultant Griffin Greenhouse Supplies, Inc. assisted with the project at grower Green Mountain Harvest Hydroponics that has both reduced the length of crop cycles and improved yield.
Interested in articles & announcements on horticultural lighting?
Green Mountain had been growing greens hydroponically for some time with notable success in a controlled environment agriculture (CEA) setting under greenhouse cover. Indeed, the grower had already been supplying Whole Foods stores in the northeastern US. Green Mountain is focused primarily on growing spring mix, summer crisp lettuce, basil, and watercress on a year-round basis.
A revolution is happening in horticulture. It's a seismic shift that will change fundamentally how we grow plants — and it's all down to lighting. The next Horticulture Lighting Conference will take place in Denver, CO on Tuesday, October 17, 2017. To find out more information and to register to attend please click here.
Griffin recommended that the grower install Heliospectra LX60-family LED luminaires in place of existing high-pressure sodium (HPS) lighting on a fixture-per-fixture basis. The presumed advantage would be the fact that the LED fixtures deliver energy peaks in the blue, red, and far-red spectral regions that encourage chlorophyll absorption and other growth attributes while still delivering broad spectrum white energy. Note, that there remain differing thoughts on light recipes, especially for biomass crops, but the red/blue combination seems to work well for leafy greens as we covered in a story on horticultural lighting science and vertical farms. The topic will also be central to our program at our Horticultural Lighting Conference coming up on Oct. 17 in Denver.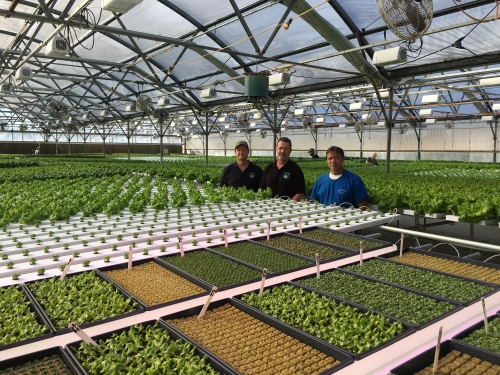 Greenhouse boosts lettuce yield with Heliospectra LED based horticultural lighting
At Green Mountain Harvest Hydroponics, growers have seen shorter lettuce crop cycles with improved quality of produce that they directly correlate to the new LED-based horticultural lighting from specialist Heliospectra.
Back to Green Mountain, the grower noticed an immediate improvement in crop cycles that were attributed to the LED lighting, especially in the shorter winter days. "As soon as the new Heliospectra LEDs were installed, Green Mountain recognized immediate benefits from the optimized light spectrum," said John Farr, managing partner for Green Mountain. "We typically harvested our summer crisp lettuce at 55 days. With Heliospectra, we now harvest between 42 and 45 days. The opportunity to accelerate harvest and create additional revenue cycles significantly scales our business."
Farr said that in the winter the grower would get "stretchy crops" that took a long time to grow. Moreover, he said the lettuce leaves would experience yellowing in some areas and that those leaves would have to be removed as waste at harvest. The LED lighting created a stable schedule throughout the year and improved the crop quality — meaning more weight and higher value. At the same time, the LEDs eliminated light pollution, which had previously generated complaints from neighbors.
Peter Armando, sales manager and expert grower at Griffin, said the SSL installation is able to optimize lighting for the crop. He said red and far-red lighting is used to enhance flowering and that blue is used to enhance the foliage. Armando claimed that the lights can improve leaf structure by 30%.
Media agency CFN Media Group has created a video on the project that you can view below.
Back to our upcoming conference, we have posted a program and speakers. To get a feel for the content, you can review the post-conference feature article that we published last year.
*Updated for location correction, August 30, 2017 at 2:36pm.