C3 Lighting Solutions develops LED system for healthcare lighting with blue light therapy
Mar 11th, 2015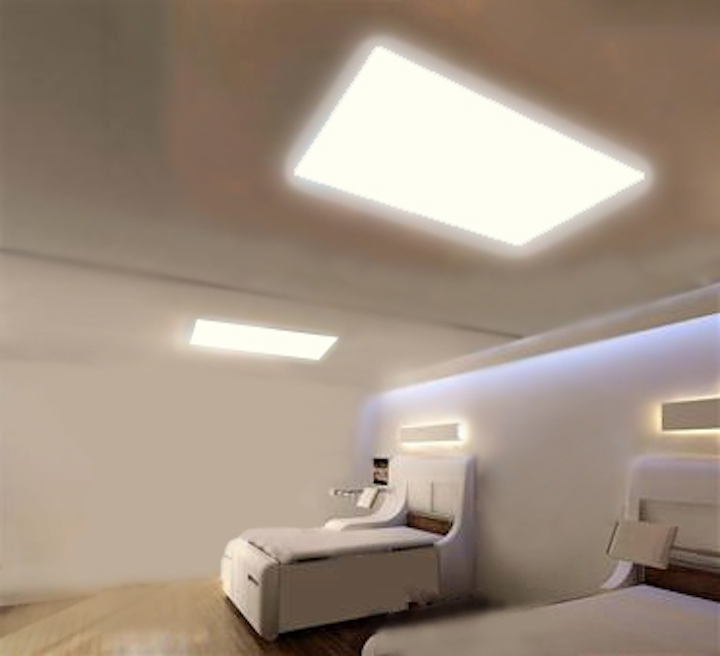 C3 Lighting has incorporated their revolutionary remote power and control technology for LED lighting into a system that brings numerous attributes to the patient room. "Our patient room lighting is functional and also enhances the patient experience." said Rick Farrell, President of C3 Lighting Solutions, Inc. An Intelligent Power Distribution Module serves as the heart of the system and provides a portal for Microprocessor Controlled Lighting, creating a new dimension in programmable lighting. C3's technology places the power supply for LED illumination in a central location and runs only low voltage DC power into the patient's room. This decreases the size of fixtures, provides a safer environment, reduces the room's heat load and decreases installation costs. Lighting can be controlled by a wall switch, a bedside remote, a personal electronic device such as an i-Phone or Android, or from the nurse's station.

Single or multiple fixtures provide general room illumination, high intensity lighting for reading, a focused exam/procedure light, amber night lighting, "blue light therapy", and programmable dawn-to-dusk illumination. Each of these capabilities adds to a patient's comfort and convenience. It has been shown that "Blue Light Therapy" decreases levels of melatonin which can reduce depression. Amber night lighting serves as a light source for a patient to get out of bed or for the nurse to observe the patient. Unlike white light it does not reduce levels of melatonin, allowing a patient to more easily return to sleep. Programmable "Dawn-to-dusk" lighting can regulate or stimulate a more natural circadian rhythm that is often difficult to maintain when patients are indoors for extended periods of time. A more natural circadian rhythm can reduce both hospital stay and levels of medication. The integrated exam/procedure light has the same technology found in C3's External Field Surgical Light where both the level of illumination and the color of light output can be varied to increase visualization and help the physician focus on fine detail.

Cove Lighting can be included in C3's Patient Room Lighting System, providing an attractive "wall washing" effect that can be programmed to dim and/or fade between selected colors, or simply cover the wall with tunable white or colored light. This adds an architectural lighting element to the room that serves to distract and relax the patient. Round down lights can also be added to highlight selected areas of the patient room. These fixtures also include the ability to be programmed with the same lighting effects as the main Patient Room Lighting. All C3 patient room fixtures are sealed (IP-66) and electroplated with an antimicrobial coating that suppresses the growth of bacteria, fungi, spores, and other contaminants.

C3's Patient Room Lighting System eliminates the flickering seen with fluorescent lights and many of today's LED lighting systems. This flicker is often not perceived by the patient, but leads to eye fatigue. C3's lights are dimmed using a special high frequency pulse width modulation (PWM) technology that flashes the LEDs on and off at an extremely high rate which determines the effective light output, is imperceptible to the human eye and does not affect human biological systems. C3's lighting not only reduces eye strain, but also provides a more comfortable light for reading and general room illumination. This technology is especially important when considering the amount of time that a patient spends in an artificially lit room, often with insufficient natural sunlight.

C3 Lighting's Patient Room Illumination is designed to meet the needs of the physician and nursing staff while increasing a patient's level of comfort and improving their hospital experience.

Contact:
Mary McDonough, Director of Marketing - C3 Lighting Solutions
+1-714-545-5985 Ext. 105
E-mail:
mmcdonough@c3lighting.com
Web site:
www.c3lighting.com
Locate more medical & industrial lighting vendors in the LEDs Magazine Suppliers Directory

Submit new products, case studies/projects, and other press releases at http://www.ledsmagazine.com/content/leds/en/addcontent.html and http://www.ledsmagazine.com/content/leds/en/iif/add.html.
More from C3 Lighting Solutions:
C3 Lighting Solutions develops central LED lighting power and control system