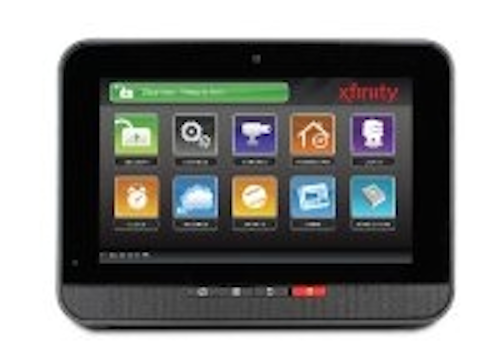 Phillips Lighting has announced an upgrade to its linear family of Fortimo LED Line modules and Zhaga certification, and the company also announced that it has surpassed 300 licensees in its luminaire licensing program. Panasonic is pushing beyond Japan and plans to serve all of Asia with solid-state lighting (SSL) products. Osram Sylvania and cable company Comcast have partnered to offer Comcast subscribers wireless controllable lighting.
Comcast and Sylvania
Osram Sylvania demonstrated the Ulta iQ BR30 LED lamps at Lightfair this past April with wireless controls based on the ZigBee Home Automation standard. Now the company is partnering with Comcast to offer the lamps to consumers that subscribe to Comcast's media services.
Comcast is primarily known as a cable company but also offers telephone services and of late has offered the Xfinity Home platform to customers for home security and automation including remote control of devices such as the thermostat so customers can monitor and minimize energy usage. Now Comcast will add adaptive lighting to the service.
"With Osram Sylvania, we are bringing innovative lighting solutions that integrate with the Xfinity Home platform and provide home control and green technology features to our customers," said Mitch Bowling, senior vice president and general manager of new businesses for Comcast Cable. "Home automation is a growing trend that takes complex ideas and turns them into simple solutions that can be delivered to thousands of people. This is another example of how we are continuing to evolve our Xfinity Home product by creating more innovative home control solutions for our customers to enjoy."
The 11W Ultra iQ lamps target flood light usages and deliver 700 lm at an efficacy of 63 lm/W. Comcast customers will be able to control the lamps with a smartphone or through the Xfinity gateway.
Philips Lighting
Philips Lighting says that its second-generation linear Fortimo LED Line modules are now certified to the Zhaga Book 7 specification. The certified products include the Models 1R, 3E Generation 2, Fortimo LED strip, amd Fortimo LED Line High Flux.
The second generation modules come with a 10% efficacy increase to 130 lm/W. Philips also offers drives from its Xitanium family matched with the LED light engines.
Philips also is the owner of among the broadest intellectual property (IP) portfolios in the LEDs and lighting industries, as we covered in a recent feature on optics IP. The company has a luminaire licensing program that covers IP in both the integral luminaire and retrofit lamps areas. Philips said that the licensing program has grown by more than 50% in the past year.
"We are thrilled that the LED program has grown by 50% in the last year," said Arian Duijvestijn, senior vice president of Philips intellectual property and standards. "We are delighted that more and more businesses, from start-ups to larger companies, sign up to the LED luminaire and retrofit bulb licensing program and recognize that working with us helps to speed up product development, lower costs, and advance the industry. We warmly welcome our 300th licensee and are confident the program will continue to attract a wide variety of companies in the coming months with the ultimate goal of driving growth in LED lighting — the energy-efficient lighting solution for the future."
Panasonic in Asia
Panasonic, meanwhile, plans to expand its LED light business across Asia. Japan has been among the fastest adopters of LED lighting, driven in part by the energy crisis that dates the tsunami and nuclear plant disaster. Panasonic has enjoyed success in its home region and already has offered ceiling lights in China.
Now Panasonic plans to offer a broader SSL portfolio in Indonesia, India, Taiwan, Vietnam, Hong Kong, and China. The company will launch the expansion this month with the offering of 40 new luminaires in Vietnam.
Panasonic said it will develop fixtures that match the individual requirements of consumers in each market. The company is planning showrooms and distribution agreements in each new region.
As of the end of its recent fiscal year in March 2013, the company said SSL sales outside of Japan totaled 3 billion Yen with almost all of that revenue from China. The company plans to double the sales outside Japan in the next three years.