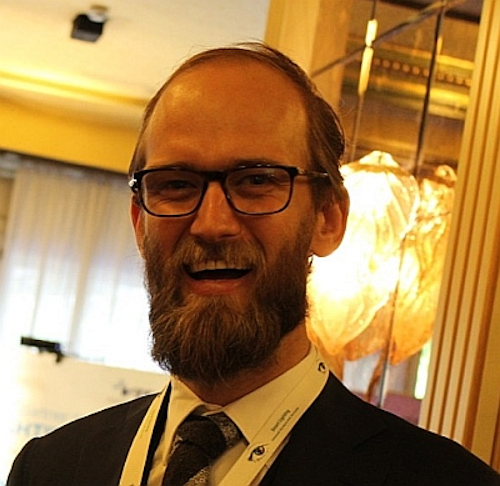 The London-based, Chinese owned luminaire provider steps up smart-lighting-enabled location-based services with sensors from Australian startup Organic Response.
MILAN – Feilo Sylvania, the London-based lighting company recently acquired by China's Shanghai Feilo Acoustics Co., Ltd., is ramping up its push into smart buildings, tapping technology from an Australian startup to help it offer lighting-enabled location-based services.
Interested in more articles & announcements on smart lighting?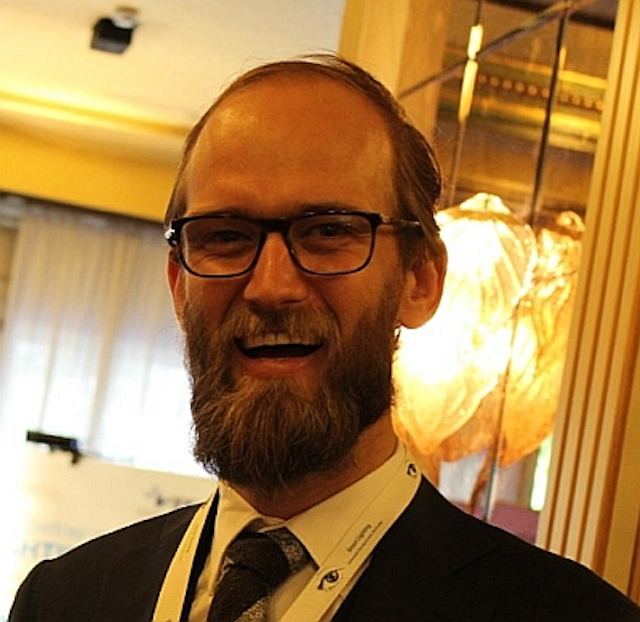 Feilo Sylvania pushes into smart lighting
Feilo Sylvania's Bastiaan de Groot says that lighting-based data services will knock illumination down the list of lighting functions, in the same way that voice is no longer the main use of Internet-connected smartphones. Source: Mark Halper.

Feilo Sylvania is embedding wireless sensors from Organic Response into its LED luminaires, Bastiaan de Groot, director of smart lighting and controls, said here at the Smart Lighting and Smart Sensing 2016 conference. The company expects to land its first smart building customer within weeks, which will be at a commercial building in the UK.
By using "heat mapping" technology, the sensors will note occupancy and footfall across rooms and buildings, which will help facility managers analyze usage and reassign space accordingly.
De Groot cited findings from British consultants AWA, noting that meeting rooms in buildings are typically used only 39% of the time, when they are only 19% full. Smart building systems that take note of trends like this can help building operators decide how better to use facilities.
In another potential benefit, lighting-enabled location based services can help nurses find equipment in hospitals, where they typically spend an hour every shift looking for things according to one study, de Groot noted.
Property and asset tracking has been part of other smart building initiatives, such as the Cisco and Philips Power over Ethernet (PoE) project at the headquarters building of Dutch energy company Alliander near Arnhem.
Smart lighting systems can also include sensors that provide other functions, such as taking note of temperature and humidity and then triggering adjustments to heating and cooling systems; they can also help provide building security by setting off alarms when they detect intruders, smoke or fire.
De Groot said Feilo Sylvania plans to eventually add other sensors in addition to the heat mapping technology from Organic Response.
He likened the emergence of intelligent lighting to what happened with smartphones, where data and Internet functions have relegated voice to fifth place in the list of what users do with their phones. As luminaires start to help collect and analyze data, "Lighting will be the fifth function of the luminaire," de Groot said. "The value of the data will be far more important."
The benefits of smart lighting even "dwarfs energy savings" as a major advantage offered by LED lighting systems, he added.
One challenge the lighting industry will face is finding new sales channels. As the industry starts to sell value beyond illumination, it will have to find new routes to market and into commercial workplaces, where the value of an intelligent lighting system might seem more evident to a decision maker in the IT or strategic sphere than it would to, say, an operations manager.
"We see only one way forward — we need partners," said de Groot. Organic Response is its first, and others are expected to follow, as Feilo Sylvania is talking to other startups such as Gooee, and with big-name technology companies, de Groot said.
In trials, Feilo Sylvania has been using infrared frequencies, in part because that spectrum is relatively easy to connect to networks — so-called networking commissioning of lights can be difficult. The company will use radio frequencies in its commercial implementations, because they provide greater range than infrared, de Groot noted.
The relationship with Organic Response started when Feilo Sylvania was Havells Sylvania, part of Indian electrical equipment maker Havells India. Havells agreed to sell 80% of the lighting group to Feilo late last year. Its lighting brands also include Concord and Lumiance, which had been part of Havells India.
Organic Response has also teamed up with lighting companies Thorn and GE. It recently paired with GE's Current, powered by GE division to provide smart lighting in the New York City offices of Dixon Advisory, a real estate investment fund.
The Current agreement marked one of several recent moves by the GE unit to strengthen its intelligent lighting offering. Since April, it has acquired controls company Daintree and partnered with integration software provider Tridium as it maneuvers to make lighting an integral part of the fledgling Internet of Things (IoT).
MARK HALPERis a contributing editor for LEDs Magazine, and an energy, technology, and business journalist (markhalper@aol.com).