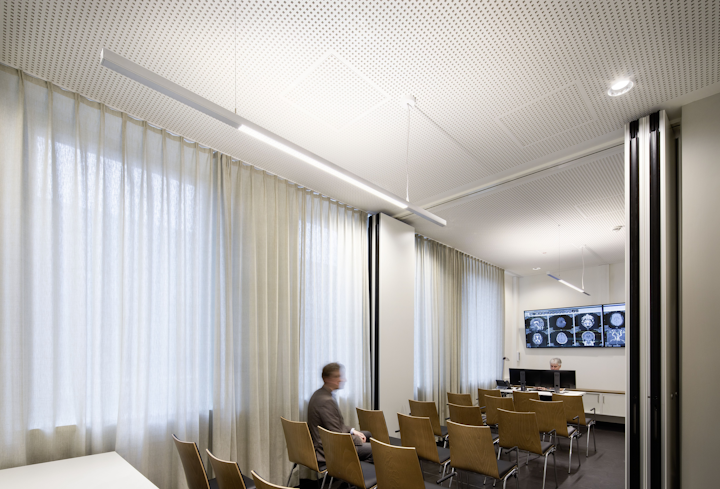 Casambi has announced its Evolution firmware package — an upgrade to its Bluetooth-based software stack designed for smart solid-state lighting (SSL)applications and deployable as an update over the air to many existing Casambi devices. Smart-city-focused startup Juganu has announced a $23 million venture funding round led by Viola Growth intended to accelerate R&D and expand its marketing efforts. Zumtobel has announced an LED-lighting project at the Elisabeth Herzberge Hospital (Evangelisches Krankenhaus Königin Elisabeth Herzberge or, for short, KEH) in Berlin, Germany with networked controls applied throughout a new section of the facility.
Upgradeable Bluetooth stack
The Casambi announcement of Evolution was mostly about a moderately evolved feature set in the wireless specialist's firmware offering for Casambi Ready devices based on Nordic Semiconductor nRF52 ICs that integrate a microcontroller, Bluetooth Low Energy functionality, and more. The new firmware adds pulsewidth modulation (PWM) channels, an enhanced security model, support for 250 devices on a network up from 127, and more. But the bigger news will be the rollout of the update over the air in a manner similar to how our mobile phones are updated — an operational feature long touted by Bluetooth proponents.
The Casambi implementation is a mesh network, although the company doesn't describe it as Bluetooth Mesh. It is based on the Bluetooth Low Energy radio specification that underlies Bluetooth Mesh. But as a Casambi spokesperson explained to us at LightFair International, the heritage of the technology preceded Bluetooth Mesh. Casambi will likely evolve (pun intended) the firmware toward the Bluetooth Mesh standard over time. Still, the company hasn't used the Bluetooth Mesh moniker. Meanwhile, other companies selling products that are partially compatible with the standard regularly claim compatibility even as portions of their stack remain partially proprietary.
Tridonic partnership
Around the same time that Evolution debuted, Casambi and partner Tridonic announced an extension to their partnership in which Tridonic makes it simple for a luminaire manufacturer to develop Casambi-based smart SSL products. Tridonic offers LED drivers with integrated Casambi support under the basicDIM brand and also offers dedicated basicDIM modules that can be combined with other drivers.
"In the last couple of years, Casambi's wireless lighting control technology based on Bluetooth Low Energy has become established as a leading platform for innovative controls," said Bert Tuyt, senior director global systems at Tridonic. "Pairing Casambi's technology with our long-standing expertise in the development of lighting components has resulted in a flexible and versatile new system that benefits every player in the lighting industry. Close cooperation in the development and testing phases between our companies has proven extremely fertile and we are proud to now market the new system."
Tridonic, of course, has multiple options for smart SSL and Internet of Things (IoT) support. The basicDIM brand name would imply that the company considers that scheme a more entry-level approach to networked controls. Meanwhile, the company had internally developed the net4more technology and IoT platform that it introduced some two years back. That network scheme works over wired and wireless links and is based on IP (Internet Protocol) to the end node.
Juganu financing
Moving to the venture funding news, Juganu has pursued a platform that it calls Digital World that can enable smart city applications and can also be utilized in large commercial facilities. In addition to Viola Growth, a Mexican investment firm called OurCrowd invested in the latest round. Juganu was founded in 2011 and holds more than 40 patents in the connected lighting space.
Juganu has gained some notoriety based on a partnership with wireless giant Qualcomm. Juganu has utilized a number of Qualcomm ICs to enable applications such as facial recognition, license plate recognition, parking management, and tracking of hazardous environmental conditions. The company may even deploy small-cell 5G networks, a technology that Signify is dabbling in with Ericsson.
"Juganu is a combination of brilliant entrepreneurs, breakthrough technology, and vision, reinventing lighting and communications infrastructures and those for applications, affecting any organization, from tech corporations and retail chains to local authorities," said Viola Growth general partner Ayal Shiran. "The company has a unique technology with the potential to expand into other industries. The latest financing round will allow it to speed up its R&D while also expanding marketing and sales operations in Israel and overseas."
Zumtobel hospital project
On to a connected lighting project, Zumtobel is supporting a variety of smart SSL scenarios in the KEH Hospital project. For example, corridor lighting can be easily turned full on for cleaning. At other times, light levels can be set by personnel or based programmatically on occupancy. In exam rooms, doctors can simply engage the proper setting or scene that allows optimal visibility.
The project uses a variety of Zumtobel SSL products including Slotlight and medical-centric Light Fields luminaires (shown in the photo above). The system relies on Litecom controls. In public areas, decorative Sequence and Ondaria luminaires add style to the functional lighting.