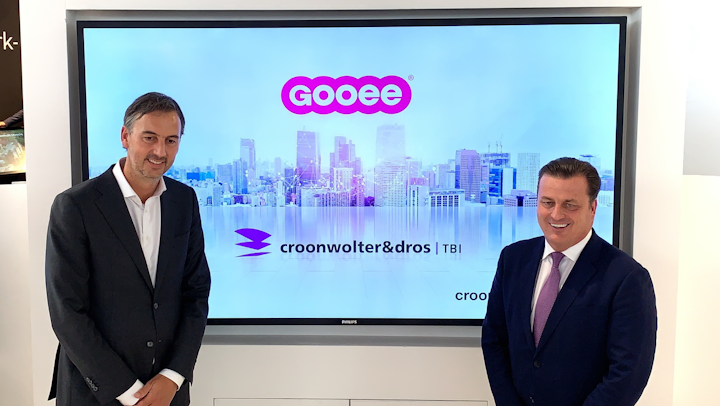 The lighting industry's attempt to morph into an information technology industry continues, as Gooee has struck a deal to provide cloud-connected building analytics for up to 5000 commercial office properties in Holland, initially having less to do with lighting and much more to do with building management.
Working with Dutch engineering company Croonwolter&dros, Gooee's back-end cloud software will provide insights into energy consumption at the properties, including electricity used by the heating and cooling system and by lights. But data will not be gathered from lights. Instead, sensors embedded in building management systems, such as those provided by Siemens, Schneider Electric, Priva, and Johnson Controls will do the job.
Nor will the lights initially be outfitted with smart control technology, or with beacons that allow them to serve as asset trackers, wayfinders, and other things that the lighting industry has been promoting.
While those smart lighting functions could follow, Gooee's main role initially is as a cloud software analytics company — an identity that is starting to define Gooee as much as "smart lighting" is, if not more.
To help scale up to its broader building management remit, Gooee has quietly expanded its executive office, with company founder Andrew Johnson stepping in as CEO, joining managing director and co-founder Neil Salt and chief technology officer and co-founder Simon Coombes, LEDs Magazine has learned.
Johnson lauded the Croonwolter deal in a press release in which he personally left out any mention of lighting while still hailing Gooee's role as an Internet of Things (IoT) player.
"Creating the first globally scalable, open IoT platform for smart buildings has taken five years of engineering and investment," Johnson said. "Our vision was to create value for all building stakeholders with the largest aggregated dataset, driving actionable insights. Croonwolter&dros is the perfect launch partner in the Netherlands with an aligned vision that an operating system for buildings is the future of infrastructure and asset management, all managed from the cloud in a 'single pane view.'"
Johnson's omission of lighting was notable, given that Gooee started out life more than five years ago as a company making chipsets intended to turn lights and luminaires into information-gathering nodes in IoT networks.
While that is still very much a part of the plan, the first deployments in the Croonwolter orbit exemplify Gooee's intentions to serve markets other than lighting — a sideways move as much as an expansive one, and one that reflects the difficulties that the solid-state lighting (SSL) industry in general has had winning lighting-centric smart building jobs.
The deal calls for Croonwolter properties to use Gooee's BuildView, which optimizes building performance and management, including the ability to audit lighting "burn hours," Gooee MD Salt told LEDs.
Gooee is also providing Croonwolter with a portal to provide access to the cloud analytics, Gooee CTO and co-founder Simon Coombes said. Croonwolter will put its own brand on the portal, and is integrating into its own facility management and asset management system.
The 5000 Croonwolter properties house about 12 million m2 (39.4 million ft2).
Like Gooee boss Johnson, Croonwolter president Bas Ambachtsheer also did specifically mention lighting in heralding the Gooee partnership. "I am pleased to say that I'm going to use Gooee as the main solution provider and roll it out across our portfolio in combination with a smart front end app solution from our strategic partner, Office App," Ambachtsheer said, referring to a Dutch software provider that is also involved. "But this is just the beginning. Implementing the Gooee platform, starting with BuildView, across our estate enables us to gain visibility throughout our portfolio and offer clients an enhanced service with improved operational efficiency. CW&D [Croonwolter&dros] is adding additional intelligent software connecting to a standardized maintenance and asset management setup."
A larger lighting aspect to the deal should follow in due time.
According to Salt, "Projects have already been awarded for lighting." It is not clear exactly what the timetable is, but the idea is that as building operators replace or upgrade their lighting, they will do so with luminaires embedded with Gooee technology supporting lighting-based smart functions such as asset tracking and others. Gooee refers to its smart lighting scheme as LightView.
The luminaires will come from Gooee partners such as Aurora Lighting, the company founded by new Gooee CEO Johnson, as well as Feilo Sylvania, Koopman Interlight, and others.
Johnson has been CEO of Aurora. In taking on a full-time CEO role at Gooee, it is likely that Aurora will name a new CEO. LEDs hopes to soon provide an update.
In contrast to Gooee's smart building now, smart lights later approach at Croonwolter, smart lighting startup Ingy is taking a general smart lighting first, smart building second tack. Ingy is a sometimes rival and sometimes partner of Gooee's.
MARK HALPER is a contributing editor for LEDs Magazine, and an energy, technology, and business journalist (markhalper@aol.com).