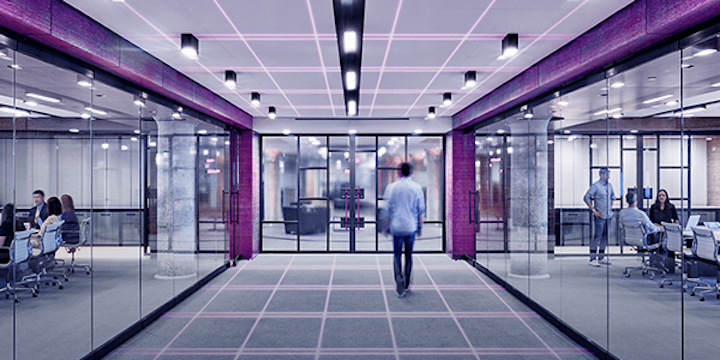 It's the second week in a row that the Dutch LED vendor goes "smart," as Gooee joins Ingy in the stable of embedded chips and sensors.
Koopman Interlight dropped the proverbial second shoe in its plans to offer IoT-equipped luminaires, as the Dutch lighting company confirmed that is embedding Gooee chipsets, a week after news broke that is offering luminaires with Ingy Internet of Things sensors.
Interlight told LEDs Magazine that it will not put the two brands in the same luminaire. Rather, Gooee would suit some customers, and Ingy others.
In both cases, end users can tie data collected by the LED luminaires into a cloud analytics and dashboard system run by Gooee, which would provide facilities managers with insights on how to better utilize their space and improve climate control, among other benefits.
While Gooee has been developing and advocating IoT lighting for several years, it has recently started to focus more on the cloud analytics and dashboard portion of its business. (As LEDs noted last week in our article about Ingy, lighting companies continue to adjust their IoT strategies as they try to find the sweet spot in the market, which has thus far generally eluded them.)
Still, it is continuing to offer chipsets, which include sensors as well as Bluetooth transmitters.
One difference between the Gooee and Ingy chips is in the wireless mesh schemes they use to enable LED luminaires to communicate across wide areas. Ingy deploys a proprietary mesh scheme with only a rudimentary reliance on Bluetooth. The Gooee chipset taps more of the Bluetooth network stack, although it adds a proprietary twist to a design based on Bluetooth Mesh.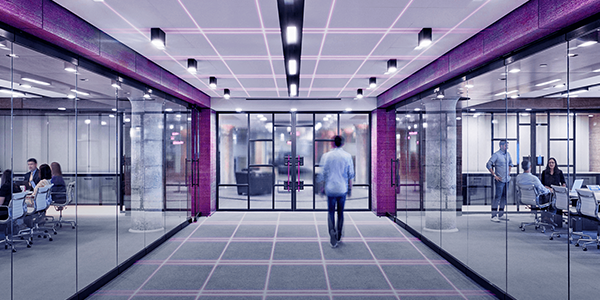 Interlight adds Gooee-powered IoT luminaires
Even if the walls weren't glass, a facilities manager might be able to count how many people are in those meeting rooms by looking at a remote computer screen connected to Gooee sensors in the ceiling luminaires. (Image credit: Gooee.)
Both companies claim that their proprietary twist enables wider scalability than can open standards-based implementations like Bluetooth and Zigbee. Last week, Ingy said its technology can scale up across tens of thousands of luminaires without using a gateway.
Another difference between the Gooee and Ingy chips could be in the functionality. Early signs suggest that Gooee could be more applicable where higher-level occupancy data — such as people counting — is required; and that Ingy might trump Gooee in asset tracking.
Both the Gooee and Ingy products also provide wireless smart lighting controls that turn lights on, off, up, and down as needed.
In a partnership with Gooee, Amsterdam-based Ingy is marketing the Interlight Ingy-embedded luminaires for both the lighting controls and also for the smart building advantages of tying the luminaires into Gooee's cloud-based portal.
Recognizing that many end users are at the moment interested in smart building applications but are presently too confused to deploy anything, startup Ingy is promoting a two-step approach in which users would first buy and deploy the lights and lighting controls. Later, the users can put the same luminaires to work for broader smart building purposes — without having to modify them — by tying them into the Gooee portal.
It is not clear yet whether Ingy will also market Gooee-embedded Interlight luminaires.
Gooee and Interlight first teamed up in January of last year, when Gooee named Interlight as a platinum partner, a development that laid the foundation for this week's product announcement. The new LED luminaires will be available to the European market.
MARK HALPERis a contributing editor for LEDs Magazine, and an energy, technology, and business journalist (markhalper@aol.com).
*Updated May 6, 2019 1:23 PM for European market availability details.