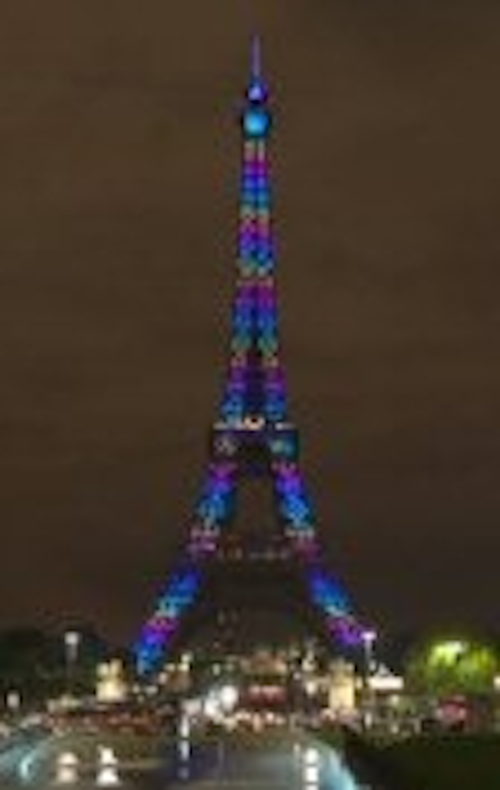 The Eiffel Tower is celebrating its 120th anniversary, and in honor of the occasion Parisians and visitors will be able to enjoy a spectacular light display every evening from October 22 to December 31, 2009.
According to the official Tower website, LED spotlights will be used to illuminate the Trocadero facade of the Tower using color, movement and modulation, offering a "magical and awesome" show.
The dynamic lighting shows are made possible by more than 400 Ilumipod 48 IP RGBW wash lights from Iluminarc, which have been installed on the Trocadero façade of the monument (see Iluminarc press release).
In addition to the innovative multiple lighting possibilities, this latest technology offers high performance at low energy consumption levels, lower than those of traditional lighting fixtures already used to light the Tower.
A video of the light show can be seen on the BBC News website. Or see below.
The light show design is by Bernard Schmitt & Jacques Rouveyrollis, implemented by Citelum with Magnum.
With the intent of giving everyone an opportunity to see this must-see event being offered to Parisians, the light show will be presented four times each evening, at 8pm, 9pm, 10pm and 11pm.
Following the 5 minutes during which the tower sparkles, this special light display will last another 12 minutes, starting with a dynamic light sequence evoking the extraordinary construction site of the Tower. Next a shower of light, revolving from level to level, facetted, stroboscopic, rhythmic, color blending…a splendid tribute to the Eiffel Tower and its majestic structure. During the light show, the other facades of the monument will contribute an element to the choreography. Also, images will be projected onto the ground below.
SETE, the operating company of the Eiffel Tower, has taken numerous other steps in the direction of energy saving solutions: a green electricity contract, light bulb changes in 2005 that reduced energy consumption by 30%, system software that controls the hours of lighting and heating, and finally, the hourly sparkling lights have been reduced from 10 to five minutes every evening on the hour.