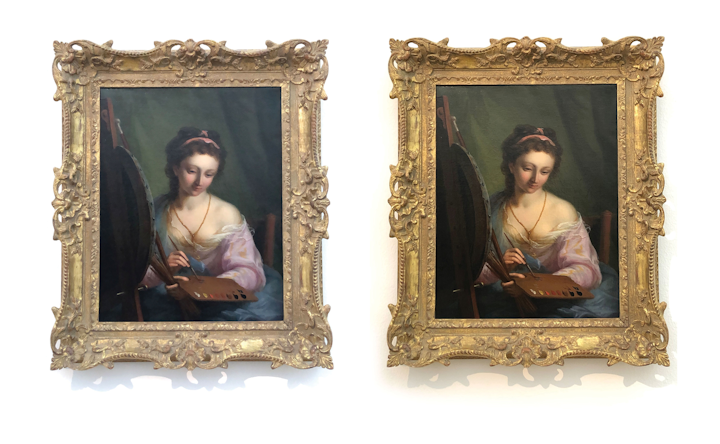 Nichia has announced three trials of its Optisolis LEDs in famed German art museums, enabling visitors to better perceive the colors and details of artwork on display. Osram Opto Semiconductors has announced a new Osconiq 3030 P LED that leverages mid-power package technology to host high-power chips for work-lamp applications such as high-end flashlights and head-worn lamps.
Museum lighting
The Kunstmuseum Pablo Picasso museum in Münster, the Ludwig Museum in Koblenz, and the Zeppelin Museum in Friedrichshafen, all in Germany, are testing LED lighting for their famed works of art with the goal of providing a better experience for their visitors. The LEDs have a more uniform spectral power distribution (SPD) than most phosphor-converted white LEDs, and deliver CRI of over 98 and a R9 saturated red score of over 94. That light quality will mean that visitors see intricate details and colors more accurately when viewing the works on display.
For almost a decade now, we have covered museums turning to LEDs. Initially, the driving force behind adoption was lack of ultraviolet (UV) energy in the spectrum — energy that if present could degrade precious works. Optisolis, among many other LEDs, still offers that benefit. Energy and maintenance savings were a second driving force and remain a huge advantage for the adoption of solid-state lighting (SSL). But since at least 2013 when we wrote about the Rijksmuseum in Amsterdam, the Netherlands, museums have discovered the quality of light benefits of LEDs.
Nichia intended museum lighting as a key application for Optisolis from the start. The LEDs can also be utilized in high-end retail along with other demanding settings. The company is offering the LEDs in 3000K- and 5000K-CCT versions packaged in a 3×3-mm footprint. The LEDs won recognition as a finalist in our Sapphire Awards program earlier this year. Nichia is also shipping the Optisolis technology in chip-on-board (COB) LED packages.
Optisolis is one of a number of approaches being promoted by LED manufacturers to more closely mimic the SPD of the sun across the human visual range. Some of the other options on the market, however, use pumps in the 405-nm range very near the upper end of UV band. Nichia said such violet pumps could potentially damage works such as paintings.
Osram offers its newest Osconiq packaged LED with 70 or 80 CRI for better efficacy in work lamps and flashlights. (Photo credit: Image courtesy of Osram Opto Semiconductors.)

Thus far in the trial across the German museums, Nichia said that visitors are providing positive feedback. In each case, only select areas of the museum are being lit by the Optisolis LEDs, enabling the gathering of feedback from visitors. Nichia is collaborating on the museum projects with Lumitronix and Eden Lighting.
"Optisolis delivers a new standard in the implementation of high-quality museum and art gallery true daylight lighting," said Ulf Meiners, managing director at Nichia Germany. "The new UV-free LEDs provide a true daylight simulator with practically perfect color rendering to allow objects on show in museums to be seen as the artist intended. Other light sources designed to imitate natural sunlight do not remove UV, while standard daylight-white LED emitters simply do not come close to matching its performance."
Osconiq LED
Turning to a new packaged LED announcement, Osram has been very active in borrowing the best benefits of mid- and high-power LEDs to deliver components that offer the performance of high-power LEDs at lower price points. We first covered the Osconiq family back in the fall of 2017 where a high-power chip used a plastic substrate borrowed from mid-power components and also sported a domed primary optic similar to most high-power LEDs. Osram had developed the packaging scheme for demanding automotive applications and thereby knew that LED reliability could meet the demands of the lighting community.
The latest Osconiq P 3030 LED targets battery-powered work lamps and flashlights and so efficacy is a key operating characteristic that can ensure long batter life. A 70-CRI version delivers 161 lm/W while an 80-CRI version delivers 136 lm/W. Those specs are impressive given that the LEDs are designed to be driven at 1.3A.