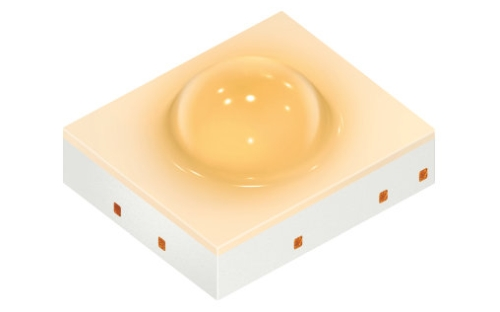 The Ceramos C CSP LED has a compact footprint, making it a good match for camera flash applications, while the new Osconiq brand includes mid-power LEDs masquerading in high-power form for architectural and horticultural lighting.
Osram Opto Semiconductors has made two recent packaged LED announcements — the Ceramos C chip-scale package (CSP)-based LED family intended for flash applications, and the new Osconiq brand that will comprise mid-power LEDs intended for architectural and horticultural lighting. The Ceramos C LEDs have a tiny footprint, enabling easy integration into smartphones or tablets. The Osconiq mid-power LEDs are packaged like high-power devices and will come in a variety of colors as well as white.
Interested in articles & announcements on packaged and CSP LEDs?
The Ceramos family is not new. Osram has offered flash-centric LEDs in that family for some time. But the prior LEDs were packaged on a ceramic substrate and included a low-profile primary optic in a typical footprint of 1.74×2.14 mm. The new CSP product has a 1.4×1.4-mm footprint and stands just 0.21 mm high with no primary optic. Osram said the new LED is 3× shallower than the prior LEDs yet delivers the same output from the smaller size.
Osram Opto Semiconductors' new Ceramos C CSP LED is designed to support camera flash applications in ultrathin portable devices.
Camera flash is an application that was an early adopter of CSP LEDs. For example, we wrote about CSP adoption in Samsung smartphones in the spring of 2016 and evidently such products had been used in leading smartphones for some time at that point. Evidently, CSP is moving into a dominant position in that application.
"With our new Ceramos C, it will be even easier to take great pictures and selfies. The excellent illumination enables even absolute beginners to get fabulous results," said Fiona Mak, marketing manager at Osram Opto. "Despite its small size, Ceramos C is extremely powerful and a real bonus for end customers. Our Ceramos C fits perfectly with the trend for miniaturization because it's small enough to be easily installed in even the thinnest smartphones and tablets."
Osconiq brand and LEDs
Moving to the Osconiq brand and product line, Osram evidently felt the need to distinguish the LEDs from the Duris brand that has been the company's primary brand for mid-power LEDs. It appears the Osconiq brand will imply an LED that is packaged on a substrate with a primary optic — as opposed to in a plastic leaded chip carrier (PLCC) inside a reflective cavity with no primary optic. In other words, the Osconiq LEDs look like typical high-power LEDs and not like typical mid-power LEDs.
The first LEDs announced in the new family are the Osconiq P 2226 Series. The Series will include deep-blue (450 nm), blue (465 nm), true-green (525 nm), yellow (595 nm), red (623 nm), far-red (730 nm), and ultra-white LEDs. Clearly, the deep-blue and far-red LEDs were added for horticultural lighting applications. Osram was among the first vendors to add a far-red LED for such applications back in 2015. We covered more about colors and spectra for horticultural lighting in a feature last year.
The other target application for the Osconiq P 2226 family is apparently dynamic color-tunable architectural lighting or façade lighting and not general illumination. The ultra-white LED only has a CRI rating of 60, but that is sufficient for such outdoor uses.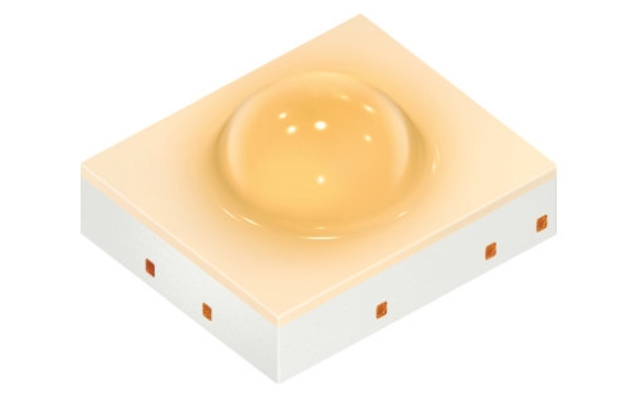 The Osconiq packaged LEDs include devices in various colors to cover many applications. Deep-blue and far-red LEDs will be integrated into horticultural lighting, for example.
"We are very proud to be able to offer our customers an even better and larger selection of components with the new Osconiq family and to meet their individual LED requirements," said Daniel Doxsee, head of global marketing for general lighting at Osram Opto. "We have been able to develop an extremely robust and efficient initial product with the Osconiq P 2226. We will continue to expand the Osconiq family to cover industrial applications as high bay but also outdoor applications as street, tunnel, or area lighting."
Clearly, the Osconiq plans go beyond the horticultural and architectural sectors based on Doxsee's statement. And, in fact, there is already evidence as to how the products might evolve. As we mentioned in our LightFair International coverage, Osram has announced the Duris P 9 high-power LED for outdoor applications that was packaged using the same materials and techniques as the first Osconiq products. And Osram said it would transition the Duris P 5 products to the Osconiq line with those P5 products also being packaged similarly and in the same 2.2×2.6-mm footprint.