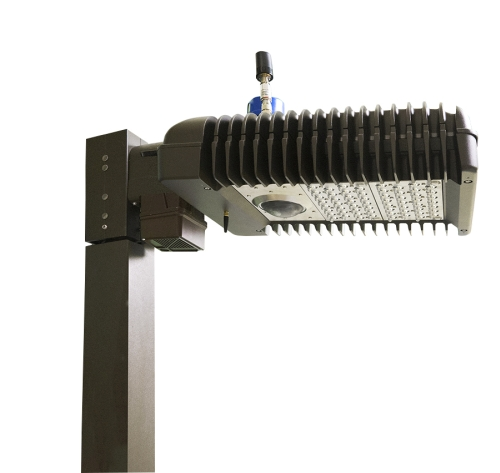 Royal Philips has decided to divide its LEDs business into separate companies, making Philips Lighting an independent organization, while Hubbell Lighting and Totus Solutions combine LED lighting and security applications, and the DOE funds Pixelligent OLED research.
Royal Philips used an investor meeting in London to announce that the company will split itself into an independent lighting company, and another company that combines the current Healthcare and Consumer Lifestyle business units. Pixelligent Technologies has announced its selection by the US Department of Energy (DOE) to receive a $1.25 million Solid-state Lighting (SSL) Award for OLED lighting research. Hubbell Lighting and Totus Solutions have announced a demonstration that combines an LED fixture and security-system functionality based on an Axis Communications video camera.
Royal Philips breakup
The Philips news comes on the heels of a late June announcement that the company would spin out the Lumileds LEDs business combined with the automotive lighting business as a separate company. The company said the decision to separate the Philips Lighting business is a sequential strategy step meant to capitalize on changes in the marketplace. The company believes the split will yield industry leaders in the separate areas of lighting and healthcare/lifestyles.
"I do appreciate the magnitude of the decision we are taking, but the time is right to take the next strategic step for Philips, as we continue on our transformation," said Frans van Houten, CEO of Royal Philips. "To become the global leader in HealthTech and shape the future of the industry, we will combine our vibrant Healthcare and Consumer Lifestyle businesses into one company. At the same time, giving independence to our Lighting solutions business will better enable it to expand its global leadership position and venture into adjacent market opportunities. Both companies will be able to make the appropriate investments to boost growth and drive profitability, ultimately generating significantly more value for our customers, employees, and shareholders."
The 2013 sales for the lighting business totaled EUR 7 billion ($9 billion). Philips said that scale would enable the lighting unit ample opportunity for independent success. Philips pegged the global lighting market opportunity at EUR 60 billion ($77 billion) and said the independent company would be better positioned to pursue that market.
Philips expects the restructuring to enable cost reductions that will deliver EUR 100 million ($128.5 million) in savings in 2015 and EUR 200 million ($257 million) in 2016. But the company expects to incur EUR 50 million ($64 million) in restructuring costs over the period from 2014–2016. The company said it would make more information available on its plans in 2015 but did not identify a timeframe for establishment of the new companies.
Lighting and security
At the security-focused ASIS International Expo, meanwhile, Hubbell Lighting and outdoor security-system specialist Totus exhibited a combined SSL and security product. We've long heard that adding intelligence to LED-based lighting products would open the opportunity to capture additional applications within a luminaire. At the exhibition, the partners showed a Hubbell Spaulding Cimarron LED fixture with an integrated IP (Internet Protocol) video surveillance camera from Axis, and the Totus Surveillance Platform (iTSP).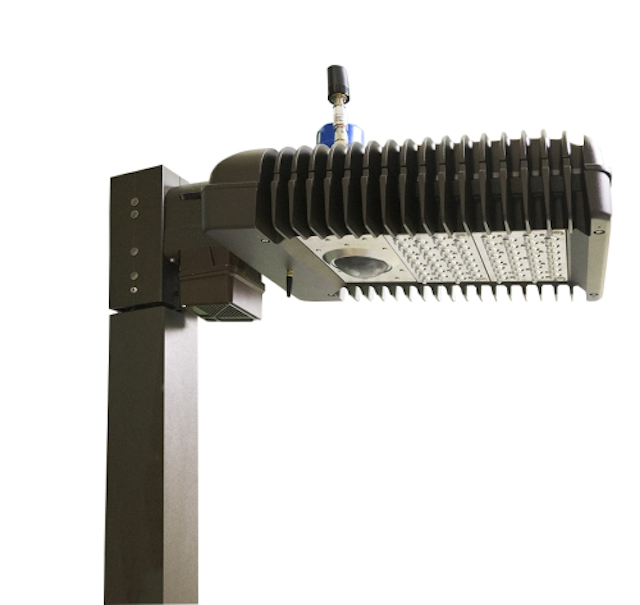 LEDs business news: Philips to spin out lighting; Hubbell, Totus, Axis and Pixelligent
"By combining Axis Communication's advanced multi-megapixel IP video surveillance camera with our iTSP into Spaulding Lighting's fixture, we've created an Active Deterrence fixture to help prevent and deter crime instead of just recording it while it occurs," said Gregory Williams, CEO of Totus Solutions. "This is hands down the best surveillance light fixture on the market today and we are excited about working with these two lighting and security leaders."
DOE funding
In the OLED area of SSL, both technology maturity and manufacturing costs remain an obstacle to broader deployment of the inherently diffuse sources as the DOE recently documented in its SSL roadmap. The agency, however, continues to support the technology sector with research funding because of the long-term potential of high-quality energy-efficient luminaires.
Pixelligent will use the funds to work on improved light extraction, and therefore efficiency, of OLED panels. Indeed, the company is targeting a doubling of efficiency without negatively impacting other characteristics such as efficacy or angular color performance.
"This is the second OLED lighting award we have received from the DOE in partnership with OLEDWorks, which clearly demonstrates our leadership position in developing the next-generation materials required to accelerate the commercialization of OLED lighting," said Craig Bandes, president and CEO of Pixelligent Technologies.
"This federal grant reflects the type of common-sense investments we should be making to help our economy rebound by boosting US manufacturing and high-tech innovation," said Congressman Ruppersberger of Maryland's Second District. "The fact that one of Baltimore's own companies was selected and will be bringing jobs back to the city is icing on the cake. Pixelligent is an impressive and growing company, and I am proud that they have chosen the Second District to call home."