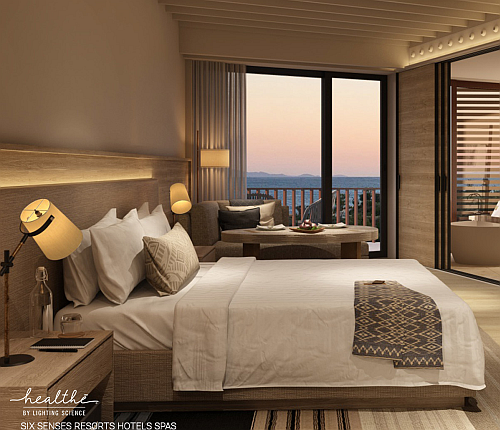 The LED and solid-state lighting industry continues to shake itself up as it searches for viable new business models in difficult times. The wellbeing sector provides hope.
In another example of lighting vendors shaking themselves up to cope with the industry's uncertain future, privately-held Lighting Science Group (LSG) has established a new company to focus on the promising health and wellbeing market, its latest move in a series of organizational, executive, and product changes.
The West Warwick, RI-based firm has handed its health and wellbeing business to a company it launched last week called Healthe Inc., thus completing the transformation of LSG from an operational lighting concern into a holding company. Healthe is based in Cocoa Beach, FL, where LSG has conducted a lot of its research.
Over the last two years, under majority owner Pegasus Capital, LSG has established two other independent operational units: VividGro, which focuses on the horticultural market; and Global Value Lighting (GVL), a joint venture with China's MLS that provides private-label lamps to retailers.
Healthe and VividGro tap LSG's long legacy in circadian lighting, sometimes known as human-centric lighting, in which LED lights can be tuned to different light frequencies for different needs and occasions. Human circadian lighting taps the fundamental principle that blue enriched light stimulates, and reds and ambers relax. In the horticultural SSL application, light spectra can be tuned to optimize the growing patterns of different plants.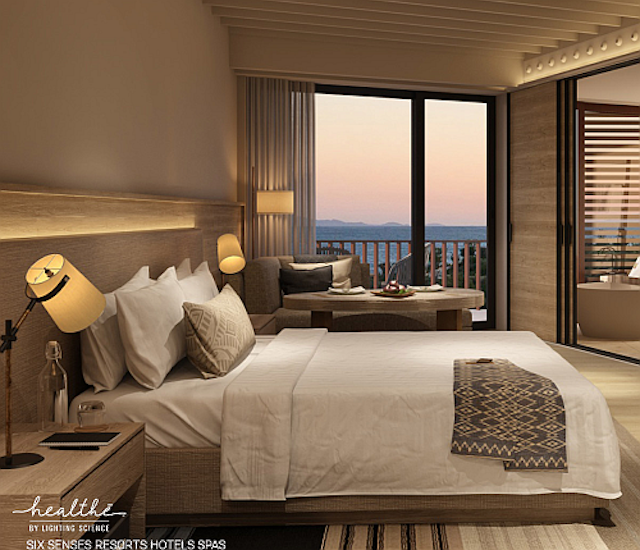 Lighting Science separates lighting for health and wellbeing into new enterprise called Healthe Inc., and is now a holding company
Healthe picks up Lighting Science Group's existing circadian lighting sites, such as this Six Senses Kaplankaya resort in Milas, Turkey. (Photo credit: Lighting Science Group.)
Healthe picks up LSG's health and wellbeing customers including the US Federal Bureau of Prisons; Sunshine Retirement Living in Louisiana; The Sonder Academy for children on the autistic spectrum in Melbourne, FL; the Sleep Lab in the Virginia Hospital Center in Arlington, VA; a number of Six Senses Hotels Resorts Spas locations; and healthcare buyer Vizient.
It also takes on LSG's health product lines including GoodDay, GoodNight, and Sleepy Baby for consumers; 480 for architectural lighting; and Cleanse for sanitization products.
"There is a place for Healthe products in every living space within the built environment," said Khim Lee, who LSG named as CEO of Healthe, and who continues as president of LSG. "It is not only a human solution but an economic solution. The challenges we are addressing touch almost every industry — from reducing hospital-acquired infections to improving workplace productivity, decreasing absenteeism, and providing a better sleep experience."
Lee joined LSG in September 2017, five months after LSG carved out GVL with MLS. Lee ran both human health and horticultural operations until LSG and Pegasus, a private equity firm, established VividGro in 2018 along with Merida Capital, another private equity firm. Lee helped to make that decision and sits on VividGro's board. VividGro's brands include GroBar.
LSG has quietly gone through several changes in the last few years. Former LSG CEO Ed Bednarcik is now CEO of GVL. Former vice president of business development Pete Rumsey left in April 2017.
Fred Maxik, who founded the company in 2000, continues as LSG's chief technology officer, a post he has held since 2004. He is involved with Healthe. Maxik has been instrumental in LSG's circadian work over the years, including helping with lighting for astronauts on the International Space Station, which circles Earth every 90 minutes, presenting rigorous circadian challenges.
Along the way, LSG has also dropped some of its ballyhooed products, such as the FreeLED solar street lighting luminaire and the Durabulb shatter-resistant LED bulb.
In a further vicissitude, LSG has even tweaked the name Healthe, a moniker that it previously spelled HealthE when it was a brand name for LSG products.
Like most lighting vendors, LSG is grappling with how to make money in the LED era in which the sale of bulbs and their replacements is no longer a sustainable business model, given LEDs' ability to last for decades.
For several years now, lighting companies have been espousing a "beyond illumination" future in which lights and the lighting infrastructure provide a wealth of new value, typically attached to data that lighting will help to collect and analyze through the use of sensors, communication chips, Internet connections, and cloud computing. Human-centric lighting and horticultural lighting fit that general trend in that both tap data to finetune intelligent lighting systems.
But the payoff has yet to come for the industry, leading observers to wonder how long the industry can continue to survive and to invest in these promising innovative areas.
The year 2019 is shaping up as one in which push could be coming to shove. This month alone, the world's second-largest lighting company, Osram, confirmed that it is in talks to possibly be acquired, and one-time smart-bulb darling LIFX was acquired by IoT specialist Buddy Platform Limited.
As a privately-held company, LSG is not listed on a major stock exchange, but the public trades its shares over the counter.
MARK HALPERis a contributing editor for LEDs Magazine, and an energy, technology, and business journalist (markhalper@aol.com).