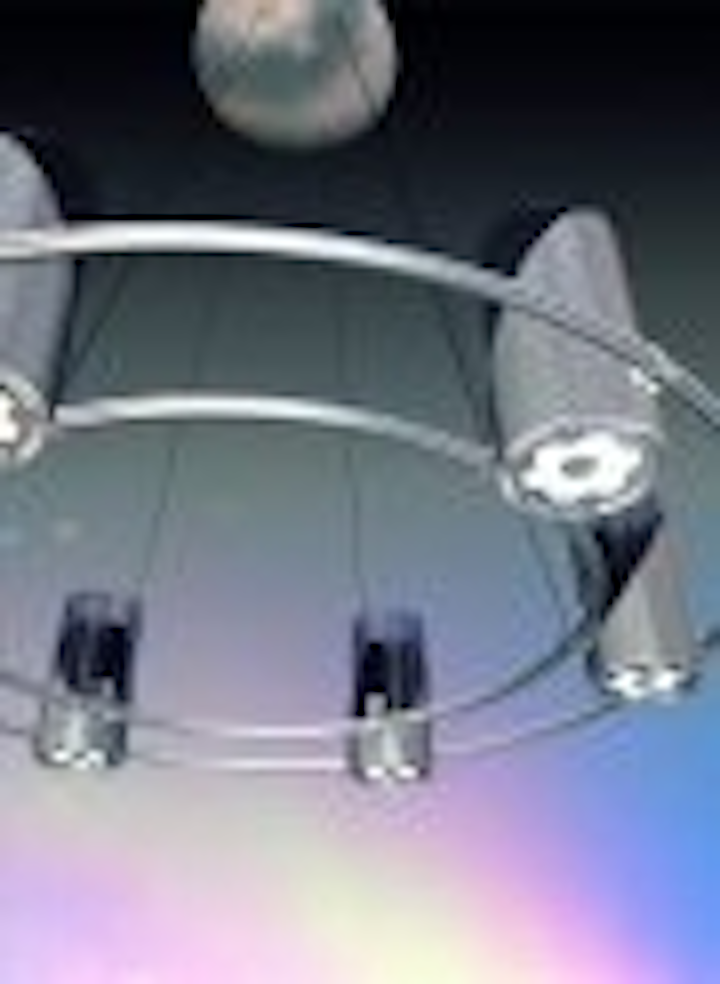 Light+Building, the biennial trade fair held in Frankfurt, Germany this week (April 24-27) is a huge event, but making the effort to see the many companies working with LEDs, from device makers to luminaire manufacturers and everyone in between, was a valuable experience.
Having just returned, I have a huge pile of news and product information which will appear on the LEDs Magazine website over the course of the next week.
For news about progress among LED makers, see LED makers light up Light+Building.
Compared with the same event two years ago, first impressions were positive. There was less emphasis on the flashing, brightly colored and, some might say, tacky-looking lighting fixtures and more emphasis on the areas that are going to help LEDs move gradually into mainstream lighting markets – white LEDs with very high brightness and efficacy, integrated modules and plug-and-play systems, and well-engineered white LED-based lighting products.
Among LED makers, the most extravagant claims were made by Seoul Semiconductor, who promised by the end of the year a single-die white LED producing 98 lm at 350 mA with 84 lm/W efficacy, as well as a warm-white device producing 67 lm at 57 lm/W. However, as a poster on the Lumileds stand highlighted, the important parameters are not the datasheet numbers provided by the LED makers, but the real numbers measured by the user when the LEDs are placed into a system.
This is one aspect of an issue which remains highly prevalent for LEDs in lighting; there is a huge disconnect between LED makers and lighting companies. There are numerous aspects to this problem, for example the lack of standards for LEDs, or the frustration experienced by lighting manufacturers in not being able to obtain a reliable and long-term supply of LEDs with consistent color properties.
Cycle times are also widely different. Like other semiconductor companies, LED makers regularly make significant improvements to the performance of their devices and may then phase out lower-performing and older devices. However, this creates problems for lighting manufacturers who have brought an LED-based design to market (with all the associated tooling and marketing costs) and want to be able to offer the same product for a number of years.
No-one wants or expects the LED makers to stop innovating but does this mean that "traditional" lighting companies need to become more nimble and innovative in terms of introducing new designs? As the two worlds of LEDs and lighting gradually converge, perhaps the advantage will shift to LED-specialist companies such as Color Kinetics and others with a similar mindset.
One option for lighting companies is vertical integration to gain control of the LED supply chain. Philips through its acquisition of full control of Lumileds has this vertical integration, and its rival Osram, already a major LED supplier, has now unveiled an LED Systems division which will make products with higher levels of integration (see Related Stories).
Zumtobel, another major lighting manufacturer, has gone as far as creating two LED-related subsidiaries. Ledon Lighting is wholly owned by Zumtobel and will develop LED-based products for its parent and for external customers, while Lexedis is a joint venture between Toyoda Gosei and Tridonic that manufactures high-power light sources.
Lexedis is using the name "XED" to denote a second-generation of LED light source that are more suited to the requirements of the lighting industry – driven by the demands of its parent Zumtobel. Lexedis' white products will be offered at certain color temperatures with no binning, using technology that matches the composition of the phosphor with the properties of each LED chip.
Cree, who had a super-bright booth lit with their own white LEDs, conducted a survey among 123 trade show exhibitors and found half thought that LED lighting will represent more than half of their sales or installations by 2009. Also, 61 percent thought LED lighting would replace fluorescent lighting in office and commercial spaces within five years.
Assuming this to be a representative survey, the lighting industry seems confident that LEDs will become increasingly significant, although some reservations no doubt remain. We look forward to comparing progress in two years' time (when the organizers have promised to provide bicycles for members of the press).
Light+Building news – more to follow next week
Lamina's Atlas LED light engines challenge other light sources
Gleaming white: Osram presents Ostar Lighting and Golden Dragon