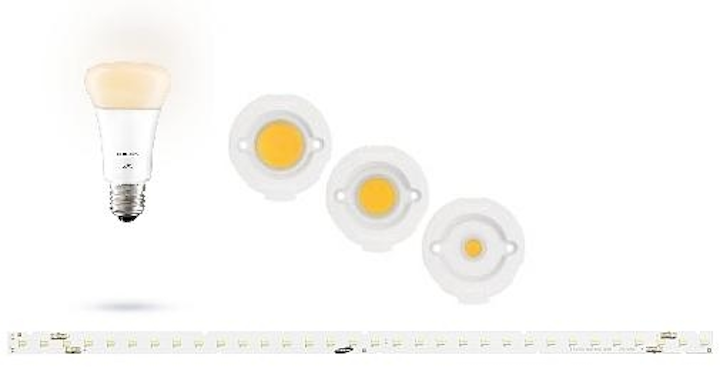 During the successful first day at the Las Vegas Convention Center, LightFair International announced the winners of the organization's annual Innovation Awards, featuring the selected innovative products and designs introduced during the last year.
Additional LED and lighting products featured at the exhibits:
Osram Sylvania introduces Zhaga-compliant LED light engine, shows light engines, LED modules at LightFair
Offering efficacy of up to 121 lm/W, the 2-in.-diameter PrevaLED Core Z3 round light engines are operable over a wide range of drive currents (300-1200 mA), reducing luminaire design-in time and providing easy tuning of fixtures for specific applications.
Samsung M-Series LED modules designed for flat solid-state lighting applications
The M-series includes three modules, the LT-M552A, M552B and M552C that have the same dimensions -- 18x550x6 mm. By offering identical measurements and delivering a variety of light output options, the three modules simplify the task of designing LED luminaires.
LatticePower commercializes GaN-on-Si LEDs, launches high-performance light fixtures at LightFair
LatticePower designs, engineers, and manufactures all the components in its lighting products, optimizing performance for commercial applications and reducing time to market at scale. All products are certified to international standards for the general lighting market.
3M's new LED chip packaging substrate offers cost-effective alternative to ceramic
3M's design allows the LED chip to sit directly on top of a large copper conduit area held by a robust polyimide frame without adhesive. Adhesives are not required to assemble the substrate, allowing use in higher temperatures and avoiding potential thermal barrier or quality control issues.
Philips demonstrates connected lighting systems for residential, retail, and outdoor lighting at LightFair
In a Connected Lighting system, light points merge with a building's or city's IT network, allowing the lighting system to act as an information pathway. Comprehensive lighting management software can deliver targeted, intelligent illumination, reducing cost by providing the right light at the right place at the right time.
Ledzworld targets LED lamps, dimming, driver, and optical technologies in LightFair exhibit
Ledzworld will be displaying a highly compatible digital dimming GU10 LED lamp; the first true retrofit sized premium 850 lm, single-light-source AR-111 LED lamp; and the industry's first 2000 lm, single-point-source PAR38 lamp without active cooling.
Osram Sylvania features latest solid-state lighting products at LightFair
Osram Sylvania will be showcasing some of the company's latest developments in lighting technology, including a demonstration of a high-efficacy LED tube that offers 215 lm/W and holds the world record for system efficiency (205 lm/W).
For more pre-show announcements, see our Part I LFI round-up.

For our day 1 coverage, see our Part II LFI round-up.

Check back this week for more updates on the latest LightFair announcements at ledsmagazine.com. Follow @ledsmagazine on Twitter for news and views, and join the conversation in our LinkedIn group (search: LEDs & Lighting).