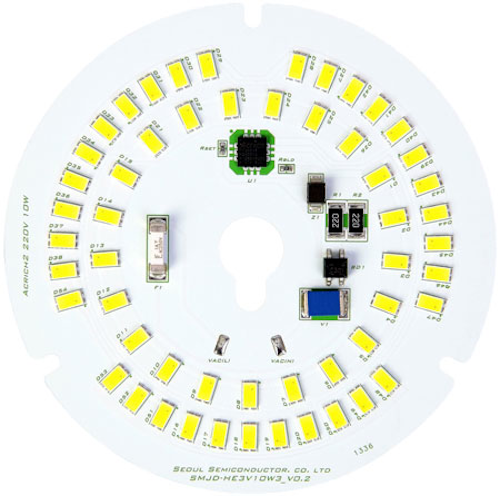 MAURY WRIGHT previews exhibits at the 15th annual Strategies in Light event that will include demonstrations that run the gamut from packaged LEDs to the many enabling technologies needed for robust SSL product development.
The 15th anniversary Strategies in Light (SIL) conference and exhibition is around the corner, scheduled for February 25–27, 2014 in Santa Clara, California. The exhibits this year will set a record for occupied space, and more importantly they will showcase the LEDs, enabling technologies, test equipment, software, and other products and tools needed to develop robust solid-state lighting (SSL) systems. Leading up to the show we had a chance to discuss exhibit plans with some of the longtime exhibitors and also gather some projections from key industry executives.
Packaged LEDs and SSL business
SIL is always a key event for the packaged LED manufacturers and 2014 will be no exception in that regard. We expect to see a number of new technologies on display across the range of mid-power LEDs, singleemitter high-power LEDs, and multi-emitter devices including in both discrete-like packages and in chip-on-board (COB) products. Going into SIL, however, the LED makers are equally focused on the SSL market and business conditions as on technology advancements.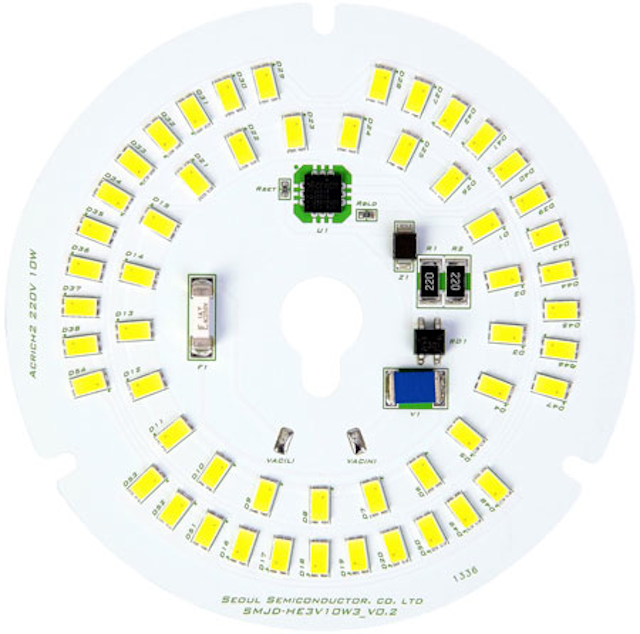 The AC-LED driver takes minimal space on a Seoul Semiconductor light engine.
"The US macro-economic indicators — for example, GDP increasing 2.5% and construction growth of about 8% — present an optimistic outlook for the LED lighting industry in 2014," said Dwayne Sterner, vice president of sales for North America at Seoul Semiconductor. "Demand for incandescent replacement lamps, the highest growth application, has been accelerated by the Energy Independence and Security Act of 2007 ban on 40W and 60W incandescent lamps that took effect in January 2014. There is also a shift toward LEDs for higher-wattage bulbs driven by performance improvements of both 5630 and 3030 LEDs, in addition to offerings of 90 CRI in applications where quality of light is important."
From a technology perspective, Seoul believes mid-power LEDs will continue displacing high-power offerings in many applications based upon significant improvements in efficacy and lumens per dollar. Sterner said the price/performance gap between 5630 and 3030 LEDs is narrowing and it's conceivable that the 3030 package will prevail by year's end. At the other end of the spectrum, Seoul believes COB products offer an attractive solution in downlighting applications and others. Seoul will feature both types of products in its exhibit along with modular products, including AC-LED light engines.
Osram Opto Semiconductors will similarly feature a broad set of LED products that includes the Duris family of mid-power LEDs and the Soleriq COB products. The new Oslon Square LED, which was announced in December and is characterized at higher temperatures, will be featured. Osram will also demonstrate products for automotive and projection applications, and that's indicative of the company's broad approach to the LED market.
| | |
| --- | --- |
| | Instrument Systems' LGS 350 goniophotometer is used to characterize LED photometric performance. |
"As LED is now increasingly making its way into general lighting applications, we expect demand in 2014 to remain at high levels," said Ulrich Steegmueller, CTO of Osram Opto Semiconductors. "According to market reports, the 2012 McKinsey Market Report, for example, the general lighting is expectedto overtake the current market-leading segment, LEDs for backlighting. General lighting will be the strongest growth driver for years to come. Other segments that offer additional potential growth are automotive forward lighting, mobile flash, and mobile projection."
LED performance gains
Philips Lumileds, meanwhile, will stress LED performance advancements at SIL as the key to broader adoption. "Philips Lumileds expects 2014 to be a breakthrough year for LED performance and cost effectiveness, making SSL decidedly competitive with incumbent technologies across architectural, outdoor, retrofit lamps, automotive, industrial, and retail applications," said Rahul Bammi, vice president of product management at Philips Lumileds. "The enabling technologies fueling this trend are new highefficiency epi, device, and packaging architectures as well as new classes of phosphor materials. We also expect greater focus on color mixing and the ability to simultaneously achieve high efficiency and high lumen output by combining color and phosphor-converted white LEDs."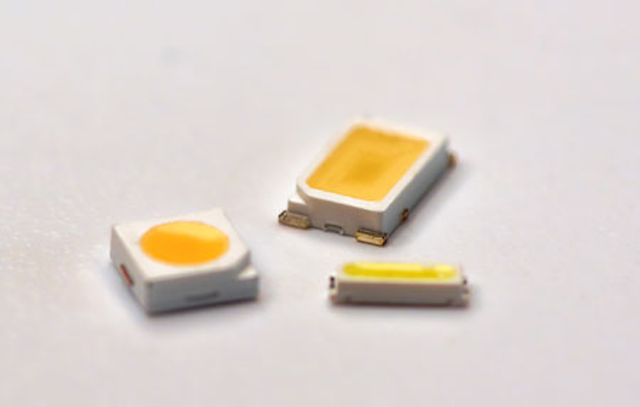 Philips Lumileds' low- and midpower LEDs deliver high efficacy and the quality of light needed for distributed light source applications.
At SIL, Philips Lumileds will be demonstrating its latest offerings in low-, mid- and high-power LED single emitters and arrays; COB LEDs; and colored LEDs. The demonstration will include the Luxeon TX high-flux emitters that can be used to achieve a system efficacy of 120 lm/W at 350mA of drive current and 85°C operating temperature for applications such as outdoor lighting. In the Luxeon COB family, Lumileds features an industryleading small light-emitting surface (LES), which simplifies the design of downlights and directional lamps. Philips Lumileds only entered the mid-power market last year but will showcase its Luxeon 3535L mid-power LEDs at the event.
We expect that Cree may show a brand-new discrete LED architecture at SIL, although we could not get details prior to press time. The company will demonstrate its broad packaged LED product line. Also, the new 6000-lm version of the company's LMH2 module family will be prominent along with the new versions of the module family offering sunset dimming technology that mimics halogen incandescent dim-to-warm lighting.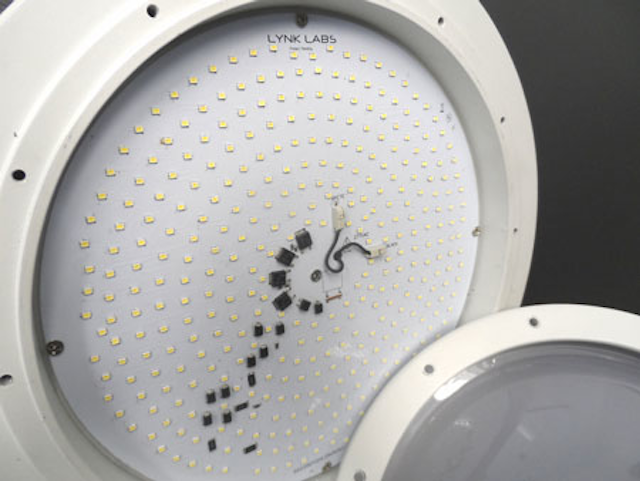 Lynk Labs' SR225-130W light engine enables highbay luminaires with AC-driver technology.
In regard to the coming year in LEDs and SSL, the company is focused on enabling lighting applications and broadening deployment. "I see 2014 as a very exciting year for LED packages, primarily because the LED ecosystem including drivers, optics, thermals, and more has become so important," said Paul Scheidt, product portfolio manager for LED components at Cree. "LED suppliers are not operating in a vacuum anymore, and for that reason I expect to see a lot of new capability and performance added to form factors that the lighting industry already knows, for which there are already a number of quality complementary products. At the same time, more technically capable LED lighting companies should be able to capitalize on some new form factors that can greatly reduce system cost through direct LED cost reduction, optic size reduction, system size reduction, or improved driver technology. I also anticipate that we are going to see some big changes to the lighting industry's business models in the near future."
Innovative form
Scheidt's comments bring to mind one theme that resonated from the SIL 2013 event. Clearly, insiders believe the SSL industry should move more quickly to leverage the unique benefits of LED sources. The possibilities range from tunable products to new form factors. Planar lighting is one example of a form factor enabled by LEDs that are placed along the edges of light guides to produce uniform diffuse light.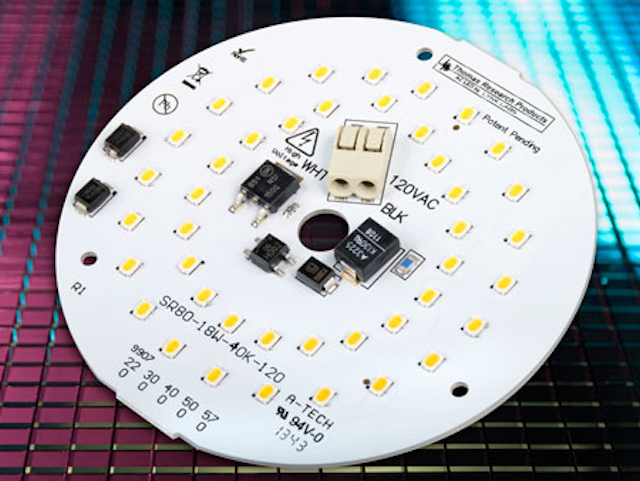 Thomas Research Products has expanded its light engine offering using AC-LED technology co-developed with Lynk Labs.
Light-guide technology and planar fixtures will be on display at SIL both in terms of the enabling technologies and some end products. For example, Global Lighting Technologies (GLT) will demonstrate a variety of planar technologies. Brett Shriver, vice president of sales, said that among the new capabilities are light guides that can emit indirect light upwards and direct light downwards from a single guide. The company will also demonstrate some curved light-guide technology for more complex fixture designs.
"We are seeing significant investment and development in LED fixtures in which the design of the entire fixture is completed around the LED light source," said Shriver. "In the past, there were more fixtures in which they were only implementing LED-based lightbulbs as replacements for existing bulbs. By designing the fixture around the light sources, there is the ability to properly manage thermals and optical paths in order to create the highest possible system efficiency and performance."
Enabling technologies and test
The SIL exhibit floor will be deep with companies that offer enabling technologies and test equipment that are critical to SSL product development. For example, Instrument Systems will demonstrate its LGS 350 goniophotometer that is used to document the spatial distribution of an LED light source.
"With the increasing performance requirements for SSL luminaires, test equipment based on accurate spectrometer technologies will be essential to the manufacturers to market their high-quality products," said Thomas Attenberger, vice president of sales at Instrument Systems. "Fast goniometers will play an increasingly important role for luminaire testing. Instrument Systems is continuously working on improved solutions to meet these new requirements."
Enabling technologies will run the gamut of drivers and driver ICs, thermal management products, interconnect products, and optics. Indeed, the driver is arguably as important as the LED light engine in delivering a robust luminaire.
ERG Lighting will counsel visitors to its booth on the need for a system-level approach to SSL development. "The nearterm challenge for LED lighting system designers is to make sure they properly choose an LED light engine, driver, and control system that work in conjunction with each other without causing early life issues or poor lighting quality," said Scott Barney, vice president of sales and marketing at ERG. "It is very important that the driver and LEDs are kept cool in order to maximize the lifetime of the LED luminaire."
ERG will demonstrate the E54, E100, and E120 modular drivers with the model number of each corresponding to the wattage of the products. The E54 model has just recently gained UL approval, and is available with four independent driver channels and support for wireless controls. Barney said that ERG is especially focused on troffer lighting for offices in 2014 with the expectation that the "retrofit market is about to explode."
Thomas Research Products will also demonstrate drivers at SIL. This year, the company will share its exhibit space with Norlux, a sister company within the Hubbell Lighting portfolio of businesses. The fact that Norlux will participate would indicate that Thomas may move more deeply into the light engine business in addition to supplying drivers. Moreover, the company is expected to preview some adaptive-control technology at SIL.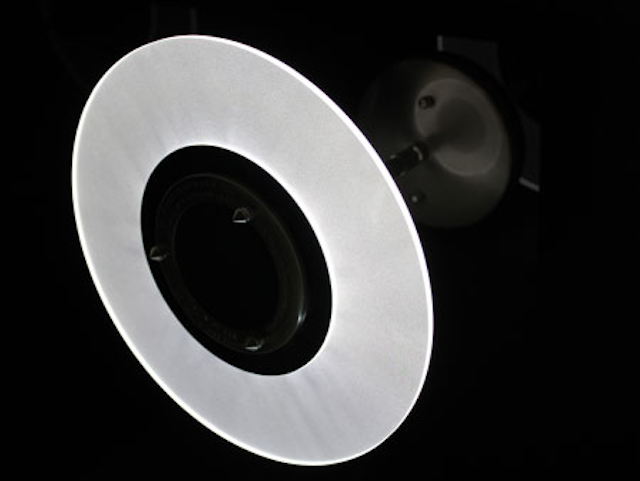 The GLT circular pendant delivers indirect light upwards and downlight from LEDs lighting the entire inner circumference of the light guide.
The 2014 outlook for Thomas centers around simplicity in SSL product development, enabled by higher-efficacy LEDs and technologies such as AC drive. "The key word is simplicity," said Greg Andrews, vice president of sales and marketing. "SSL is reaching a point where component offerings are more readily usable by OEMs, with less of the confusion and learning curve of the last few years."
AC-LED technology
Expect to see the Thomas AC-LED products that the company recently announced after forming a partnership with Lynk Labs. AC-driven light engines are quickly becoming just another option in terms of driver topology as opposed to the implication of the moniker AC LED that the emitters are fundamentally different components. Thomas, Seoul Semiconductor, Lynk Labs, and probably other exhibitors will be promoting AC drive at SIL.
Lynk Labs may be the most bullish company relative to AC-LED technology. The company has a new 130W module that delivers 10,000–12,000 lm for high-bay luminaires at efficacy of 80–90 lm/W. That performance approaches the best DC-driver light engines, and the AC approach simplifies the driver to a few components mounted on the light engine circuit board.
"I believe that in 2014, AC-driven highvoltage LED technology will trigger a major growth curve for the general lighting market due to the advantages of cost, time to market, reliability, and simplicity for the lighting OEM manufacturers, which resultantly will transfer to the residential, commercial, and industrial consumers," said Mike Miskin, CEO of Lynk Labs. Miskin predicts that AC technology will account for 30% of the SSL market by the end of 2015. He added, "Intellectual property in this space will become a key factor as phosphor was to white light or RGB was to colorchanging lighting."
The roster of exhibitors will be deeper than ever at Strategies in Light. Without question there are surprises waiting. We will bring you coverage of those developments after the event.