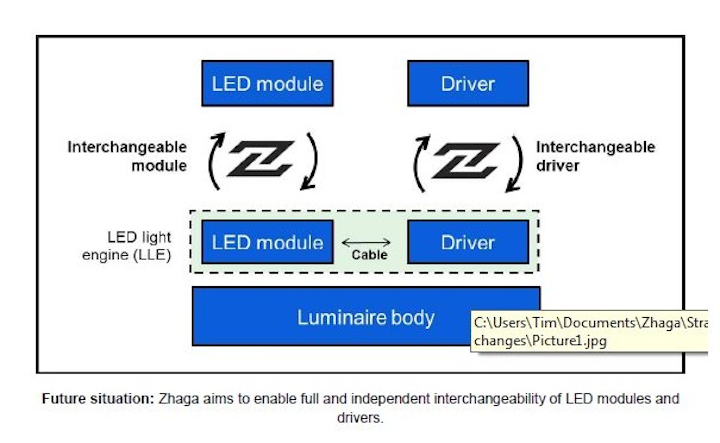 The Zhaga Consortium will be under new leadership effective April 1, 2014 when Musa Unmehopa takes the position of Secretary General, replacing Menno Treffers who has guided the organization since its inception. Zhaga has also announced that going forward it will develop specifications for the electrical interface between drivers and LED modules that together form an LED light engine (LLE) allowing independent interchange of either the LED module or driver.

The Zhaga Consortium seeks to help lighting manufacturers simplify the supply chain and even enable field upgrade and repair of installed luminaires via modular technology. The organization has delivered on its promise to first publish specifications for its members and then to make them generally available to the industry.

New leadership
New Secretary General Musa Unmehopa has been involved in many standards bodies and presently serves on the board of directors for the ZigBee Alliance and the EMerge Alliance. Both of those organizations are closely related to solid-state lighting (SSL) with ZigBee finding use as a wireless network for lighting systems and EMerge being used as a DC grid to power lighting systems. Like Treffers during his time with Zhaga, Unmehopa is a Philips employee.
"It is my pleasure to be appointed to this challenging position of Secretary General, serving the leading companies in the lighting industry around the globe," said Unmehopa. "I am looking forward to the many exciting opportunities ahead, as I firmly believe that the Zhaga Consortium has a pivotal role to play in helping the lighting industry with its transformation towards LED."
Treffers, meanwhile, is leaving to take a job at One-Red LLC. That company specializes at licensing the intellectual property related to DVD, Blu-ray, and CD technology. Treffers will leave Zhaga being credited with delivering the growing portfolio of Zhaga books while managing the interest of more than 200 member companies.
"Due to Menno's work and leadership, hundreds of companies around the globe are working directly together to create interface specifications for LED light engines," said Jan Denneman, chair of the General Assembly of Zhaga. "As Secretary General, Menno has supported the Zhaga members with processes to enable smooth and effective ways to develop specifications."

Unmehopa will take over as Secretary General coincident with the massive Light+Building trade fair in Frankfurt, Germany. Moreover, he will conduct a series of seminars updating the progress on different books and the future direction of the organizations. The seminars will take place over April 1-3 (www.zhagastandard.org/lb).
Electrical interface plans
One item that will certainly be discussed in terms of future direction will be the plan for Zhaga to specify the electrical interface between LED modules and drivers. A number of Zhaga Books specify LLEs with one or more LED modules and separate control gear or driver. Today modules and drivers from different vendors would offer mechanical compatibility, meaning they could be housed in the same luminaire that was designed to the Book in question. But the lack of a detailed electrical specification means that LED modules and drivers must effectively be selected and bought as matched pairs.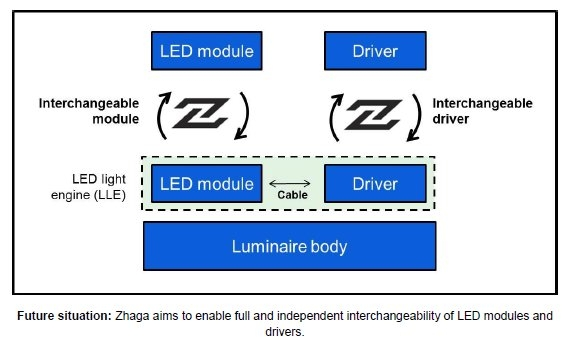 "The Zhaga Consortium believes that now is the right time to develop specifications for the module-driver interface and enable independent interchangeability of LED modules and LED drivers," said Unmehopa.