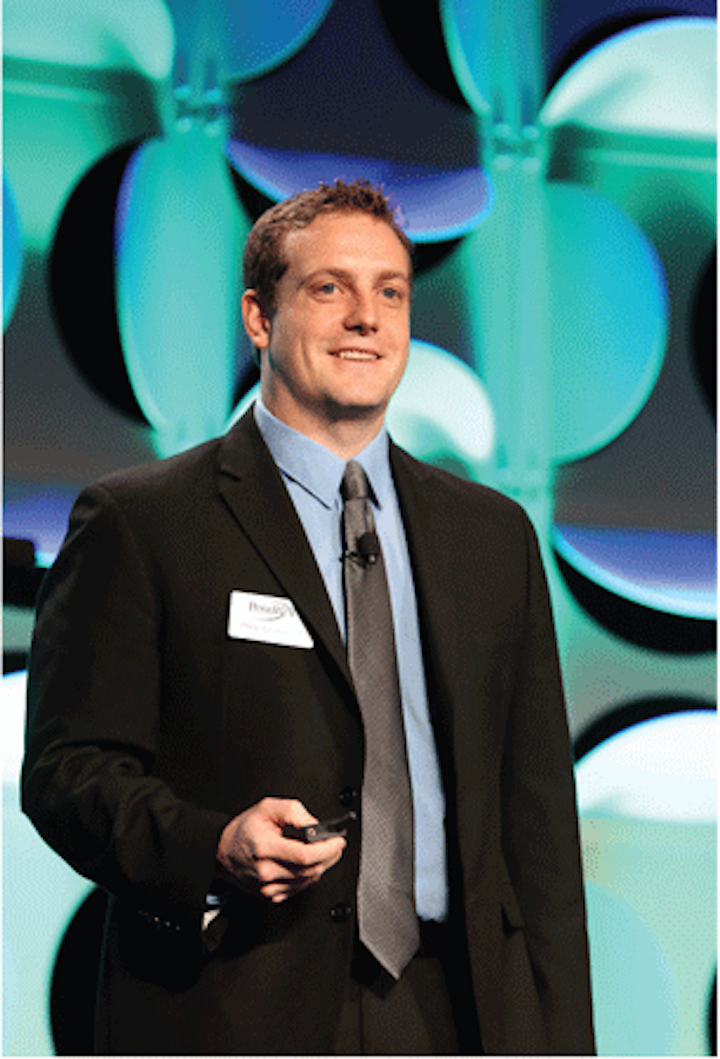 Market research presentations in the Plenary sessions at Strategies in Light projected growth segments in the lighting and packaged LED sectors, and chronicled the challenges being posed by price erosion, reports MAURY WRIGHT.
The solid-state lighting (SSL) industry gathered in Santa Clara, CA March 1-3, 2016 for Strategies in Light (SIL) and The LED Show conferences, and as has become tradition, new market research grabbed the full attention of the audience in the Plenary Sessions. Philip Smallwood (Fig. 1), co-chair of SIL and director of research at Strategies Unlimited, predicted significant growth in the lamps and luminaires market and said the industry is on the precipice of a revolution in smart and connected products. Senior analyst Stephanie Pruitt (Fig. 2), meanwhile, chronicled the incredible price erosion that has led to revenue declines in the packaged LED market while predicting that in many applications quality and value will still win out over price in buying decisions.
Interested in more articles & announcements on packaged LED & lighting markets?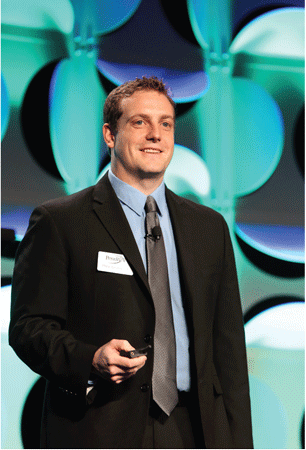 Popping the charts: Strategies Unlimited unveils SSL market data (MAGAZINE)
FIG. 1. Philip Smallwood said LED-based products have only penetrated 5% of the 44 billion lamp sockets around the globe, leaving plenty of short-term opportunity in the market.
Generally speaking, price drops have impacted both the markets for finished lighting products and for packaged LEDs, although the damage has been far more impactful in the LED sector. Indeed, the Strategies Unlimited forecasts would be considered less optimistic than presentations made at SIL in February 2015, and we described those prior year projections as tepid in our feature article on presentations by Smallwood and Pruitt. Still, it appears that the worst of the price erosion is over and a new technology revolution in connected SSL is poised to drive the industry forward.
Connected lighting
The theme of SIL week was without question connectivity and intelligence in lighting products, and the value-added services and applications that will be enabled by such a connected future. We cover more of that ground in our companion feature article on some of the conference presentations.
Smallwood opened his talk by saying the move to LED sources, a transition that some refer to as "ledification," has happened and he categorized that transition as revoluntionary. He said the move to a future of ubiquitous connectivity will be a revolution for the lighting sector. The revolution, however, has arrived with more questions than answers, according to Smallwood.
Smallwood quickly moved to the task at hand while presenting the latest Strategies Unlimited data on the lamps and luminaires market. Both markets are set for a number of years of growth, although the industry is moving at a pace that will have long-life, LED-based products saturate the demand in a few years.
Lamps
In the lamps space, Strategies Unlimited focuses on the most widely used lamp types including A-lamps, directional lamps, BR-type lamps, and T-lamps or LED-based replacements for fluorescent tubes. The researchers have developed an installed-base model that covers all of the sockets used in the world by application, by form factor, and by technology.
"Of the 44B (billion) sockets used in the world, penetration of LED products in 2015, just for lamps, is about 5%, so very low," said Smallwood. "There is still tremendous potential out there for LED." As the chart in Fig. 3 documents, LED-based products will primarily gain at the expense of legacy incandescent lamps.
"It's also really important to know that fluorescent is still playing a major role today and will continue to do so through 2022," said Smallwood. The reason for the persistence is that fluorescent is a relatively efficient technology as well as being inexpensive. Moreover, Smallwood said fluorescent lighting is used in offices and other commercial spaces where retrofitting might not take place just because of the logistics and inconvenience of doing a widespread retrofit. Smallwood added, "We do see fluorescent keeping a hold on the market itself."
Of course, revenue is quite a different story, as depicted in Fig. 4. The cost of LED products and the steady ramp in installed base equals a robust market, albeit one that will saturate as mentioned earlier. "We do see the overall market for lamps peaking around 2018 to 2019 at around $21B, growing from about $16.8B in 2014," Smallwood noted. LED-based lamps will represent about 63% of the revenue by 2018.
Lamp market realities
Beginning around 2018, the market will decrease. But the decrease will impact legacy lamps more so than LED-based products. Subsequent to the peak, legacy lamps will have a -13% CAGR (compound annual growth rate) through 2022. But LED lamps will be growing at 8% over that same period. So there still will be opportunity in the LED lamps space.
Smallwood pointed out, however, that the lighting industry is already reacting to this future market reality. Osram is trying to sell off its lamps division, as we have covered previously. GE Lighting recently said it would no longer sell compact fluorescent lamps (CFLs) and of course separated its luminaires business into Current, Powered by GE.
TABLE 1. Strategies Unlimited's research into connected lighting and characteristics specific to each sector.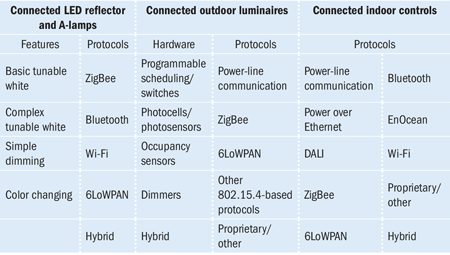 In part, decisions such as GE made are driven by the regulatory environment, according to Smallwood. For example, CFLs will not meet Energy Star guidelines after 2017. And it's not just efficiency that will eliminate CFLs - but also lamp lifetime requirements. All of these factors add up to at least a moderate growth market for LED-based products far past the peak.
Luminaires
In the luminaires space, Strategies Unlimited breaks out data by luminaire types indoors and out. Indoors, the list includes downlights, troffers, suspended pendants, tracklights, high-bay lights, and others. Outdoors, the list includes street, tunnel, parking-garage, parking area, and canopy lights, as well as a category that aggregates wall packs, soffit lights, and floodlights.
Smallwood said the overall luminaire market will continue to grow through 2022 (Fig. 5). The difference in the lamp and luminaire market comes down to the characteristics of the product types. The long life of LED lamps directly leads to a decreasing lamps market after the peak. But Smallwood added that luminaires have always been relatively long-lived products, even if the light sources in lamp form had to be replaced. So LED-based product lifetime doesn't impact luminaires as quickly as it does lamps.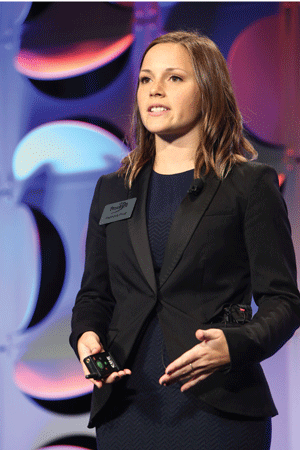 FIG. 2. Stephanie Pruitt explained the 20-40% price erosion that has slammed packaged LED manufacturers, but said such erosion rates are not sustainable going forward.
Smallwood said, "We see the total luminaire market to be worth $61.6B in 2016." Three regions account for more than 60% of the luminaire market - North America, Western Europe, and China. "These are regions that will have really high growth and/or really high GDP," said Smallwood. LED-based products represented around $24B of the luminaire market in 2014. The LED-based luminaire market is projected to grow at a 10% rate through 2022, reaching $45.6B. At that point, LED-based products will represent 70% of the total luminaire market.
Looking out to 2022, Smallwood noted the significance of the troffer application. Referring back to the lamps data, he reminded the audience that the forecasts project fluorescent tubes will maintain a significant market presence. But by 2022, LEDs will more fully pervade that application. And the data suggest that LED troffers will comprise 21% of LED luminaire revenue in 2022.
Average selling prices
Next, Smallwood turned to product pricing and described what Lux Review publisher Gordon Routledge would subsequently proclaim "Smallwood's Law" (http://bit.ly/1Rp1QGl). "What we are seeing in our new research is that ASPs (average selling prices) are continuing to drop through this time period," said Smallwood. High-bay luminaires are expected to drop in price about 12% from $400 to $350. Troffers will decrease about 33% from $120 to $80.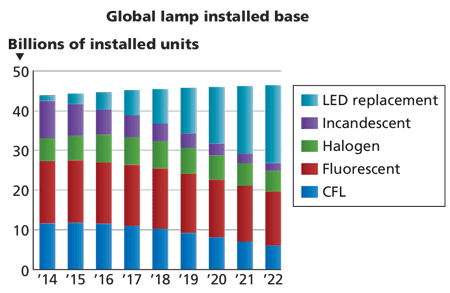 FIG. 3. Fluorescent lamps will maintain significant market share in projections that go out to 2020.
Then establishing his Law, Smallwood said, "As these LED luminaires reach a point where payback is less than a year, their price stops decreasing." Proof of that prophecy comes in the downlight space where Smallwood said prices are stable and downlights have a payback inside one year in most applications, meaning that lighting manufacturers have no reason to reduce pricing further. High-bay and troffer fixtures are expected to continue to drop, and troffers especially will be driven toward the $60 price point of the fluorescent alternative, according to Smallwood.
The connected revolution
The presentation then moved to the aforementioned revolution as characterized by Smallwood. Succinctly, the revolution will entail the movement to embed intelligence into lamps and luminaires and connect the SSL products via network technology. The revolution will be about "who can add the connectivity, and add these different ancillary benefits that can come about from connected lighting," said Smallwood.
Recent Strategies Unlimited research has seen significant interest in sensors such as photosensors for luminaires and in the wired and wireless network technologies that will be used to connect lighting. The analysts are beginning to track the use of such technologies relative to the lamp and luminaire data. New research on the connected space was due to be published by the time this article went public to our readership, and the scope is applications and networking options for luminaires.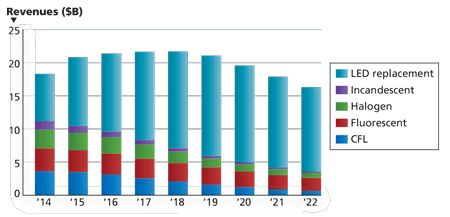 FIG. 4. Socket saturation by long-life, LED-based lamps will hit by 2018 and the lamps market will begin a slow revenue decline.
The transition to sensor-based lighting systems will impact both product complexity and cost. Smallwood said adding one or more sensors to an indoor luminaire would add $4 to $14 to the cost depending on sensor type. And he noted that the price on the market would escalate by a greater amount. In outdoor products, the incremental cost of building the sensor-enabled product ranges from $35 to $70 because the sensors must be more robust and work at greater distances.
To explain the depth of data that Strategies Unlimited will pursue in its lighting research going forward, Smallwood presented Table 1. In the separate lamps, outdoor luminaire, and indoor luminaire spaces, the analysts will track the networks and protocols used as well as the types of sensors and the applications being enabled by the sensors and connectivity.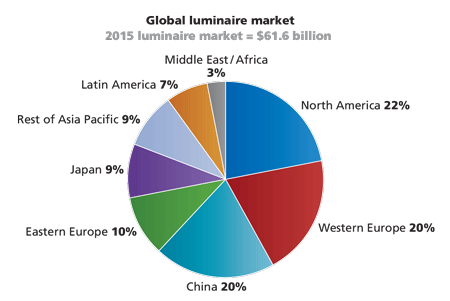 FIG. 5. The luminaire market will enjoy steady growth in terms of units shipped through the 2022 end of Strategies Unlimited's projection window.
The connected revolution is even impacting the methodology that Strategies Unlimited uses in some cases to characterize a market. In the indoor space, for example, the analysts will report data on connectivity and controls relative to square footage of installations by application and by region as opposed to reporting data per installed luminaire. Smallwood said, "It's just a very complex market and there is a lot of differentiation between each market."
Connected lamps
For an example of the complexity, consider the connected lamps space. Strategies Unlimited is focusing on the A-lamp and the reflector lamp segments because those segments represent 55% of the total installed base of sockets. And Smallwood said the analysts do not believe that connectivity will pervade LED-based tubes, although fixtures that host such tubes could be networked.
Next, Strategies Unlimited had to segment the types of performance that will be enabled by connected intelligent lamps. The segments are:
• Simple dimming connected lamp - A lamp with a single set of white LEDs that can dim based on wireless control but that have no ability to vary the CCT or CRI produced by the lamp.
• Basic tunable white connected lamp - A lamp that can linearly adjust CCT based on wireless controls, but that can't track the black-body locus, meaning that they can't maintain a constant Duv (chromaticity in the CIE 1960 color space) as CCT is adjusted. Such a product might have two sets of white LEDs at different CCTs.
• Complex tunable white connected lamp - A lamp that can nonlinearly adjust CCT based on wireless controls and that is effective in following the black-body locus. Products might be able to be set over a range of CCTs and dimmed at a constant CCT. Such a lamp might have multiple sets of white LEDs and even perhaps some red LEDs.
• Color-tunable lamp - A lamp that can produce tunable-white and -color output in response to wireless controls. Such a lamp might have red, green, and blue (RGB) sets of LEDs and perhaps even a white set or more colors for more robust results.
Smallwood briefly addressed the importance of creating and tracking four segments. He said in applications such as human-centric lighting (HCL) where the light recipe may impact human wellbeing, the difference between basic and complex tunable white really comes into play. It's likely that HCL would require complex options to really impact the physiological system and be applicable perhaps in healthcare.
Smart lamps projections
Having defined the segments, Smallwood returned to the overall lamps forecast. Reviewing the installed base of LED lamps in 2014 and 2015 at 3.1% and 5% of sockets, respectively, the percentage of those lamps that are considered connected was essentially zero - the connected lamp market will grow from a nascent base.
Surprisingly, given the hype in the market for wireless-enabled lamps, the forward projection for adoption is low. For example, Smallwood said that in 2020, connected lamps will represent 0.4% of the total A-lamp and directional sockets whereas standard LED lamps would represent 41% of the sockets. He said Strategies Unlimited views connected lamps as a luxury consumer electronics device rather than a necessary product.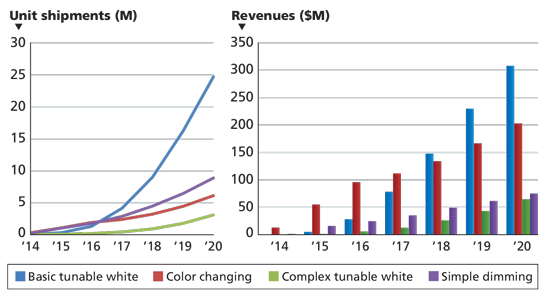 FIG. 6. Connected lamps will represent significant revenue moving forward, although the installed base relative to all LED lamps will remain low.
Still, that 0.4% of the sockets is not small in terms of absolute unit shipments or revenue. Smallwood said it would equate to 42M (million)-unit shipments in 2020. Basic tunable white is projected to dominate those shipments at around 25M units (Fig. 6). The rationale behind the projection is price and the fact that in residential applications customers will not see the value in complex tunable designs.
Color-tunable lamps, meanwhile, are projected to have two faces in the market. As the graph shows, unit shipments will be about 20% of the basic-tunable-white shipments, albeit significantly higher than complex-tunable-white lamps. Revenue, however, is another story. Basic-tunable revenue will barely exceed $300M in 2020 and color-tunable shipments will lag only about $100M behind. Smallwood said the more-expensive color products would find a lot of use in retail and hospitality applications that can afford the price and predicted the bulk of shipments would be PAR lamps. The total revenue of connected lamps also projects to a big number at $652M in 2020.
Connected outdoor sector
Moving to the connected outdoor lighting space, Smallwood surprised the audience by saying 55% of 1.7M connected outdoor luminaires in 2014 were HID products as opposed to LED-based. Indeed, many of the connectivity implementations are realized in modular products that connect to the NEMA (National Electrical Manufacturers Association) receptacle found on legacy and LED-based products.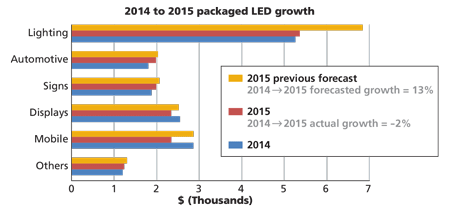 FIG. 7. While packaged LED revenue had been expected to rise considerably in 2015, unexpected price erosion resulted in a slight decline despite the fact that unit shipments of LEDs continue to escalate.
Looking out to 2022, Smallwood said 30M units will be installed in the connected outdoor fixture segment. And by that time, 73% will be LED-based. But Smallwood pointed out that even in 2022, legacy products will remain a significant piece of the picture, and must be accounted for when municipalities, utilities, and others consider applications that might be layered on networked outdoor lighting.
Smallwood projected around a 40% annual growth rate for outdoor connected products between 2014 and 2022. North America will lead in adoption trailed slightly by Western Europe, although Western and Eastern Europe combined will exceed North American installations. The rest of the world still remains at about 15% of the total market.
One of the key questions going forward will be that of network choice. Smallwood said power-line communications represented the dominant network in 2014 because the infrastructure was in place with data routed over the same wires that supply power. Proprietary networks also represented 30% of the market in 2014, although future growth will most likely depend on open interoperable networks. Indeed, Smallwood said by 2022, open wireless protocols such as ZigBee will become dominant, but there are other options and any such projection will remain fuzzy as the technology argument on network options drags out.
Indoor connected luminaires
Moving to the connected luminaire space and the aforementioned methodology change to data characterized by installed floor space, Smallwood said that in 2014 there was 1,256 Mft2 of space globally using connected controls. And even in 2014, LED-based products already represented 56% of that total. Strategies Unlimited projects that 16,464 Mft2 of space will utilize connected controls by 2022 and that LED-based products will then represent 82% of that total.
North America and Western Europe are again the regions that are driving the indoor connected lighting market. Indeed, the rest of the world accounted for only 22% of what was about a $2B market in 2014. Smallwood said the market will grow to $13B by 2022 with the rest of the world regions accounting for 36% at that point.
Smallwood concluded his talk with an examination of the networks being utilized in indoor connected applications. In 2014, DALI (digital addressable lighting interface) was dominant, representing 38% of the market, and wired systems far outpaced wireless options although 24% of the market was classified as using a hybrid approach that might include wired and wireless networks bridged together. In 2015, the wireless segment grew from 13% to 16% including ZigBee, Wi-Fi, and Bluetooth technologies, and is poised for further growth.
"I do believe it's a revolution," said Smallwood, speaking of connected lighting. But he also said no one knows for sure exactly in which direction the industry is heading. Indeed, he pointed out how many executives had answered, "I don't know" to questions during the Tuesday Investor Forum at SIL. But Smallwood said, "That's what makes it exciting." By definition a revolution will result in dramatic changes in the market, but clearly opportunity lurks for the manufacturers that can navigate the dynamics of the revolution.
Packaged LED research
Stephanie Pruitt presented her latest packaged LED market research during the Plenary Session on Thursday of SIL week. Indeed, the data is brand new with the report due on the market around the time this article will go to press, about a month after the SIL conference.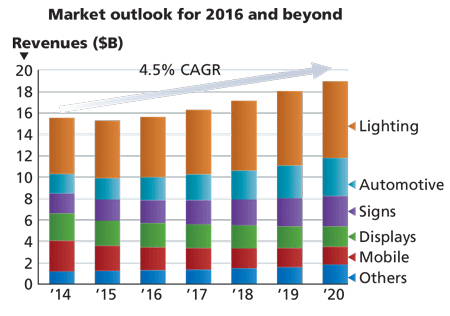 FIG. 8. Despite the recent price erosion in packaged LEDs, the sector is still poised for moderate growth through 2020.
Pruitt started with the bad news on declines in packaged LED revenue that had been foreshadowed during the Tuesday Investor Forum by Jed Dorsheimer of Canaccord Genuity. Pruitt pointed out that the lamp and luminaire market is growing, as covered earlier in this article, and that should bode well for packaged LEDs given that virtually all new lighting products are LED-based. "My previous forecast of the packaged LED market growing 13% in 2015 seemed very justified and reasonable," said Pruitt. In actuality, however, the LED market declined in 2015 by 2% (Fig. 7).
So Pruitt delved into the market realities responsible for the decline. Massive price declines in both lighting and backlighting applications were the primary culprit, because unit shipments of LEDs have continued to escalate. Pruitt said the declines were more significant than anyone had anticipated and were primarily prompted by a "huge amount of consolidation in China."
"We saw a lot of small players going bankrupt, a lot of mid-size players being acquired, and what this led to is companies having a going-out-of-business sale," said Pruitt. Healthy companies, meanwhile, had no choice but to match the pricing. Mid-power LED prices declined 30-40% in the second half of 2015. High-power prices were affected a bit less but still declined 20-30%.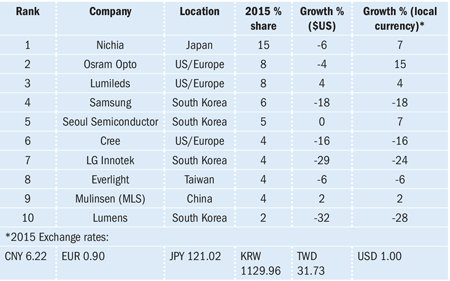 TABLE 2. Performance of leading packaged LED manufacturers.
Currency rates
Another factor in the market numbers according to Pruitt was the massive difference in currency exchange rates. Strategies Unlimited reports all market data in US dollars. But many manufacturers have contracts in local currencies around the globe. Pruitt cited Nichia as a specific example. The market leader in packaged LEDs grew 7% based on the Japanese yen but when the yen was converted to US dollars one year apart, Nichia's revenue was down 6% due to the strength of the dollar in 2015.
Pruitt mentioned a few other factors in the overall decline in packaged LED revenue. She said there was a slight slowdown in outdoor lighting deployments due to governmental budget cuts. She also cited an unexpected slowdown in the smartphone and tablet markets.
As always, one of the highlights of the packaged LED SIL presentation was the reveal of the top ten suppliers globally (Table 2). This year, Pruitt included the aforementioned exchange rate data for each company on the list with manufacturers included from the US, Europe, South Korea, Taiwan, and China. In US dollars, only Lumileds and Mulinsen (MLS) showed revenue growth and Seoul Semiconductor was essentially flat. Nichia and Osram Opto Semiconductors had favorable results in their local currencies. While MLS was the only China-based supplier in the top ten, Pruitt said China on the whole fared well in 2015 LED revenue in part due to a stable exchange rate.
Pruitt then turned her attention to future projections. A year ago, Strategies Unlimited had projected a growth rate of around 8% over five years. The new research projects a 4.5% CAGR through 2020 (Fig. 8). That number is clearly far more conservative, but even the lower number seems optimistic and healthy for the industry relative to the aforementioned presentation from Canaccord's Dorsheimer.
Application segments
Pruitt of course segmented the projections by end application. As in prior years, Strategies Unlimited will break the packaged LED market into general lighting, automotive, display and backlighting, mobile, signage, and other applications. Automotive, signage, and lighting are all segments expected to deliver revenue growth in packaged LEDs.
"We think automotive is still going to be a strong growth market," said Pruitt. She said the LED makers that supply the auto market had good growth in the segment. Lumileds is notable in that area. During the Investor Forum, CEO Pierre-Yves Lesaicherre had said automotive represented more than 50% of that company's revenue counting both
LEDs and legacy lamp products. And Lumileds was up to third position in Pruitt's revenue rankings.
Pruitt said LED revenue in the auto application hit $2B in 2015 and projected that number to climb to $3.5B in 2020. Exterior roles such as in headlamps will enjoy an even steeper 15% growth rate. The interior uses are largely already converted to LED sources, but new features will drive 7% growth. For example, Pruitt said dimming and color-tuning features would come to the car cabin just as the same features pervade general lighting.
Moving to signage, Pruitt projected 7% growth for the application that includes both indoor and outdoor digital signage. The Olympic Games slated for 2020 in Tokyo, Japan are already a factor in the growth projection, according to Pruitt, as companies will deploy a tremendous amount of signage in marketing programs surrounding those games.
LEDs in lighting
Pruitt said lighting will continue to grow as well in terms of packaged LED revenue supplied to that market, but the growth would be slower than previously projected. She said component price erosion is not sustainable at the current level and that she knows some companies have already stopped competing on price - walking away from business instead. Long term, she said quality will win out over price and the LED manufacturers are becoming more focused on where they can add value.
Still, the so-called "race to the bottom" in prices continues in some general lighting sub-segments. Pruitt said that in China, some LED-based tubes are being sold for less than fluorescent tubes. Moreover, she said lighting manufacturers have moved in cases such as lamps to lower specifications such as target life to also reduce costs; such moves impacted the LED makers as their customers asked for lower-priced components as opposed to LEDs designed to last 50,000 hours or more.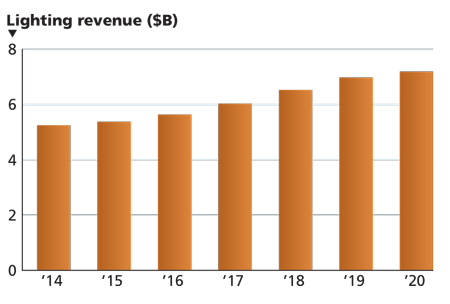 FIG. 9. Strategies Unlimited has moderated its projections of packaged LED revenue growth specific to the general lighting market.
Clearly, the professional/commercial lighting market will follow a different path. And the connected lighting championed by Smallwood was identified by Pruitt as a bright spot. "This is a great example of where companies are moving toward high-value, high-quality products," said Pruitt. And the implication is that higher-quality LEDs will be used in such products and even more LEDs will be used in cases where a product needs to support white-point or color tuning, along with dimming.
Projecting the market, Pruitt said growth in packaged LED revenue for general lighting will be 4.5% through 2020 (Fig. 9). Previous, Strategies Unlimited had projected 8% growth. A positive factor is the relatively low penetration rate for LEDs in luminaires and a lot of opportunity remaining in that sub-segment.
Two other markets, meanwhile, are mired in a slump. Displays had a 5% decline. Price erosion was less a factor in displays, but LEDs used in that application were already low-end devices. The big factor is LED improvement and the fact that fewer LEDs are needed in displays. The mobile application also suffered a 6% decline. Both the display and mobile markets could be impacted by OLEDs going forward, and Pruitt said the mobile market might especially take a hit if Apple moves to OLEDs in its mobile products.
LED and package types
The Strategies Unlimited projections also include segmentation by the type of LEDs used in various applications. Low power implies input power less than 0.1W, mid power ranges to 0.5W, and high power goes all the way to 5W. Superhigh power applies to chip-on-board (COB) LEDs and other types of arrays that operate above 5W. And separately, Strategies Unlimited considers RGB multichip packages. The power designations are, of course, imprecise because plastic-packaged LEDs that look like traditional mid-power LEDs regularly operate at 1W and above these days. And similar inconsistencies lurk within the other categories. Still, the consistency with prior research is important to see how the technology side of the equation is changing for packaged LED manufacturers.
In most applications, the high-power LED that has been the mainstay of the lighting sector is feeling the squeeze. Pruitt said in the replacement lamps segment, mid-power LEDs are taking over in A-lamps while COB LEDs are growing in the case of directional lamps. By 2020, Pruitt projects that high-power LEDs will be used in only about 20% of lamps with both mid-power and COB LEDs accounting for more revenue in the lamps market.
Mid-power LEDs are also quickly moving to a dominant position in commercial luminaires, having surpassed high-power LEDs in 2015, and representing nearly 50% of the segment by revenue. A look at unit shipments would show an even larger swing with typical mid-power LEDs being used in larger numbers and selling for lower prices relative to high-power LEDs. Pruitt projects mid-power LEDs will pervade nearly 70% of the commercial luminaire market by 2020.
High-power LEDs will retain a larger share of the revenue in industrial and outdoor luminaires. Pruitt said some manufacturers are trying to utilize mid-power LEDs in such applications. But it's the superhigh-power LEDs and specifically COB products that will provide the bigger challenge. The COB sector will represent 40% of the industrial luminaire sector by revenue in 2020 and 50% of the outdoor sector.
Briefly, Pruitt separately discussed the trend of LEDs moving to a chip-scale package (CSP), a technology that we have covered in depth including in a recent feature article. Pruitt said the CSP market size in 2015 was near zero. She predicted the technology would be popular in display and camera flash applications, and perhaps in automotive headlamps.
There remain questions about the viability of CSP LEDs in general lighting. Reasons include the complexity of dealing with the tiny LEDs and the expensive automated manufacturing and assembly required, and the fact that primary optics required for lighting applications might offset some of the presumed savings in manufacturing costs. Moreover, the CSP LEDs suffer lower yields and lower efficiency today relative to mid- and high-power LEDs. Pruitt expects some manufacturers to try and use CSPs in outdoor luminaires including street lights. And any transition to the CSP form will also translate to more business being done by LED manufacturers in pre-assembled modular light engines.
Modules and light engines
Indeed, that comment on light engines led Pruitt into a discussion about modules and light engines, a market that Strategies Unlimited tracks separately from packaged LEDs. The research includes both LED modules and LED light engines for which Strategies Unlimited offers slightly different definitions. An LED module is essentially a printed-circuit board (PCB) with LEDs installed. An LED light engine is essentially a module with driver electronics integrated into the product. Both AC-DC drivers and AC-LED technologies are included in the light engine segment.
About the module and light-engine segments, Pruitt said, "I think this is going to be an important growth market for the lighting industry." Today, Pruitt said, modules comprise the majority of the market with manufacturers wanting to have control of the driver implementation. The value of the modules market was $3B in 2014 and is projected to grow to beyond $6B in 2020 (Fig. 10).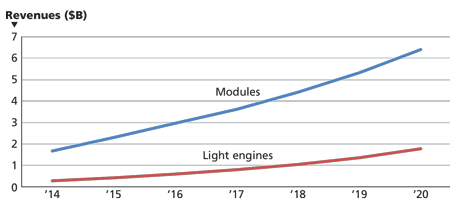 FIG. 10. The market for LED modules and light engines is poised for significant growth and headed beyond $8 billion in aggregate.
Pruitt also discussed the applications where modules and light engines are finding success. Downlights are the top application today consuming more than $1B in revenue. Pruitt projects troffers will surpass downlights around 2017 and grow to more than $3B by 2020.
Future opportunities
Of course, Smallwood and Pruitt spent much of their presentations looking for what's next in LEDs and lighting. Certainly, connectivity and intelligence in general lighting are examples. But there are other applications with growth potential outside of general lighting. And Pruitt projects the "others" category will approach $2B in packaged LED revenue in 2020.
"I think we are going to really start to see some new and different applications come out of this others category," said Pruitt. One prime example is lighting for horticultural and agricultural applications. You could throw in lighting for aquaculture and livestock ranching as well. The best news is that these new applications will be focused on value and quality, not on price - a reality that will surely be healthy for the industry. Visit Strategies in Light Europe and LuxLive in November to learn more (sileurope.com). And the Strategies in Light and The LED Show conferences will take place February 28-March 2, 2017 in Anaheim (strategiesinlight.com), and those conferences will surely chronicle the progress of the revolution.