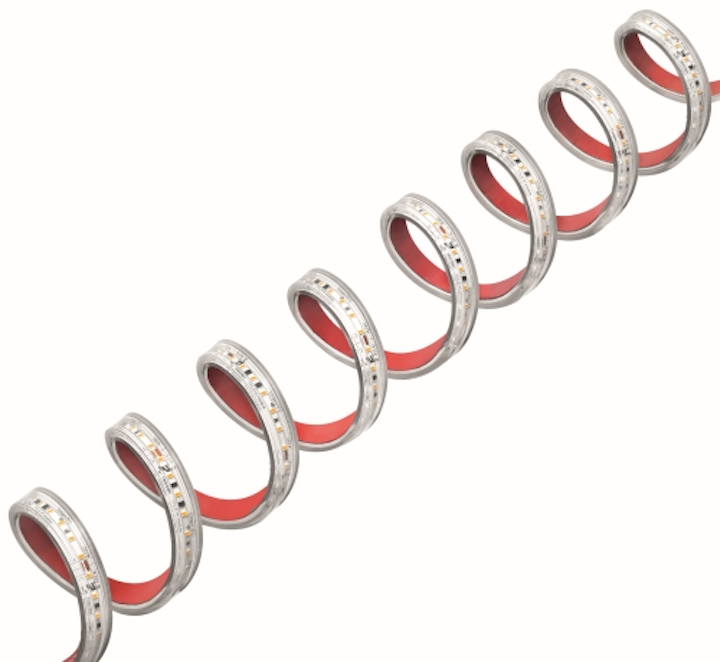 Ingram Micro Distribution GmbH is the target of a Tridonic IP suit over the distribution of smartphones with patent-infringing LEDs; meanwhile Tridonic also just released new flexible LED light engines.
Tridonic Jennersdorf GmbH, a subsidiary of Tridonic GmbH & Co KG and part of the Austria-based Zumtobel Group, has announced the filing of a lawsuit against German distributor Ingram Micro Distribution GmbH. The suit focuses on LED intellectual property (IP) owned by the B.O.S.E. Consortium of which Tridonic is a part, and LEDs used in HTC smartphones. In a separate announcement, Tridonic has launched the LLE Flex IP67 Excite flexible LED light engines that can be deployed in moisture-prone environments.
Interested in articles & announcements on LED business and intellectual property?
LED IP infringement
The patent action filed by Tridonic is the second such legal action taken recently by the company based on B.O.S.E. IP. In April 2017, Tridonic targeted S-KON eKontor24 for selling HTC smartphones with LEDs that infringed the patent for using yellow silicate phosphors with blue LEDs to yield white light. Tridonic said a Munich court affirmed Tridonic's arguments and subsequently the parties settled the matter, presumably in Tridonic's favor.
Evidently, Ingram is now distributing HTC smartphones that include LEDs that infringe the same patent. The legal action was filed with Munich District Court I.
Tridonic is partnered with Toyoda Gosei Co., Ltd. of Japan, Leuchtstoffwerk Breitungen GmbH of Germany, and Litec GbR of Germany in the B.O.S.E. Consortium. The group has licensed its IP to more than 40 LED manufacturers worldwide. Such LEDs are used in smartphones, laptops, GPS systems, and other products with displays.
IP67 strips
Moving to the product news, flexible LED strips are increasingly popular with lighting designers and specifiers. The solid-state lighting (SSL) products can be hidden in coves, under cabinets, and in many other spots indoors and out. The new Tridonic LLE (linear light engine) is especially suited to challenging environments where moisture may be present.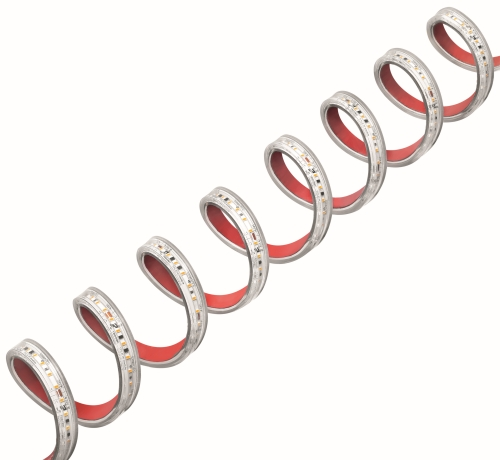 Tridonic files suit against distributor, announces new flexible LED light engines
Tridonic has added a new linear LED light engine to its lineup that is equipped to withstand damp conditions indoors and out.
Indeed, the IP67 in the model name is the rating for the strips relative to resistance to dirt and moisture. The Ingress Protection (IP — and yes, it's strange to have two different uses of IP in the same article) rating scheme was detailed in a feature article we ran a few years back. The 6 is the highest rating for protection against solids, meaning not even dust would penetrate the strip, and the 7 is the penultimate water rating with the product able to withstand submersion for 30 minutes.
Tridonic utilizes a manufacturing technology it calls airgap to build the strips. The company said the technique both enables the high IP rating and also ensures no chromaticity shift in the LEDs over time.
The strips come in 600, 1200, or 1800-lm/m versions at a choice of 2700K, 3000K, or 4000K CCTs. Furthermore, the strips offer dimming and a 50,000-hr service life.