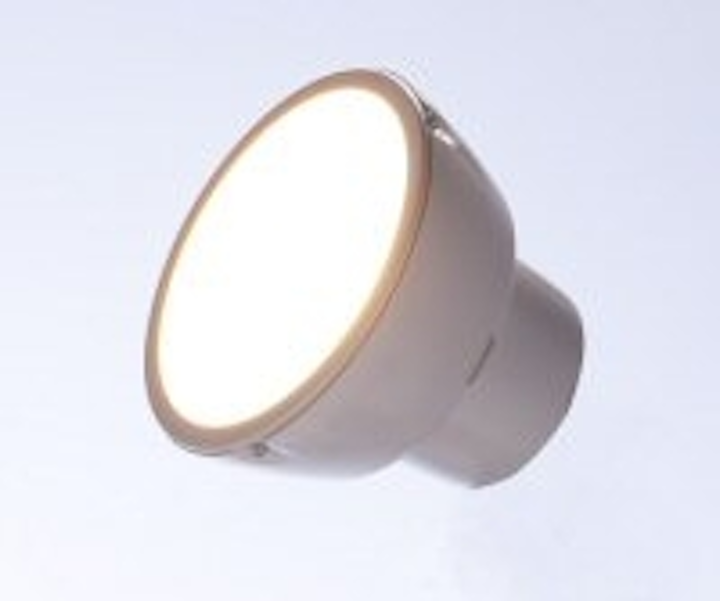 Cree has introduced a new line of LED modules, starting with the LMR4 (pictured). The company describes the modules as "a new class of products" which are designed to accelerate the adoption of LED lighting by traditional lighting fixture manufacturers, and to reduce time-to-market for their new LED-based fixtures.
Cree says that the LMR4 module has been created "to overcome common design issues that manufacturers have faced when trying to incorporate LED solutions into their lighting fixtures."
The Cree LED Module LMR4 integrates driver electronics, optics and primary thermal management, a combination which the Cree press release says is "unique."
Also unique is Cree's level of vertical integration; the company makes silicon carbide wafers and LED chips; LED packages containing single or multiple LEDs; LED lighting fixtures; and now modules.
Designed to last 35,000 hours while consuming just 12 watts of power, the LMR4 delivers 700 lumens at a warm-white color temperature of 2700 with a CRI >90.
Fixture manufacturers have the option to include a specially-designed heat sink to accommodate specific high-heat applications, like downlights for insulated ceilings.
The LMR4 (120V) is UL recognized, while the LMR4 (230V) complies with multiple international standards. Fixture makers seeking Energy Star qualification will have access to specification and performance data, including LM-80 reports, which can speed regulatory approvals.
"We've never seen or worked with any LED product as simple as the Cree LED Module," said Miroslav Masar, OMS, LED Department director. "We anticipate our new downlight will be available in summer 2010—and that's less than six months from when we started working with prototypes of the module. In a fast-paced industry like lighting, this is a keen advantage for us."
The LED modules make use of Cree's TrueWhite technology, which is used in Cree LED Lighting's luminaires. Chuck Swoboda, Cree chairman and CEO, said "Cree TrueWhite technology is already installed in thousands of locations including restaurants, retail stores, and others that demand both high-quality light and energy-efficiency."
The Cree LED Module LMR4 is expected to be available in summer 2010.