Exhibit highlights from Intertech LEDs 2006 conference
The LEDs 2006 conference in San Diego on October 16-18 attracted a large crowd and some 50 exhibiting companies.
Nov 1st, 2006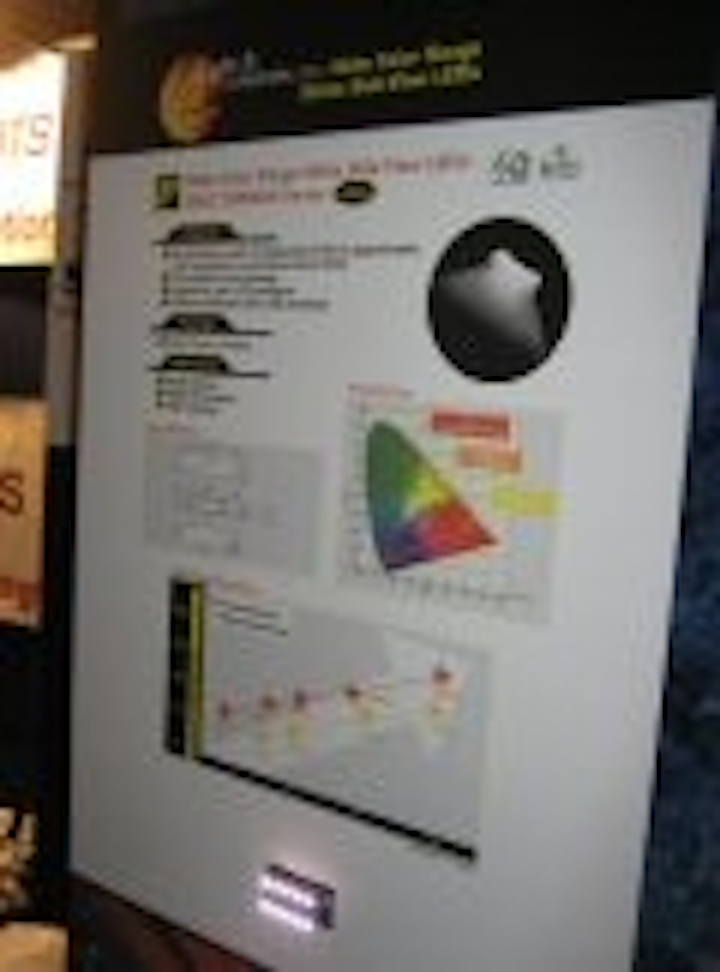 ROHM Electronics exhibited some impressive display technologies, including a 4 mm pitch display containing tiny RGB pixels, as well as a 2.5 mm pitch RG display. The company also showed prototypes of a 1500 mcd side-view LED (see photo) in a 3.8 x 1.0 mm package, with a height of 0.6 mm. The device benefits from a new RG phosphor that significantly increases color rendering.
Lynk Labs generated considerable interest with two LED lighting innovations; its SnapBrite AC LED module series and ThermaLynk, an advanced packaging technology. The SnapBrite product series demonstrated simple, true "plug 'n' play" AC LED module that can be designed to integrate into any AC voltage infrastructure.
Also, Lynk Labs is collaborating with Cool Polymers, a developer of conductive plastic packaging materials, on a new patent-pending packaging technology called ThermaLynk. The material can be formed into carriers or packages with good conductivity, very low weight, fewer thermal interfaces. The next step will be to develop "chip-on-luminaire" products in which chips are mounted directly onto lighting fixtures made from the conductive polymer material. For more details on both these Lynk Labs innovations, see our news item to be published tomorrow (Nov 3).
American Bright exhibited a new fluorescent replacement light (at left in photo), which potentially will be targeted at the refrigerator display market.
Test & measurement

Labsphere's main demonstration was its new LED-060 benchtop system that allows users to test LEDs in about 5 seconds. The LED is snapped into a socket, visible in the photo at right, and then the assembly slides into the integrating sphere's receiving sleeve. Several sockets are available for different LED types. For more details, see
Load, Light, and Test LEDs in Less Than Five Seconds with Labsphere's New LED-060
.
Optical materials
Silicone manufacturers were very much in evidence, emphasizing the importance of this material for high-power LED packaging. Dow Corning and 3M both spoke in the conference along with Shin-Etsu, who provided delegates with excellent T-shirts. Also represented were NYE Lubricants, GE-Silicones, Quantum Silicones.
NuSil Technology and FMI Incorporated announced a joint effort to develop silicone lenses for optical applications, addressing the growing need for optically clear, protective lenses for HBLEDs. For full details, see
NuSil and FMI announce joint optical lens development effort
.
For Asymtek, the focus is on dispensing materials such as silicones onto the chip or package. The company says that, with the appropriate materials, its automated dispensing systems are able to reduce costs in high-volume assembly, with tight process control.
LEDs for projection
Osram Opto's booth had a taillight from a VW Golf Plus (see news item), as well as a mini projector from Samsung using Ostar projection LEDs.
Goldeneye manufactures LED-based light sources for projection display applications. The company's technology utilizes commercially available LEDs currently in volume production from major manufacturers. Multiple die are assembled to form the interior of Goldeneye's proprietary "Light Recycling Cavity" and attached to the compact thermal management system. The resulting Goldeneye™ Light Source has an output area equal to a fraction of the total area of the component LEDs.
By using the inherent reflectivity of the die, a Goldeneye source can achieve an enhancement of 1.5– 2.1x in lumens output per unit area compared to the same LEDs arranged in a flat array. As a result, Goldeneye says its products are the brightest LED-based RGB light sources available. In the example shown, twelve 1 mm2 LED are employed with an output area of 4 mm
2
and an Étendue equal to 13 mm
2
sr.
Epitaxial wafer supplier Bandwidth Semiconductor has entered into a five-year manufacturing agreement in which it will be the exclusive supplier to Principia Lightworks of Woodland Hills, California. The epitaxial wafers will enable Principia to begin high-volume production of its patented eVCSEL – the electron-beam-pumped vertical-cavity surface-emitting laser (eVCSEL) as a light source for projection display applications, including rear-projection consumer television (RPTV). See link for more details.
Packaging
A number of companies producing packaging materials, PCB boards and thermal assemblies were represented, including GrafTech, Bergquist, Heatron and Arlon. Ozark Circuits showed a number of circuit boards fabricated for diverse LED applications, including the thick copper-based board used in Luminus Devices' PhlatLight product for the projection market.
BBG Micro has developed a power LED package called Trident, made from copper alloys and liquid crystal polymer (LCP). This allows for higher power and cooler junction temperatures in a small package. Different versions of the 7 x 7 mm footprint package accept 1, 3 or 4 LED chips in separate sub-cavities, which have angled walls to maximize light extraction. The package design allows silicone fill from on top or from underneath.